On an all-new site the riders once again showed supreme courage to put everything on the line in the face of the challenge of high-risk and high-reward riding that is Red Bull Rampage.
At the end of the contest
Brett Rheeder
stood on top of the podium wowing the judges with a flawless and technical run down the mountain. Rheeder was joined on the winners podium by
Andreu Lacondeguy
and
Ethan Nell
, who finished second and third respectively.
Brett Rheeder – first place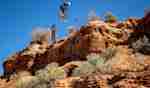 Brett Rheeder's winning run
Rheeder's winning run came on his first run. He started with an opposite 360, followed by a double drop. The following drop into the mid-section of the course saw him do a huge flat backflip that drew gasps from the watching crowd lower down the mountain. He then finished with a regular 360 and a backflip one foot can-can on the lower section of his run. Rheeder started last man down in the second runs and had to wait for Lacondeguy's score in the second run to be confirmed champion.
"This is my sixth time competing at Red Bull Rampage and my first three years were tough. I was way out of my element and it took a long time to finally be a contender for the title and it feels unreal," said an elated Rheeder in the finish area after the event.
Andreu Lacondeguy – second place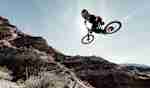 Andreu Lacondeguy's 2nd-place run
Being a former winner, Lacondeguy was gunning for more glory, and his first run saw him produce a display that was full of flow and no little speed. His linking of tricks and clean execution of them found favour with the judging panel of six. Highlights included a flat spin 450, a backflip, a superman, followed by a flip off a step-down and then finishing with a flatspin 360 lookback. Lacondeguy was on a similar run on his second attempt, but then crashed when he didn't have enough speed to execute a trick near the finish area.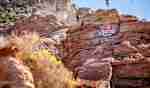 Ethan Nell's third-place run
Nell repeated his third place result of 2017 with another mature and stylish performance. It was in his first run where he did the business. Highlights included a step-down backflip, a nose manual down a steep slope, followed by a suicide no-hander from a huge drop. He ended the run with a flatspin 360. Knowing he had already secured third place before his second run, Nell, a Utah local, took the opportunity on that second run to play to the crowd and lap up the adulation.
Tom van Steenbergen
was rewarded with fourth place overall for a first run that included a massive flat drop backflip. A trick that would also ultimately see the Canadian take home the Best Trick Award.
Thomas Genon
was one of the few competitors to improve on his first run score in his second run but wasn't able to break into the podium positions and finished fifth. Pre-event favourite
Brandon Semenuk
crashed on both his runs but did get to the finishing post on his first run to post a score. He would finish 16th.
Watch the Top 5 runs below: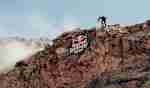 With this being a new Rampage zone it was probably no surprise that there were few crashes out on finals runs. Most of the riders hadn't been able to do full runs of their lines during the last day of practice, so it was the pressure of finals day where they all had to lay it all out on the line.
Weather conditions on the mountain were good for finals day. The wind that can whip up in the Zion National Park behaved itself giving the riders one less thing to worry about. The 19 competitors taking part in finals were cheered on by probably the biggest crowd ever seen in Rampage contest history.
Red Bull Rampage 2018 results
Brett Rheeder (CAN) – 89.66 points

Andreu Lacondeguy

(ESP) – 87.33

Tom van Steenbergen (CAN) – 84.66

Tyler McCaul (USA) – 82.00

Kyle Strait (USA) – 80.33

Brendan Fairclough (GBR) – 67.66

Adolf Silva (ESP) – 64.33

Vincent Tupin (FRA) – 63.00

Rémy Métailler (FRA) – 55.66

Graham Agassiz (CAN) – 50.00
Did not start:
Cam Zink (USA) and Bas van Steenbergen (CAN)
Maverik Best Trick Award:

Tom van Steenbergen

People's Choice Award:

Adolf Silva

Kelly McGarry Spirit Award:

Brendan Fairclough
Replay Red Bull Rampage 2018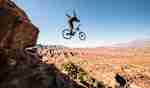 Finals (EN) – Virgin, Utah, United States
Relive the Rampage live broadcast by watching a replay of the whole show above.