If mountain biking trails are like theme parks, Singapore's newest one
Chestnut Nature Park (South)
could well be the Universal Studios of local mountain biking. Packing in a real gateway mountain biking experience with a myriad of features, the Central Catchment area's latest offering will entertain and challenge riders of all skill levels, promising family-friendly fun that'll be a real hit with the mountain biking fraternity here.
Crown of the Central Catchment Area
With the dirt still fresh from its official opening on Saturday April 2, we packed in our rides into Volvo's tricked out R-Design XC90 sports utility vehicle (with a cavernous 1,868L of space to load our bikes straight in) and made our way to sample the new
1.8-kilometer loop
.
Located at Chestnut Nature Park (South) and
accessible via Chestnut Ave, off Dairy Farm Road
, the new Nature Park offers ample parking at Chestnut Point, the 'official' rest point and toilet stop at Bukit Salleh (the actual name of the hill where the nature park is located on).
And despite the many heavy vehicles parked kerbside, the XC90's all-wheel drive and 2.0-litre twin-charged engine with 320bhp and 400Nm of torque, saw this tank of a car drive like an agile mountain goat up the narrow snaking roads towards the park.
Designed by Singaporean trail consultant
Lim Hui Min
, the new Chestnut Nature Park (South), or Chestnut South as we like to call it, was created to offer riders a heaped dose of fun with enough challenge to sustain interest and keep them coming back for more.
Straightaway from the get go, riders will note the smooth flowing nature of the track that builds momentum as you guide your bike through the many berms that were built to complement the corners. Unlike other trails we've ridden, Chestnut South doesn't have lung-busting and thigh-burning climbs. Instead, it makes use of the
area's natural gradient
to take you up Bukit Salleh and lets you roll down smooth and climb up gently. Where it is less physically demanding, it builds up technique, requiring one to work those core muscles in order to pump through the silky sections and soak in the experience.
To describe the general trail and the features on offer, one could think of cleanly cut, versatile tracks that offer clear lines for the novice rider to follow leisurely. Experienced riders can opt for a more aggressive line by going at the berms to slingshot themselves through to the next section. Advanced riders could even make use of the many up-and-over features to get airtime.
It's possible to run the trail quick (the fastest clocked 'lap' was 6 minutes and 59 seconds), or take it slow and enjoy the riding experience. While the first half of the trail can be described as feature-laden, the second will test your concentration. What may seem like an easy flow could throw up surprises should you switch off and brake too late into a corner.
The trail might have been built with conserving the natural landscape in mind, but it's also been designed to stir the senses with eight marked sections that consist of a variety of corners with different degrees of sharpness, berms, rooty sections and gravelly tracks. Combine that with the possibility of honing skill and pushing personal boundaries, the trail will keep riders coming with something new to try each time.
While we've enjoyed every section Chestnut South has to offer, here are five of our favourite features:
1. The massive fallen tree trunk near Palm Slope
Incorporated into the track, a repurposed log makes it an ideal launch for some airtime while the rest of the fallen tree looks as though one's riding in an old forest, or part of an abandoned mill.
The trail's only technical feature comprises a massive natural boulder that's a table top that riders can use to clock in some major airtime. Track builder Hui Min shares that lurching your bike forward instead of pedaling will help flow into the drop.
Past the big table top is Chestnut South's key highlight. A long-ish downhill run here offers a series of little jumps for air time before ending off in a massive right-hander that calls out for a wall-ride before steadying up for a 135 degree left-hander.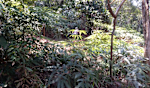 Downhill rush at Chestnut South.
Tight trails here make going quick lots of fun as the corners come hard and fast. It's relatively simple at slow speeds, misjudge your speed and you might just wash out.
A series of hip jumps here makes it real fun, except a surprise tight right-hander over a stream came as a surprise. It's a tricky section that saw us nearly go over the edge into the stream.
For more bike coverage, be sure to like us on
Facebook
.