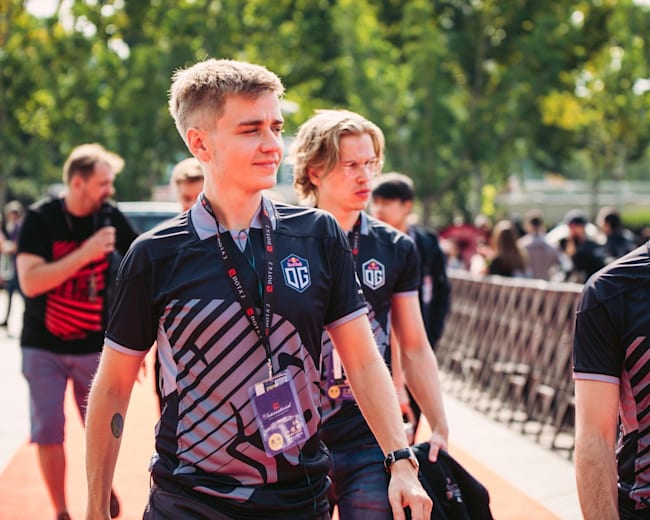 How OG made it back to the final at TI9
© Valve
The defending TI champions are guaranteed at least second place – this is the incredible story of how they got to that position.
We all know that the reigning champions of The International don't have it easy when they return to defend their crown. No Dota 2 team or even a single player has ever won the event twice, and certainly not back to back, but that is what OG came into TI9 in Shanghai looking to pull off. Some said it would simply be impossible, others more optimistically thought it very, very unlikely and practically no one thought they could actually go on and do it. While they haven't quite achieved that goal just yet, they have made it to the final of the competition once again, and are tantalisingly close to becoming the first team to ever win TI twice.
OG's impressive run at TI9 started in the group stage, where they were placed in Group B against some of the tournament favourites such as ViCi Gaming, Virtus.Pro and Evil Geniuses. People were unsure what to make of OG heading into the competition, but few expected that they would only lose two games throughout the entire group stage and debut one of the most impressive strategies we've ever seen in Dota.
In the opening three rounds in the group stage OG took down EG and Infamous and drew with NaVi, sticking to heroes we know they succeed with such as Invoker, Magnus and Elder Titan. But when the fourth match of the group stage, against Ninjas in Pyjamas, came around OG pulled out one of their surprise strategies. They picked Io last, when they already had two clear supports and were seemingly looking for a carry hero for Anathan 'ana' Pham.
But this wasn't a misclick: ana apparently requested the Io, and in the next two matches proved that he wasn't crazy and that carry Io works. Pairing it with a Troll Warlord or Windranger and getting an Aghs early results in a ridiculous amount of damage and providing you know how to make the most of the power spikes, which OG clearly did, you can destroy an opponent who has no idea what is going on. NiP clearly fell into that category and went down 2-0.
Throughout the rest of the group stage OG alternated between sticking to more standard drafts and pulling out the Io and they continued to win. Outside of a 1-1 draw with ViCi in a series that wouldn't have made any difference to the standings they didn't drop another map after pulling out the Io. This meant that they topped group B and headed into the winners' bracket of the main event.
Their first match on the main stage was against Newbee and to say it was a little one sided would perhaps be an understatement. In the first match they managed to get the core Io pick again, and won the match within 28 minutes, even diving into the fountain to end the game. Then the next match was almost as quick, although this time without an Io, ending in 35 minutes. Former TI winners Newbee never really looked like they stood a chance in this match, and OG showed that they could carry their group stage performance over to the main stage, something many teams have failed to do over the years.
Up next was the grudge match we all wanted to see, OG vs EG. Former teammates going head to head where the winner would be guaranteed a top three placement and the loser would be knocked down into the lower bracket and have the tough task of facing off against Team Liquid. This was without a doubt one of the best matches of the competition so far: EG were smart enough to ban the Io, so that didn't feature, but OG still showed what they were capable of without it.
EG took game one, but OG evened it up in game two in a match up that was very even until the 30 minute mark when OG took control. And then game three was one of the strangest games of Dota seen at TI this year. EG drafted to take the late game, picking an Anti Mage and four heroes that could keep him well protected. But OG had a lineup that could excel in the early and mid game, so they knew they had to win quickly and that is exactly what they did. By the 25 minute mark OG were pushing high ground and the Anti Mage was so underfarmed he couldn't even come back and fight to defend, instead staying on the other wise of the map and farming as much as possible. This gave OG an easy route into the base with a 5vs4 fight and they quickly turned that into a big win. Knocking EG down to the lower bracket, and guaranteeing themselves at least third place.
Next up was a rematch of last year's final, OG vs PSG.LGD. As you would expect between these two teams game one was very close, with both teams drafting quite similar line ups in terms of strategy. But eventually PSG caught out ana's Faceless Void in the mid lane and he was dead for two minutes without buy back. PSG.LGD raced down mid and ended the game right there.
OG went for a different strategy in game two and showed that when it comes to understanding when their power spike is they are arguably the best team in the world. PSG.LGD had the lead early, but as soon as OG's Alchemist got a Radiance OG rushed to the mid tier one tower and forced a fight, taking a lead that they wouldn't lose for the rest of the match. The Alchemist just became too much to deal with and the game was over swiftly.
This brought it to a decisive game three. The winner would return to the final for the second year in a row, while the loser would have to go on to the lower bracket and face the winner of Team Secret and Team Liquid. OG went back for basically the same strategy, picking Chen and Alchemist first and this time adding a surprise Legion Commander and strangely a mid Tidehunter. PSG.LGS put all their hopes in a Slark pick, something that on paper should do well against OG's lineup.
PSG.LGD comfortably took the early game, but around the 24 minute mark OG finally managed to take Rosh after multiple failed attempts and turned that into a push that took down the mid melee rax, giving them their first real gold lead of the match, despite the Alch pick. While PSG.LGD managed to win almost all of the big fights, all it took were small openings for OG to open up their base, and eventually it all became too much, with OG taking the win and returning to the final, becoming the first winners to do so since NaVi back at TI2.
Now they are just one step away from breaking even more records, and becoming the first team to become back to back TI winners. What seemed impossible is now incredibly close, and you can be sure that the final will deliver one of the best matches in Dota history. OG always like to put on a show.