Skydiving is pretty awesome, right? Imagine being able to jump out of an airplane, pull your parachute and drift back down to Earth, anytime you wanted. Then, once your skydiving skills got polished, you could jump with a wingsuit and fly like a bird or even start BASE jumping! That's a whole lot of awesome right there. Which happens to be a great description for the Red Bull Air Force (RBAF), an elite team assembled from the most accomplished and experienced aviation experts on the planet.
So what happens when this highly-skilled, precision-flying crew is tasked with creating their dream project? You get a family of athletes who do more than just step up to the challenge. "What we wanted to do was show every air sports discipline we do on the Red Bull Air Force team and put it into one massive sequence," says RBAF captain
Jon DeVore
.
See what he's talking about in the video below:
Oh no! This video is currently not available.
So, we trust you're on board with the "whole lot of awesome" description for the
RBAF
after watching that clip. The sequence shown in the video was the result of over six months of careful research, planning, coordination and rehearsal, which you can learn more about in the
behind-the-scenes edit
.
Watch Miles Daisher's BASE jump POV video, filmed with a Garmin VIRB: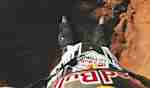 Red Bull Air Force Chain Reaction Miles Daisher
The team chose Moab, Utah, as the setting for the undertaking (which is also where Daisher recently completed
his 4,000th BASE jump
). "Finding the right location for this project was challenging," says DeVore. "After a lot of research we came to the conclusion that Moab was going to be the perfect location to accomplish our goals. It gave us everything we needed to go from A to Z in this whole sequence."
Of course, the project was planned with safety as the number one priority, as is the case with everything the Red Bull Air Force does. "When we first started developing the idea, knowing that so many firsts were going to happen in combining all these disciplines to work together, my biggest concern was how to do it safely," says DeVore.
"We took a lot of measures to make sure we went into it as safely as possible. Obviously our sport is a bit high-risk, but if you check all the things off your list, you can mitigate that risk and actually make it quite safe."