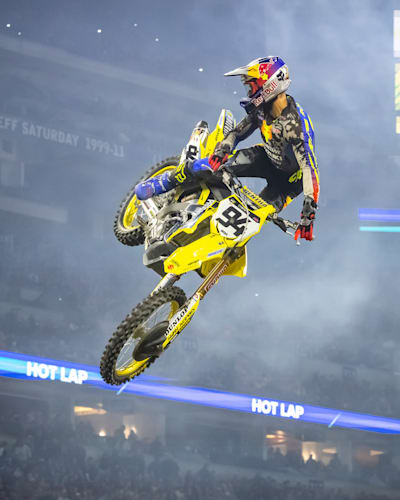 © Garth Milan / Red Bull Content Pool
AMA Supercross round 9 recap: Roczen stuns the field in Indy
Ken Roczen claims dramatic first win of 2023 as Webb takes the points lead.
Separated by just 10 points entering round 9 of the AMA Supercross Championship in Indianapolis,
Eli Tomac
,
Cooper Webb
and Chase Sexton were embarked in one of the closest title fights in the history of the sport. But on a treacherous track inside Lucas Oil Stadium, it was a fan favorite and surprise first time winner in 2023 that would spoil the party.
In his return to Suzuki, the brand he grew up on in Germany and won titles on in the FIM World Motocross Championship and AMA Pro Motocross,
Ken Roczen's
return to the manufacture in 2023 was met with speculation. After signing with the Progressive Ecstar team late in the off-season, Roczen had an up and down start to his 2023 campaign. There were certainly highs—a podium at
in Anaheim
—but those were accompanied with struggles and results not to his standards, including a season low 11th
in Oakland
.
Through late nights at the test track, Roczen said he finally was starting to feel comfortable at
round 8 in Daytona
, but he just needed a good start. Roczen's and the team's hard work showed early in Indianapolis, as he set the second fastest time in qualifying, just a tick off Chase Sexton. Following a runner up finish to Tomac in his heat race, Roczen shot out of the gate in the 450 main event and led the opening laps over Adam Cianciarulo and Sexton.
Mistakes have cost Sexton many times during the 2023 season, but he was hoping to change that outcome as he moved into second and began to pressure Roczen. Then it happened again. Early in the main, following the whoop section, Sexton's foot pegs dragged up the face of the step onto the tabletop and he went over the bars. With Sexton's chances gone, Cooper Webb and
Justin Barcia
inserted themselves into the fight.
In the latter stages of the main event, Barcia and Webb began to push each other slowly towards Roczen out front. Then Webb made a big mistake in the whoops which allowed Barcia into second. Down the stretch Webb would lose touch with the lead pack of Barcia and Roczen.
After getting around Webb, Barcia found a few new lines to quickly pull Roczen in but the #94 was able to respond to the pressure from behind. It was a game of inches as the duo headed into the final lap.
Separated by less than a second on the final lap, Roczen bobbled after the whoops, but Barcia had nowhere to go and came to a complete stop not to hit him. That gave Roczen just enough time to get back on it and complete the last two turns off to pull off the incredible first win of 2023 by just .7 seconds.
It was Roczen's first win since 2022, and Suzuki's first win since 2016—which incidentally was earned by Roczen too. The win was the 21st of Ken's career, moving him into a tie with Cooper Webb for 10th all-time.
"I don't know what to say!" said Roczen after the race. "As much as I gelled with the bike as soon as I got on it, I still feel like we had a lot of stuff thrown at us in the beginning of the season. I was on so many different setups and it was definitely tough for us, and we had some bad races there. Most importantly, we never gave up. The team and I, we were at the track sometimes until 7 p.m. sometimes, especially the week before
Tampa
. We just weren't letting off until I felt like we could. This night tonight, I've dreamed about it for many, many months, and it seemed so far away, especially after these last few races."
"Yeah I wanted to win for sure, that's the goal," said Barcia. "Today was a good day, had a lot of fun. Bike was good, I was gelling with it. I liked the track, it was gnarly. Emotions after the race, this is why we do all this training and all this fitness…I emptied everything in the tank for this one. Kenny rode a great race, everyone rode a great race. It was intense. I knew from last week I would have a good one, and I had a good week at home. It was just staying smart, staying on two wheels. Would definitely have liked to take the win, but you can't win 'em all, and we'll try again next weekend."
Although he lost touch with the lead pack late in the race, Webb rounded out the podium. With Eli Tomac struggling to an 8th place finish, Webb leads the points for the first time this season, holding a slim one-point lead over the defending champion.
"To get the red plate is a great accomplishment, obviously still tight, but good for the overall points battle, but a little disappointed," said Webb. "I felt like I was in the mix and didn't execute. So, overall, a little disappointed. This track was so tough, it's definitely risk versus reward. We'll take it and move onto the next."
In the 250SX Eastern Regional division,
Hunter Lawrence
had been nearly unstoppable as the series entered its fifth round in Indianapolis. Through four rounds, Lawrence claimed three wins and had not finished off the podium. He began the day in Indianapolis much the same, qualifying quickest and winning his heat race in convincing fashion.
The main event was no different for Lawrence as he grabbed the early lead and was never challenged, his only hiccup coming when he collided with a lapper late in the main event. Lawrence led all 21 laps en route to a more than seven second win over Nate Thrasher and Jordon Smith.
"It was my first time racing Indy, and it was kind of an eye opener," said Lawrence. "I was trying to just let it all come to me. How it was going to break down, and on the second lap it was already starting to break down!"
Behind his fourth win in five rounds, Lawrence now holds a commanding 22-point lead in the championship as the series heads to Detroit next weekend.
Ken Roczen, Mattstedt, Ger., Suzuki

Justin Barcia, Greenville, Fla., GASGAS

Cooper Webb, Newport, N.C., KTM

Aaron Plessinger, Hamilton, Ohio, KTM

Jason Anderson, Rio Rancho, N.Mex., Kawasaki

Adam Cianciarulo, New Smyrna Beach, Fla., Kawasaki

Christian Craig, Clermont, Fla., Husqvarna

Eli Tomac, Cortez, Colo., Yamaha

Justin Hill, Yoncalla, Ore., KTM

Chase Sexton, Clermont, Fla., Honda
02
450SX Class Championship Standings
Cooper Webb, Newport, N.C., KTM (202)

Eli Tomac, Cortez, Colo., Yamaha (201)

Chase Sexton, Clermont, Fla., Honda (189)

Jason Anderson, Rio Rancho, N.Mex., Kawasaki (166)

Ken Roczen, Mattstedt, Ger., Suzuki (164)

Justin Barcia, Greenville, Fla., GASGAS (155)

Aaron Plessinger, Hamilton, Ohio, KTM (154)

Christian Craig, Clermont, Fla., Husqvarna (119)

Dean Wilson, Menifee, Calif., Honda (93)

Adam Cianciarulo, New Smyrna Beach, Fla., Kawasaki (92)
03
Eastern Regional 250SX Class Results
Hunter Lawrence, Landsborough, Aus., Honda

Nate Thrasher, Livingston, Tenn., Yamaha

Jordon Smith, Ochlocknee, Ga., Yamaha

Jeremy Martin, Rochester, Minn., Yamaha

Max Anstie, Newbury, Eng., Honda

Chris Blose, Phoenix, Ariz., Kawasaki

Haiden Deegan, Tallahassee, Fla., Yamaha

Tom Vialle, Avignon, France, KTM

Cullin Park, Clermont, Fla., Honda

Coty Schock, Dover, Del., Honda
04
Eastern Regional 250SX Class Championship Standings
Hunter Lawrence, Landsborough, Aus., Honda (125)

Max Anstie, Newbury, Eng., Honda (103)

Nate Thrasher, Livingston, Tenn., Yamaha (93)

Jordon Smith, Ochlocknee, Ga., Yamaha (92)

Haiden Deegan, Tallahassee, Fla., Yamaha (90)

Jeremy Martin, Rochester, Minn., Yamaha (90)

Chris Blose, Phoenix, Ariz., Kawasaki (70)

Tom Vialle, Avignon, France, KTM (68)

Chance Hymas, Pocatello, Idaho, Honda (60)

Coty Schock, Dover, Del., Honda (57)