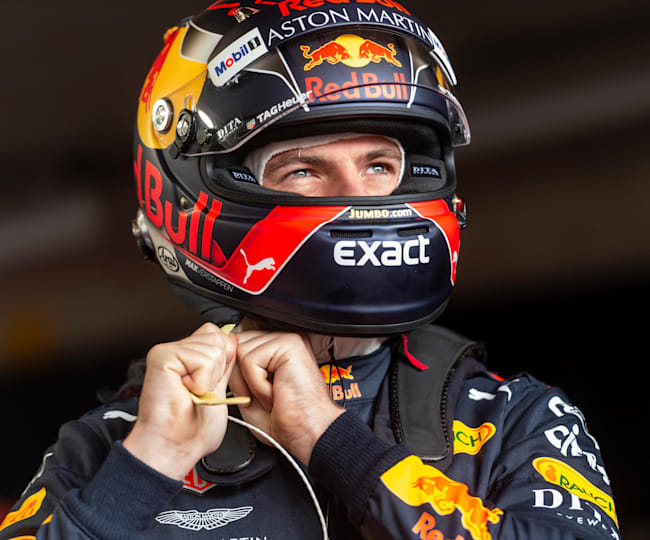 © Jarno Schurgers/Red Bull Content Pool
This is how F1 race suits have evolved over the years
From Juan Manuel Fangio's polo shirts to today's fire-resistant, lightweight fibres via heavy, NASA-spec jumps suits, F1 race attire has changed a lot down the years.
Since the
Federation Internationale de l'Automobile
introduced safety mandates governing drivers' suits and helmets in the '60s,
Formula 1
race suits have evolved at a rapid pace. The suits worn by
Max Verstappen
bear zero resemblance to the race-day clothes worn by the kings of the sport in the '50s, who wanted comfort and cool over safety. Take a look back at nearly 70 years of F1 race suits.
Juan Manuel Fangio, 1950s
When Argentina's F1 driver
Juan Manuel Fangio
ruled the circuit, winning five world championships between 1951 and 1957, the idea of a safe, fire-resistant race suit was yet to be put into practice. Instead, drivers were free to wear pretty much whatever they liked, ranging from
Stirling Moss
's striking overalls to Fangio's preferred racing attire of polo shirts, work jackets and slacks. It seems bonkers now – as does Fangio's lightweight-looking head gear – but it didn't impede the driver known as El Maestro. Fangio won 24 out of the 51 races he started, with a record-breaking win percentage of 46.15 percent.
Jackie Stewart, late '60s and early '70s
Did any F1 driver look as cool on the track as three-time world champion
Jackie Stewart
did in the late '60s and early '70s? Although he still managed to weave his Scottish pride onto his famous white suit and helmet, the Flying Scot wore a much safer get-up than F1 predecessors such as Fangio. After a series of fiery incidents across the world of motorsport in the early '60s, fire-retardant suits began to be developed and, in 1963, the FIA brought in its first rules regarding fire suits. The Nomex 'Heat Shield Firesuit' arrived in motorsport after NASCAR's
Bill Simpson
was introduced to the material by NASA astronaut
Pete Conrad
.
In 1975, the FIA introduced standards for fire-retardant suits, but the 1976 crash at Nürburgring that nearly killed Austria's three-time world champion
Niki Lauda
and left him badly scarred, highlighted that drivers' cotton suits were still far too flammable. Drivers and their teams began taking their own safety increasingly seriously. A few years later, in 1979, drivers such as Lauda and
Mario Andretti
were wearing bulky and uncomfortable five-layer suits made to NASA specifications, using the same materials used to make astronaut suits.
Ayrton Senna
's 1987 race suit, which adheres to the FIA's 1986 specifications, is a major piece of F1 history. The Brazilian driver wore the suit as he drove Team Lotus' 99T car to its final ever Grand Prix victory at Monaco, and adorned Senna as he took seven podium finishes in a season that signposted his future dominance. This 1987 suit, in eye-popping, but way-cool, yellow, is typical of F1 overalls of the era, when teams and sponsors emblazoned their brands on suits with patches that added substantial weight and bulk. Of course, tobacco sponsorship, then prevalent, has been banned since 2006. The 1987 suit Senna wore at his Monaco triumph, complete with shoulder epaulettes strong enough to pull a driver out of his car along with a seat, was last sold at auction for €38,400 [£33,709 / $45,343].
Max Verstappen
's 2018 race attire is typical of suits worn by all modern drivers and pit crews. (FIA mandated that they should also adhere to the same rules as drivers in 1994.) The challenge in recent years, though, has been to maximise both protection and comfort. Long gone, then, are heavy, fiver-layer fire suits, replaced instead with lightweight and breathable layers of Nomex fabric that goes through a rigorous process of washing, drying and testing at 600 to 800 degrees Celsius. Everything, from zips, gloves and socks, to the thread tying it all together, must be able to withstand the same heat too. To further reduce the weight and bulk of race suits, sponsors' logos are now printed on.