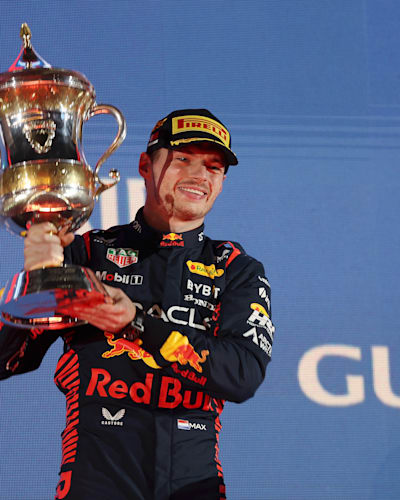 © Getty Images/Red Bull Content Pool
Max Verstappen and Sergio Pérez deliver a blistering 1-2 result in Bahrain
The Oracle Red Bull Racing duo convert a front row start into a top-two finish under night skies in Sakhir, ending the team's decade-long dry run in the desert in emphatic style.
It had been a long drought in the desert for
Oracle Red Bull Racing
, which only made ending it all the sweeter. Ending it with a 1-2 finish? That's cause for celebratory drinks to quench any thirst.
Max Verstappen
kicked off his
Formula One
World Championship defence in emphatic style at the season-opening
Bahrain Grand Prix
, leading from pole and only relinquishing top spot through the pit stop phase en route to his maiden success at Sakhir, and the team's first win in Bahrain since Sebastian Vettel in 2013.
Even better? Team-mate
Sergio Pérez
converted his second place on the grid to second place in the race, showing that the pre-season testing pace of the RB19 was both real and ominous for the opposition.
How long had it been since Vettel's win for the team in Bahrain? So long that Red Bull had never won under lights at Sakhir – the race switched to a night event in 2014 – and snapping that skid was as historic as it was overdue; Sunday's result represented the first time the team had finished 1-2 in the opening race of an F1 season.
Verstappen cruised to a 11.987-second win over Pérez, with the best of the rest over 26 seconds down the road. Fernando Alonso rounded out the podium, the veteran Spaniard showing Aston Martin's pre-season promise wasn't an outlier, as he won a late-race scrap with Ferrari's Carlos Sainz and Mercedes' Lewis Hamilton after Sainz's team-mate Charles Leclerc saw a podium slip through his fingers after retiring with engine problems with 16 laps left.
Here's how a perfect night under lights shook out for Red Bull in Bahrain.
Tenth time the ticket for Verstappen
Verstappen came into the season-opener as the undisputed favorite after pre-season testing indicated the RB19 had pace and reliability in spades, but the Dutchman was understandably wary after last year's promise
evaporated in a double DNF for the team in Bahrain
.
The two-time world champion rose to the occasion in qualifying, taking pole over team-mate Pérez by 0.138secs after not leading a single session before Q3, and nailed the start when the lights went out just after dusk on Sunday evening, scorching to a two-second lead within two laps.
Verstappen briefly gave up the lead on Lap 14 after pitting to discard his soft tires for another set, but was quickly back in control thereafter. After second-place results in Bahrain in 2020 and 2021, seeing the view from the Bahrain podium's top step on his 10th attempt left him with a broad grin.
"We can definitely fight with this," he said of the RB19 as he looked ahead to the coming races.
"It was a very good first stint where I basically made my gap. From there onwards it was all about looking after the tires, because you never really know what's going to happen later on in the race. We just wanted to make sure we had the right tires in good condition as well, so of course very happy to finally win in Bahrain."
After five 1-2 finishes for the team in 2022, Verstappen was pleased to kick 2023 off on the same note, and said he had very few concerns throughout despite reporting some rear locking when he was downshifting through the gearbox in the opening exchanges.
"There were little things you always want to fine-tune, but I think they're quite easy to get on top of," he said.
Pérez fights back to snare second
The strategic story heading into Sunday's race was Leclerc and Ferrari forgoing a second run at pole position in qualifying, the Monegasque driver saving a brand-new set of soft tires for the race in an attempt to split the Red Bulls as soon as the lights went out.
Starting from third, Leclerc's stellar getaway on brand-new tires – combined with a slightly stuttering start from Pérez – saw the Mexican enter the first corner in third place, setting up a duel for second after Verstappen took off in the opening laps.
A longer opening stint by Pérez – he pitted for the first time on Lap 17 – saw that early-race tire disadvantage swing in his favor, and he duly hunted down Leclerc and passed the Ferrari with a sweeping move into Turn 1 on Lap 26, and didn't put a foot wrong for the remainder of the race.
There's a good omen for Pérez – the winner of the opening race of a season hasn't won the title for six straight years – but the Mexican was more happy to banish the bad memories of last year's Bahrain disappointment, the only time in the past 49 races where neither Red Bull has seen the chequered flag.
"It's a great start – when we look back to last year how we started here, it's a nice comeback as a team," he said.
"Today … the start really put me out of contention for the race, but it was all about minimising the damage. Finishing second was the best I could do today … it's a long season, and I think I'm getting closer every single session."
Oracle Red Bull Racing team principal Christian Horner was equally thrilled by the bounce-back from 12 months ago.
"Checo losing out the start, he had to do a bit of work with Charles but strategy played well and he got he pass done, and we managed it until the end," Horner said.
"It's only a sample of one (race) and all the circuits are different, but it's a great start for us. Unlike last year when we were sitting here with zero points … we came here determined to try to address that this year and we've done it in the best possible way."
Tsunoda just misses out, De Vries makes 'debut'
Scuderia AlphaTauri
narrowly missed out on a points finish in Bahrain,
Yuki Tsunoda
fighting on but just falling short of a Top 10 result in the closing stages as he fought with Williams' Alex Albon for the final world championship point.
The Japanese driver picked up debris from a discarded helmet tear-off visor from one of his opponents and battled traction delivery issues throughout, but battled on gamely to harry Albon in the final stages to finish 11th from 14th on the grid.
Dutchman
Nyck De Vries
, meanwhile, had a subdued start to his first full-time season with the slowest time in qualifying, but the 28-year-old persevered in the 57-lap race to come home in 14th position in his second Grand Prix start after a one-off appearance for Williams last season in Italy.
Evergreen Alonso on target for Aston Martin
Aston Martin was the surprise of pre-season testing, with new signing Alonso showing startling long-run pace that indicated the seventh-best team of 2022 would be much closer to the front this season. Just how close came to light at night on Sunday, the 41-year-old benefitting from Leclerc's late retirement and putting opportunistic passes on Hamilton and Sainz to storm to third, his 99th career podium.
Team-mate Lance Stroll – who missed pre-season testing after a cycling accident and raced with wrist and toe injuries – was a hugely meritorious sixth, as Aston Martin slotted into second place in the constructors' standings.
Also meritorious was a superb race by Alpine's Pierre Gasly, the AlphaTauri alumni storming from last on the grid to ninth at the chequered flag, while of the 2023 rookies, American Logan Sargeant showed best with 12th place for Williams.
Fast and furious in Jeddah
From the middle leg of a Middle East trio of races dating back to Abu Dhabi last year, F1 travels south-west from Bahrain for the third
Saudi Arabian Grand Prix
(March 19), where the super-fast Jeddah Corniche Circuit has thrown up two thrillers so far.
Pérez, meanwhile, will have fond memories of Saturday in Saudi a year ago; it was there that the Mexican took his maiden (and so far only) F1 pole position on his 215th attempt. The race didn't pan out quite so well – Checo finished fourth – so he'll be motivated to make amends at the second-longest (6.174km) circuit on the calendar.