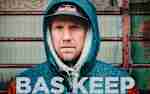 Bas Keep reveals how he conquered fear to make More Walls
The British BMX star is back, defying gravity again in his latest wallriding project. He shares what helped to push him over the edge.
Sebastian 'Bas' Keep's
BMX career has been defined by going big. The 38-year-old has been pushing boundaries for almost 20 years, both in competition and outside of it. Who can forget his 2013
Red Bull Quarter Master project
– a 26ft-tall (8m) dirt quarter pipe that helped him reach 45ft (13.5m) of air.
But his most renowned work in the world of BMX is
Walls
– the 2017 film that saw him attempt mind-bending wallrides and leave tire marks in places never thought possible. Now, Keep is back with a follow-up,
More Walls
. Shot over two years, the new film pushes the British rider's mental focus and physical stamina harder than ever before, as it demanded even more daring wallrides and with even less margin for error. Like Walls, Keep focused on finding spots to ride in the United Kingdom.
Watch the behind-the-scenes film at the top of the page and check out our interview with Bas below to find out all about More Walls.
What was your inspiration for the project?

Sebastian Keep: Initially, I got inspiration from lots of different places. I enjoy watching snowboarders, riders such as Danny MacAskill and people who think outside the box. Red Bull did this big contest in 2012 at the Grand Palais in Paris. Led by Nate Wessel, the course builders created this incredible skatepark with a feature where you jump forward but then land on a wall and go underneath yourself. I thought it looked really cool, and I thought you could take that and take it to city centers and start jumping off higher things with it.
What makes More Walls different to the first Walls film?
For the first one, there was stuff we couldn't get done for logistical reasons and because it was difficult to ride a spot without permission. I remember paying for a rental van and getting all my friends to use up their Sunday mornings to come and drive to these weird places. There was always a fear of someone turning up and saying, 'Guys, you can't do this, you've got to go'. It didn't actually happen much, but it could easily have done.
For the second one, we decided to tackle it legit, get permissions for spots and see how we went. It brought its own challenges, but it did remove the pressure of having to rush and worry that you're going to get kicked out of a spot when you've gone to all that effort and money to go to it.
If you know that you're prepared and you've done everything you can, then you accept that the fear is there to help you
How did you prepare for each spot?
We had a warehouse in Birmingham where people were there full-time to help us build ramps, which made it much easier. We were able to recreate the spot as it would be at the actual location and get a really good feel for how it was going to be on the day. I'd session the set-up for a few hours over a couple of days. It doesn't take that long to get the muscle memory and start to get the feel of how it feels, but it really does help with your confidence.
It didn't always work out, though. There was one that [I couldn't do] in Chelmsford right at the beginning of filming. I got to the practice warehouse the night before. The set-up wasn't built properly, I had an hour or so to practice, and then we were driving early in the morning to the spot, which was the scariest one. After that, we learned that you can't be complacent; you've got to do it properly otherwise, I'm going to kill myself straight away.
How come you couldn't do it?
I was trying a drop that I was so scared of anyway, and I was up on this high bridge on my own above a really busy road that had been noisy all morning. They stopped the traffic, so I could go, and I saw a queue of traffic both ways. I couldn't handle the pressure. Those people in their cars were trying to get somewhere, they were waiting for me, and I'd have to rush my decision to do something that could have been really dangerous. I was like, 'I can't deal with it'. And then it rained, thankfully.
They stopped the traffic, so I could go, and I saw a queue of traffic both ways. I couldn't handle the pressure
How much of this project is in your head?
So much of it – you battle with your head all the time. I had so long to think about it in between each spot, and I almost told myself that I needed to be in a state of fear. If I wasn't, I'd wind myself up, think about how scary it was and try to make myself feel that fear. But you don't need to do that to yourself; you need to be completely relaxed.
It's a bit like if you've got a big exam the next day and you're having fun with your friends, and you've done all your homework. But then you're like, 'I shouldn't be having fun, I should be really stressed about tomorrow'. There's actually no point in stressing about it. You've got to go there and trust the process that you've gone through in the practice sessions and then let your body take over. It's difficult to train your brain to be like that.
It's hard to make yourself go the last bit and actually jump over the edge
Do you have any mind tricks to help you overcome a mental block?
I spoke to a psychologist, and he said, 'You're going to be scared – you can't try and get rid of fear because that's a natural human emotion. You've got to understand that you can use that fear to help you. So if you've done your practice and you're prepared, you can acknowledge the fact that you're being scared and then say, ''but this fear is also excitement''.
Often fear is not being prepared. If you know that you're prepared and you've done everything you can, then you accept that the fear is there to help you.
What goes through your mind when arriving at a spot?
Seeing everyone working so hard on your projects adds pressure. Sometimes you're there with all your friends, everyone's having a good time, and you're happy because you're on a fun job. But sometimes I was like: 'I wish I was one of the ramp builders'. Once they're done, they get to sit back with a cup of tea and watch me jump off a bridge. I've got to be the one to jump off it. It makes it all worth it, though – everyone's a big part of each clip, so you do it for them as well.
Things also look bigger in person. When you're in the practice warehouse, you've built a nice wooden ramp, and it's relaxed. And then you get to the actual set-up, and there are cars and people stopping, saying, 'What's he doing, is he going to die?'. That stresses me out. It's never perfect, either; there are always bumps or something in the way at the bottom, or it's wet, windy or cold. But that's why you try to do the best you can, and practice to take away some of the questions.
How do you mentally commit to a jump?
It's hard to make yourself go the last bit and actually jump over the edge – that bit is quite difficult. You have to think about the end product, how fun it's going to feel after and how happy everyone's going to be.
It's then all about going through the motions. When you're trying something big and scary, what you don't want to be doing is trying to calculate how to do it. You literally have to know that your body will know what to do when it hits a lip. I said to someone: 'That wasn't me that jumped over that – I couldn't do that. I had to let the bike rider in me take over'.
Is it hard to psych yourself up again after a crash?
There was one instance in the film that was scary because I fully slid out on a metal wall because it was wet. If that was in any situation at home, you wouldn't have done that again. I had to do it. I thought, 'I'm going to take one for the team here and do this even though this is wrong.' It was stupid. It was a tin wall that was wet. It was raining, and we were trying to dry it.
What was the toughest wall ride of More Walls?
There's one that doesn't look like much – it's right at the beginning where I ride down a skinny black wall, and there's a huge drop on the other side of me. I tried to do it, and my body wouldn't let me go. I think it was because if I'd fallen to the right, I would have definitely died because it was a massive drop. Maybe it's your brain saying, 'I'm not going to let you do that because if you fall, we're going to die'.
Did you do anything outside of your riding to help you overcome the mental challenges of this project?
At the beginning of the project, I was really working out a lot in the gym, running, doing lots of fitness. I just wanted to be properly prepared on the day and make sure that I felt good and was confident. That definitely helps put you in a good headspace.