Behind the Scenes of MTB's Mega Track in Rhythm
After weeks of building Rhythm, the action begins — crashes, bad weather and lots of jumps.
"I always wanted to do a downhill Supercross-style trail," says
Bas van Steenbergen
of his mega trail project, Rhythm.
Watch the behind-the-scenes video below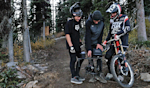 Behind the Scenes of Rhythm — MTB's Mega Course
"Rhythm is the result of an incredible amount of work from an all-time crew of builders, shooters and riders," says
Thomas Vanderham
. "It was cool to be a part of and see the vision of [Bas] and [Harrison]."
Ryan "R-Dogg" Howard
says more on his Instagram. "Rhythm was the flowiest, most technical, and unique lines I have ever ridden. So fun riding and working with this power crüe!"
Check out more productions from director Mendel: