1. Tom Pagès's showstopping run from Red Bull X-Fighters in Madrid
Tom Pagès is the most creative rider in freestyle and this astonishing run from the 2015 Red Bull X-Fighters World Tour is close to perfection from the French showman. Rather than performing backflips, Pagès can dances through the sky, pulling pirouettes on his bike and landing astonishing moves like the Tsunami Indy, Bike Flip and Alley-Oop Flair. In 2015, with X Games gold already in his back pocket, he headed to the Arena de las Ventas in Madrid, Spain, the home of Red Bull X-Fighters, and pulled off a flawless night of jumps and tricks, culminating in a spectacular winning run again his old rival
Levi Sherwood
. Relive it now.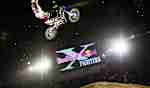 Tom Pagès Winning Run 2015
2. A fresh take on the art of FMX
More innovation from Pagès, but this time in the way we watch FMX. Tom is joined by
Instagrammer Tom Panaiva – aka Tomz FPV
– an expert drone pilot with serious flying skills, who films Tom in a never-before-seen FMX run through his compound in Girona, Spain. Here we go behind scenes with the two creators and the production team to reveal how four days of filming and years of experience went into making the
one-minute Follow Me clip
.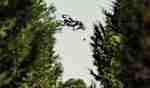 3. Robbie Maddison and Tyler Bereman Duct Out of LA traffic
LA traffic is notoriously hard to get through. You can take Barrington down to the 10, exit on Fourth and Colorado but you're still going to
end up in Inglewood, brah
. Unless of course you're FMX legends Robbie Maddison and Tyler Bereman. These guys ditch the truck and take to their bikes for a high-speed FMX tour of Downtown Los Angeles, pulling tricks and stunts and finishing with a spectacular jump down to the LA river.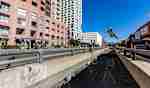 4. Tyler Bereman's Imagination runs wild for unique FMX meet
Tyler Bereman constructs the gnarliest FMX course his feverish imagination can conjure in a field in Kasnsas, USA with the help of master builder Jason Baker. Made up of huge jumps, quarter pipes and a few freestyle sections, Tyler invites some of his friends from the world of motocross, Supercross and FMX to compete for judges Robbie Maddison and
Jeremy 'Twitch' Stenberg
. There's bruises, breaks and busted bikes and also amazing FMX action from a group of friends who happen to be among the elite of MX riders, including
Colby Raha
,
Cole Seely
,
Vicki Golden
,
Ryan Sipes
,
Darryn Durham
and
Tom Parsons
.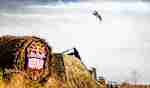 5. Pastrana opens up the Indianapolis Motor Speedway
Being Travis Pastrana opens a lot of doors including the famous Indianapolis Motor Speedway. Pastrana borrows the keys to the iconic Brickyard and heads down Gasoline Alley with Indy 500 winner
Alexander Rossi
and
Nitro Circus star Gregg Duffy
. This fantastic promo features amazing stunt driving in TP's rallycross car, Rossi's Andretti IndyCar and Duffy's FMX bike with an amazing climax – a triple jump as Pastrana jumps over Rossi's car while Duffy jumps over them both.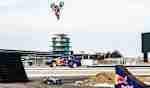 Travis Pastrana, Alexander Rossi and Gregg Duffy get the Keys to the Track
6. Rob meets the elusive Tom Pagès
Tom Pagès
is a complex character – famously private, he avoids the spotlight and is often reluctant to enter competitions. His creative approach to FMX is guided partly by his concern that the competition is all too easily reduced to pulling off ever more dangerous backflips – something that has claimed the lives of great riders, including his friend and hero
Eigo Sato
. Rob Warner tracks down Tom Pagès to his compound in Spain to relive some of his highs and lows of competition in
Red Bull X-Fighters
. It's a fascinating insight into the mind of one of the greats of FMX.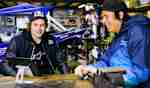 7. Inside Levi Sherwood's FMX playground
Way back in 2009, a 17-year-old Levi Sherwood burst into FMX with a winning run on his debut at the Red Bull X-Fighters World Tour opener in Mexico City. Huge jumps matched with skill and athleticism, it redefined what was possible on an FMX bike. Sherwood became the most successful rider in the history of the World Tour. But away from the arena, he's a quiet Kiwi who lives in the New Zealand countryside perfecting new and amazing jumps and tricks that will take him to the next level of FMX.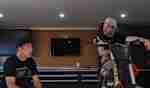 8. Tyler Bereman's Moto Sandbox
In 2018,
Tyler Bereman
was badly injured in a crash while riding in Australia. He came back and won X Games gold the following year. His first project after recovering was to shoot an
FMX film, Fundamentals
. This clip is a montage of behind scenes footage and practice runs as Tyler comes up with a completely new FMX run. If you want to know how much dedication and skill it takes to become an FMX pro, then watch, marvel and learn.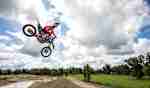 Tyler Bereman Turns Moto SandBox into a Freeride Playground
Download the free Red Bull TV app and catch the FMX action on all your devices!
Get the app here