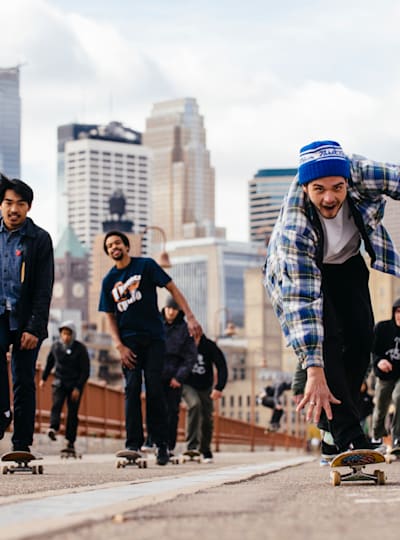 © Ryan Taylor
5 best skateparks in Minneapolis
Familia HQ is just one of the parks featured in our list of the five best places to skate in Minneapolis.
With an average of 52 inches of snow a year, the winters in Minneapolis are so long and bleak that skaters have had to get creative. If you've never seen a
skateboarder jumping through a hoop of fire
and over a pile of snow, Minneapolis may be worth a visit!
The conditions and their creativity are just a few of the reasons the Frozen North has produced so many fearless skaters, including local legend and pro skater, Steve Nesser. He's the founder of Familia, one of the best skate shops in the area and a hub for the local skate community. He also built
Familia HQ
, an indoor skatepark considered the gem of the Midwest.
"We wanted an indoor place to skate. With all these little plazas popping up everywhere, we wanted our own," he said.
Familia HQ is just one of the parks featured in our list of the five best places to skate in Minneapolis.
The 5 Best Skateparks in Minneapolis
Take a look at which five skateparks in Minneapolis come out on top.
01
Elliot Park Skate Plaza
The old
Elliot Park skatepark
was dismantled last year to make way for this new super dope skate plaza designed by California Skateparks, the same firm that designed the course at the
Tokyo Olympics
. The features in this street-style park are based on the classic swimming pools and halfpipes of Southern California, but with a nod to local landmarks. For example, the "bricks" recreate the feel of the Hennepin County Government Center plaza, the OG of Minneapolis skate spots. You'll also find a skateable seat wall, rails, and ledges appropriate for a variety of skill levels. Overall, it's spacious and has a good flow. This is the biggest and easily the best skatepark in the Minneapolis park system, so it is extremely popular and can get busy!
Location and hours: 901 South 8th Street, Minneapolis, MN. Open 24 hours.
Familia HQ
is a top-notch indoor park with lots of ramps and quarter pipes. Located just a few miles from the Familia skate shop, it is an important hub for the Minneapolis skate community. It's welcoming to skaters of all ages and levels, but that means it can get crowded at times. You'll also find events here all year long.
Location and hours: 835 Hennepin Avenue East, Minneapolis, MN. Open Monday through Saturday 11 am to 7 pm and Sunday 12 pm to 4 pm.
03
Juxtaposition Skateable Art Plaza
Skateable art is a trend that is here to stay and Juxtaposition is one of those
skate spaces
that incorporate art for the whole community to enjoy. At
Juxtaposition
, you'll skate under the watchful eye of Minneapolis's coolest son, Prince. His portrait is part of the 840-foot-long mural that serves as a colorful backdrop. This plaza is a small but unique space featuring quarter pipes, a bank-to-wall ride with a cantilevered manny pad, a bank to curb, and 2 round quarter pockets. It's a multi-use space with movable furniture, but built with skateboarders in mind. Roger Cummings, the Chief Cultural Producer and co-founder of JXTA, said, "When you go to a plaza, it often has those pieces of metal so people can't skate on the furniture. We wanted to flip that…and make those pieces of furniture skateable."
Location and hours: Corner of West Broadway and Emerson, North Minneapolis, MN. Open 24 hours.
Before you skate at
Morris Park
, ask yourself - do you love danger? Everyone who skates here agrees that the concrete is super patchy and rough, almost un-skateable. However, there is a fun manny pad and all the features themselves are in great condition. So there are some trade-offs to consider. You'll find a bank/wedge ramp, deck, flat rail, funbox, quarter pipe, and a stair set. Keep in mind this is a Tier 1 skatepark, which means there is no equipment higher than 48 inches. This public park was selected for renovation but that has yet to begin.
Location and hours: 5531 39th Avenue South, Minneapolis, MN, Open 9 am to dusk.
In comparison to the other parks on this list, we have to admit
Armatage
is a little boring. It is a small prefab park with the usual stuff - a ramp, a manny pad, a pyramid, and a quarter pipe. But let's face it while some of the bigger souped-up parks are nice, they are busy all the time. When you're learning or just want to be alone, sometimes it's nice to hit up a smaller, lower-key park like Armatage.
Location and hours: 5700 Penn Ave South, Minneapolis, MN. Open 24 hours.
Even though Minneapolis has some challenging conditions, the skate spots and parks have produced excellent skaters like Nesser,
Alec Majerus
and Jonathon Reese, another local who took first place in the first
Red Bull Cornerstone
in 2019. During these tough ridged months, skaters are able to keep going thanks to the indoor parks that keep their lights on. Kudos to Familia HQ, as well as
3rd Lair Skate Park
, located just outside of Minneapolis in Golden Valley, MN for giving the community a place to skate during these frigid winters.
And because skaters continue to show interest, the
Minneapolis Parks and Recreation Board
continues to invest. The city has a twenty-year roadmap to build even more skate spaces in the city. Their "Minneapolis Skate Park Activity Plan" calls for 20 or more skate spaces of various styles and sizes throughout Minneapolis, to skate on when the weather permits!