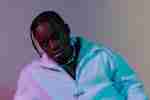 Blxst is coming for the crown in LA with 'No Love Lost'
© Brandon Hicks
There's "No Love Lost" for Blxst. He shares what his debut EP means to him and what he hopes people will learn about him as an artist.
Blxst
is a man of many talents. The producer and rapper from South Central Los Angeles has produced tracks for artists like Kendrick Lamar and YG, but he is now ready to share his new project with the world. He has put in a significant amount of hard work, time and love to give us a taste of what his sound truly is with his debut EP, "
No Love Lost
."
The EP consists of eight songs, which Blxst was fully hands-on with for the entire process, from producing to the artwork and music videos. "I just really want to make a good first impression," Blxst said when we asked what he wanted people to take away from his debut project. "I want you to be able to drive to my music. That's the most important thing. I try to make the sound smooth, laidback, and cohesive. I like to live in both worlds of R&B and rap."
He has always gravitated to more laid-back music, influenced by his mother's music choices. "I get that from my mom. Some of her favorite artists are Jill Scott and Erykah Badu. The mellow vibe is really what I'm attracted to," he shared. But what influenced his sound as he grew as an artist came from within. "It was more internal," said Blxst. "As I was getting more feedback from my peers and the ones around me, it motivated me to continue doing what I was doing."
After hearing "No Love Lost," it's clear that his goal was successful as the tracks beautifully balanced both worlds of R&B and rap. Before he released his EP, Blxst spent some time in the Red Bull Remix Lab to create a hit with 1TakeJay. We caught up with Blxst to talk about his Remix Lab experience and to learn more behind "No Love Lost."
Red Bull: You're really involved with your whole creative process from beginning to end - from producing to mixing and even your music videos. Was that always the plan?
Blxst
: "Initially it started off just saving a dollar. I didn't really have a budget to reach out to engineers and producers. It was a self-taught thing. I felt if I create the resource for myself, I wouldn't have to outsource. Later on it just made me appreciate that because now I'm hands on with my own sound, I have more clarity in the direction I want to go in. it's just overall better."
You showed how hands-on you were in the Remix Lab when you made "Slip & Slide" with 1TakeJay. It's hard to believe you guys haven't worked together before. What was that like?
"It was honestly a genuine connection. Of course I've seen 1Take just moving around the city and making noise. I thought this would be an interesting record to hear two separate styles come together. And honestly the Red Bull situation was the perfect alley-oop to capture the moment."
Did you have a sound or direction in mind before you got into the lab?
"I knew that 1Take Jay comes from the party scene. A lot of his music gets played at parties. I was like 'Damn, how can I blend my world into his world?' I felt that summertime vibes was the perfect combination."
How long did it take to make "Slip & Slide"?
"It was really quick, maybe 30 minutes top."
You advised people to "Always tweak your sounds, never leave it stock." What's another tip you can share?
"Think outside the box. If you know that you do a certain pattern all the time - every producer has their go-to patterns - I would say challenge yourself to try something different.
Congrats on "No Love Lost"! What inspired that title and what does it mean to you?
"As far as the title, 'No Love Lost,' it's just another meaning for no hard feelings. And what I mean by that is I got to finish the goal that I started by any means necessary. Sometimes along that path, you have friends or family members who don't really see the vision, but it's no hard feelings if they don't because you got to continue going no matter what."
How long did this EP take?
"That's a good question. There are a couple songs that's been out before, like 'Hurt.' I would say a year."
When you look back at the whole process of making your EP, what was the most challenging part?
"The most challenging part was making the visual aesthetics to match with the songs. Of course the project tells a storyline, but I wanted the visuals to match that storyline which is why we went with the four-part video series. The whole process of that, coming up with the storyline, we had shoot multiple videos in a small proportion of time. It was a good challenge. All the videos are done. We shot four videos in a matter of one week."
What do you want the audience to take away from "No Love Lost" and you as an artist?
"I'm one of those artists that chooses quality over quantity. And I want the crown for LA, that's what I'm going for."
What was the creative process for the four-part video series?
"Everybody [my team] pushed their ideas, it was like a PowerPoint. We gave it to the director and finished up the vision that we started with. Even now I'm hands on with post-production. Today, I'm supposed to pull up on the director and help with the edits. I'm trying to be a part of all the growth of the process."
There are eight tracks on the EP. How did you choose four for the video series?
"I just chose songs that kind of stand out from each other, as far as the sonic of it. I have a couple songs that kind of deliver the same sonic, but I wanted to show a different side of rap that people are not really used to. I have a song called "Gang Slide," the BPM, it's something that people wouldn't really attach me to. So I wanted to kind of throw the audience off."
This is just the beginning. What's next?
"I'm always in the process of recording, but for now it's just executing this rollout for 'No Love Lost.' I just got a Billboard up today, which is a big W for me. I'm just looking forward to seeing the feedback from my fans, listeners and supporters."