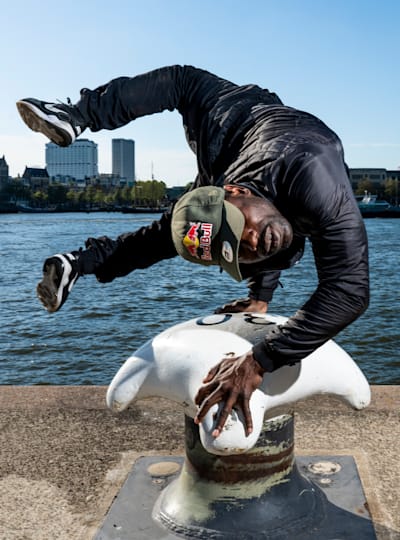 © Little Shao
Breaking Beyond: 6 dance scenes that bred some of the world's best breakers
Breaking Beyond is a new series from Red Bull TV that takes you on a journey around six home cities of the Red Bull BC One All Stars. Get the lowdown right here.
Introducing
Breaking Beyond
, a new
Red Bull TV
show that explores breaking and hip-hop culture around the world by visiting a different city with each episode.
The series sees
Red Bull BC One All Stars
Menno, Ronnie, Junior, Shigekix, Neguin and Kastet introducing their fellow crew members to their city and home country, presenting their local culture and the important role of their
breaking
scenes along the way.
Delve into the heart of breaking scenes in Goma (Congo), Tokyo (Japan), Las Vegas (USA), Rotterdam (Netherlands), São Paulo (Brazil) and New York (USA) to uncover what sets each locale's dance narrative apart.
01
Junior and Shigekix discover the empowerment of the next generation in Goma

45 min
Junior introduces Shigekix to the city of Goma
Junior and Shigekix visit Goma in the Democratic Republic of the Congo to explore the local hip-hop culture.
Junior left Goma as a young child when he contracted Polio and moved to France for treatment that was unavailable in Goma. He invited the 2020 Red Bull BC One Champion, Shigekix, from Japan, to his birthplace.
The Goma breaking scene isn't about big competitions or championship wins, but it is about reaching out to those in need. Junior is a part of Project Congo, a collective of Goma breakers who organize events that empowers the local community through art and dance. "We give dance classes for free, we find street kids and orphans, even ones in jail, and kids who don't have a good life," says Faraja, a resident of the city who runs a project there. "We also teach them breakdance, beatbox and all the culture."
In Congo, it's difficult to find a job when you finish school, leaving kids with nothing to do, and some fall into gang life. Project Congo is a way for Faraja to help kids who no one cares about. For him, dance and art are something that saves lives and helps his people to "believe that something can change."
In my country, more people are breaking to have fun, but in this here it means more to survive
The visit shows Shigekix the difference between the Japan breaking scene, and the Goma scene, as he reflects: "In my country, more people are breaking to have fun, but in this here it means more to survive."
02
Neguin and Kastet feel the Brazilian Ginga in São Paulo

46 min
Neguin shows Kastet the city of São Paulo
B-Girl Kastet joins B-Boy Neguin in São Paulo to experience the vibrant blend of the Brazilian breaking style.
São Paulo is a vibrant place painted with street art, some of which comes from the world-famous OSGEMEOS twins, Gustavo and Otavio Pandolfo, former b-boys who see graffiti as "the voice of the people," and a way to give hope to people who don't have much.
In São Paulo, breaking plays an important role in giving the youth an alternative to street life and a safe space to express themselves. But it wasn't easy; they had to stand up and fight for space to dance in the city. It was at Sao Bento station where hip-hop culture first started, and Neguin took Kastet there to meet with many of the first generation of breakers, MCs and promoters, including B-Boy Helio and Nelson Triunfo, a public figure and pioneer of hip-hop in Brazil who's been fighting as an activist since the early 1970s.
From Helio, we hear that breaking became important in São Paulo because it was a powerful, inclusive art form and culture that saved people in the ghetto from getting into the wrong things. In his words, it was "because of the work of Nelson Triunfo, people were able to find a safe place to be," like Sao Bento station.
03
Ronnie and Neguin follow the dream of artistic freedom in Las Vegas

45 min
Ronnie and Neguin explore Las Vegas
Ronnie and Neguin meet pro artists, explore Full Force Crew's roots and chill with Jabbawockeez in Las Vegas.
In the glitz of Las Vegas, USA, all kinds of artists chase their dream to be full-time performers. It's the same for b-girls and b-boys, so join
Ronnie
and Neguin while they unveil the dynamic of the city in this episode of Breaking Beyond.
Revealing all the different ways breakers are making a creative living in Las Vegas, they meet DJ Crykit, a b-girl who came to the city because of the opportunities available to female DJs and has since built a successful career in the downtown district.
Cirque du Soleil was one of the first shows in Las Vegas that started hiring breakers, along with high-achievers and world champions from many other disciplines, like skating. But there's also the Jabbawockeez crew, performing as a resident headline act on the main Vegas strip.
Ronnie's career is a testament to the opportunities in Las Vegas. He admits, "In 2005, I never thought that I'd have a breaking career, it was just something I was doing for fun with my crew." Then, over the years, they reached a professional level of entrepreneurship that led to a professional breaking career for Ronnie. Now, decades later, he provides comfortably for his family through the art form and teaches the next generation of b-boys and b-girls at his crew-owned dance studio called District.
Ronnie shows Neguin that in Las Vegas, "there are so many opportunities for people to pursue what they want as an artist."
04
Shigekix and Ronnie uncover the Shokunin spirit in Tokyo

42 min
Shigekix shows Ronnie around Tokyo
B-Boys Shigekix and Ronnie reveal Tokyo's secret: the pursuit of perfection in dance, food and craftsmanship.
In Tokyo, Japan, Shigekix introduces Ronnie to 'Shokunin spirit,' the Japanese way of honing one's craft and perfecting every aspect of what you do. It is the mentality Shigekix credits for the consistently high level of his city's breaking scene. "When you dance, it's not just about dancing," he says, "it's more about always thinking about how to master something."
Yoyogi Park is Tokyo's most legendary breaking spot, where the first cyphers and breaking events took place in the '80s. It's here that Shigekix takes Ronnie to meet some of the Japanese breaking pioneers. B-Boy Chao echoes the mentality ingrained in Japanese culture, saying, "Japanese have that cultural tendency to become immersed in what you love, having that sense of craftsmanship and shokunin spirit."
They then meet up with Red Bull BC One All Star
Ami
and her crew as they practise late at night in a train station. Ronnie finds out that Japanese breakers "work all day and practise all night." Ami tells Ronnie that, "When I was a student, I would go to school, then to my part-time job, and then practise at midnight."
05
Menno and Junior discover how breakers reinvent themselves in Rotterdam

43 min
Menno and Junior chill in Rotterdam
B-Boys Menno and Junior explore Rotterdam's breaking scene, Dutch pioneers' stories and life beyond breaking.
In Rotterdam, the Netherlands, Junior learns about the inspirational impact of breaking on the Dutch scene as three-time Red Bull BC One Champion
Menno
shows him the city.
Menno takes Junior to meet pioneer Dutch breakers Carlos, Paulo, Magic Mike and Lloyd.
Paulo and Magic Mike share a bond as two breakers with a disability. Magic Mike also was a legend who Junior says inspired him from the first time he saw him breaking, and Paulo was a breaker who also contracted Polio, the same as Junior.
Carlos's story in breaking is one of overcoming being a shy guy, but through dance, he learned to accept himself, saying, "I started to love and reinvent myself, that's something unique, and for me that why I still practice and dance to be a part of the whole culture."
Menno and Junior then meet B-Boy Redo. Also born with a disability, he was inspired by Junior when he first searched breakdance online in 2014, and Junior's video came up. Now Redo has achieved international acclaim as a theatre performer and danced as the opening act for the Eurovision song contest, to a viewership of 180 million people.
Breaking made me see what people saw as a weakness, actually was a strength
Speaking to Menno and Junior, Redo's words show the power of inspiration through breaking. "Discovering breaking was for me a way to, instead of maybe stay in the shadows or corners, be comfortable enough to step on the stage and be in front of people," he says. "It embraced all my differences, and it made me see what people saw as a weakness, actually was a strength."
Redo goes on to explain, "We celebrate differences, and this is when you get power. This is when you get community. People from different backgrounds made this art form so strong. If you look at the differently-abled b-boys, from the beginning, they pioneered a lot of breaking moves."
06
Get to know New York, the birthplace of hip-hop

42 min
Exploring NYC with Alien Ness and Grandmaster Caz
Alien Ness and Grandmaster Caz take us on a trip to the roots of breaking in the Bronx of New York City.
The series comes full circle with the
Red Bull BC One World Final 2022
, being staged at the birthplace of hip-hop culture, New York City. Ronnie, Neguin, Shigekix and Junior are inspired by hearing the stories from legends who were present when hip-hop and breaking first started.
They speak to the legendary MC and DJ, Grandmaster Caz, who tells them that in the 1970s, when "the Bronx was broke, financially, economically, spiritually and every other way, we needed something to express ourselves, so we gravitated towards the music. We listened to our mum's and our pap's music. But we took the parts of those beats, those little break parts, the drum parts, out of the songs, and that's what gave birth to the music of hip-hop."
In the famous Poe Park, where breakers used to come from all over to get down, the group meet up with B-Boy Alien Ness, who started breaking in 1982. Fortunate enough to live down the block from the park, he saw it all, saying that, unlike today, in the '80s, "the cypher was made by regular spectators, the non-breakers, and a lot of the time that cypher was made by locals, so they were always cheering for their local hero."
Hip-hop feeds a basic need in all of us, a need for expression, a need for culture
With hip-hop culture having spread around the world, Grandmaster Caz is proud to see how it's celebrated everywhere. When asked why he thinks the culture has become so popular and important to so many, he says: "It feeds a basic need in all of us, a need for expression, a need for culture. And hip hop embodies the four foundational elements of culture; dance, spoken word, art and music."