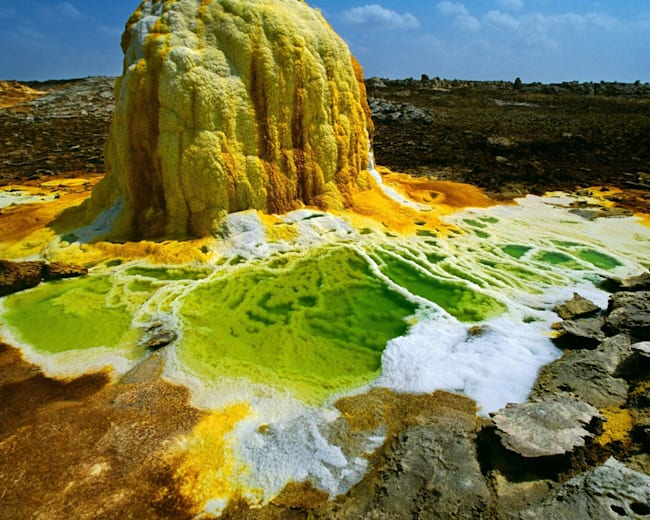 Explore Africa's Most Breathtaking Volcano
© Olivier Grunewald
This other-worldly landscape will leave you speechless — and maybe melt the soles of your shoes.
These pictures may look like the set of a science-fiction flick, but they're not only real — they're of this planet. These volcanic explosion craters are in the Danakil Depression in Ethiopia, a hydrothermal activity hot spot — literally, as temperatures often climb above 122 degrees F, and explorers in the area must avoid stepping into boiling water.
Photographer
Oliviér Grundewald
recalls: "In 2000, the site was completely forgotten about due to the war between Eritrea and Ethiopia."
He has been five times since 2000, when an army helicopter flew him up the Danakil Depression, and the pilot, amazed by the stunning landscape, decided to land. "We stayed for just an hour simply contemplating the beauty, but we decided we'd be back."
So what's actually happening? Grundewald gives us the simple version: "Dallol is situated right in the middle of the African Rift, an active volcanic zone. Under a very thick layer left by an ages-ago connection to the Red Sea, is the Dallol volcano, which pushes up hot water loaded with minerals that are deposited on the surface, creating a veritable mineral rainbow!"
In 2000, not only was access difficult, it was nearly impossible to take pictures, because the fragile photo film of the pre-digital era was at risk of melting. These days, a road leads to the Dallol Volcano, and access is easier, but you still need a military guide — and digital cameras make the task much easier.
Nevertheless, the months April to September are generally too hot to visit, and when you do go, you need to drink about two gallons of fluids a day and take care not to plant a foot into a pool of boiling water.
But despite the heat and hassle, it remains one of the renowned photographer's favorite places to visit: "There are many different hydrothermal sites in the world, but I never seen such a colorfoul and diverse place. Trip after trip, year, after year, the place is still changing — it's different every time!"