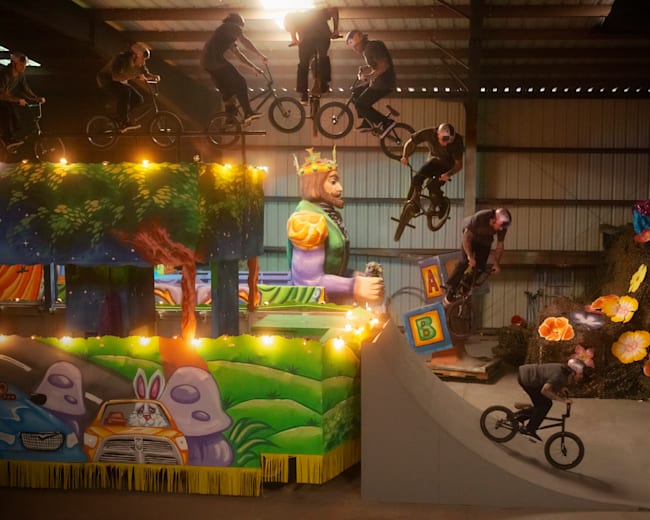 Broc Raiford is giving new meaning to riding the floats during Mardi Gras
© Justin Kosman/Red Bull Content Pool
Last year, Louisiana native and BMX athlete, Broc Raiford celebrated Mardi Gras by turning a childhood dream into reality. See how it all came together in this newly released behind-the-scenes clip.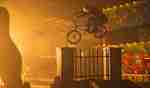 Broc Raiford Mardi Gras Ride
Broc Raiford
celebrated Carnival season by linking his love for BMX with his hometown roots to build the ultimate BMX park inside a warehouse designed to create and house Mardi Gras floats. With parades in New Orleans cancelled this year,
Broc Raiford
is giving you your Fat Tuesday fix by taking viewers behind the camera to show everything that went into bringing his dream to life. From float selection, to the incorporation of different bike park features – the video shows just how involved
Broc Raiford
was in every detail of the project.
Broc Raiford's
vision for the park was just as vivid as the warehouse itself. By hand-selecting each of the seven featured floats based on stability, height and design, he was able to weave in elements that both complement his style of riding while highlighting the rich culture of New Orleans. The chosen floats and custom-built setups included eight ramps, two grindable features, and platforms which allowed for
Broc Raiford
to showcase his versatility across Park and Street BMX riding.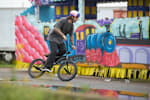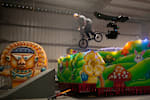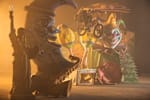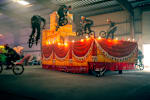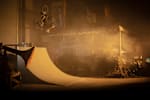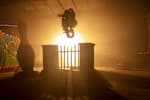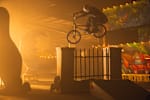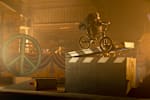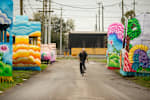 After the completion of the project, Broc Raiford donated the ramps to
Parisite Skate Park
– one of the first public skate parks in New Orleans and a meaningful place for the bike and skate communities.
Broc Raiford
grew up riding at Parisite and now has the opportunity to give back.
We asked Broc a few questions about his love for Mardi Gras:
What does Mardi Gras mean to you and how has it fueled your imagination for this project?
Mardi Gras means so much to me because it's always a fun filled time of year that brings family and friends together to celebrate! This has fueled my imagination for this project because it's been such a crucial part of my culture and upbringing. I have very vivid memories of riding my bike around parades to see different groups of friends and fantasizing about somehow merging my passion and my favorite time of year!
What was your experience literally riding the floats?
My experience of getting to literally ride my bike on Mardi Gras floats was something I always dreamed of! It felt so surreal to me to see the ideas I've been pondering on since a young age finally come to life! I felt an overwhelming sense of excitement and happiness when I walked on to the set for the first shoot day! One would think that my legs and arms would be the most tired after a day of filming but it was actually my cheeks from smiling so much throughout the process!
What are your favorite Mardi Gras spots in town that festival goers should not miss?
My favorite spots to be for Mardi Gras are to be by
Superior Grill on St. Charles Ave
for the New Orleans parades and on Severn Ave. for the Metairie ones. Also don't forget to stop by
Rouses
to pick up a King cake on your way home!