Carissa Moore, Free and Flaring on Distant Shores
© Lucia Griggi
The three-time women's world champ ditches the contest jersey and goes off the grid for an exotic surf adventure in Israel and Morocco.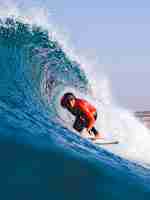 Carissa Moore | Free and Flaring
Carissa Moore
meanders through a crowded souk in Taghazout, Morocco, bouncing about the marketplace maze, taking in its offerings. Leather jackets, exotic spices, fruits and veggies, live chameleons — sensory overload. That's a feeling that is tough to come by for a seasoned globetrotter and three-time world champ.
A standard year on the women's world tour is 10 taxing events over four continents spanning nine months — a constant blend of airport terminals, rental cars, foreign foods and jet lag to boot. That said, Moore and the rest of the top 22 rarely get the opportunity to mix it up and venture somewhere new. The events rarely change, and routine gets results. There's rarely time to explore.
For Moore, it's the downtime from the tour that brings opportunity to grow — time to spend on the betterment of both herself and the world around her. A chance to leave her comfort zone and add a new stamp to the passport.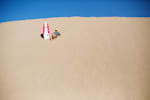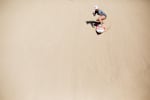 "Every year I try to do one trip that's very different from my standard surf trips. Last year I went to Haiti, which was super eye-opening, but otherwise we go to the same nine or ten events and locations a year. So the opportunity to learn and grow and challenge myself motivates me — going on trips that keep me 100 percent stimulated teach me so much."
This year, between her final heat in Maui and her first heat on the Gold Coast, Moore rallied a crew and jetted off for an unorthodox surf excursion through Israel and Morocco. "I brought my dad, my sister, my fiancé Luke and my filmer Layne Stratton. Ever since I watched that
Dane Reynolds segment from Morocco
, I knew I needed to go there. I'd been dreaming about it for years. We knew that it was a bit unsafe and there had been some civil unrest, so the trip never happened. But finally, our local connection hit us up and gave us the green light."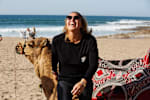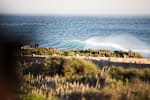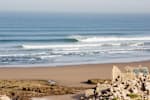 The motivation for this trip, however, extended beyond chasing swell. "My dad and I went to the Hawaii International Film Festival, saw the film
"Gaza Surf Club"
and were inspired by it to go to Gaza. A lot of women don't surf there, especially past a certain age, so we thought it'd be a cool opportunity to inspire some change in that part of the world. We learned quickly just how unsafe Gaza was at the time, and Israel was our next option. We lined up with an organization called Surfing For Peace and went primarily to participate in one of their events. The event was really emotional, powerful and everyone there on our trip was so happy that we were able to be a part of it. It's one of the rare occasions, especially in that part of the world, where Muslim kids, Jewish kids and Christians all come together in peace around the common love of surfing. It was incredible."
"This trip really had no connection to tour or training. My whole objective was to share an experience with my family and to learn from it."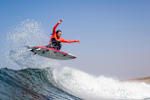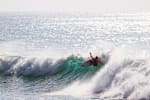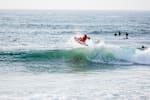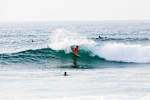 The North Atlantic was fairly quiet for their stay, by Morocco's fabled right pointbreak standards, but there was still enough swell on offer for Moore to indulge. "I don't get the chance to film and watch myself freesurf too often, so this trip offered us that opportunity. I've been wanting to put together an inspiring video piece with real innovation and progressive surfing, but also motivate people to step outside their comfort zones and do stuff they might not otherwise do — hopefully inspiring people to give back a little along the way."
With the sprawling desert dunes of Morocco in her rear view, Moore comments on the year to come. "Ultimately, I'd love to win another world title and then maybe take a year off to travel and film a bunch. Something fun and different. With the huge influx of young girls ripping in the new generation, I think we'll see a lot more high-action female edits, which is awesome. Last year I was stoked with a lot of my performances. I had some strong heats and did some of my best surfing, but I felt like there were little things to smooth out still. My strategy and overall positivity, and to be more innovative in heats so I surf to my actual potential."
Behind Moore's effervescent glow, her competitive drive to dominate is anything but lost. While she may be off to a relatively slow start on this season's tour (by her standards), sitting at sixth on the rankings after three events, look for Moore to bounce back in her usual commanding form as the tour hits Brazil in May.