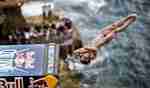 Red Bull Cliff Diving Azores 2015 highlights
No other diver had set foot on the top step of the podium this season before the series stopped in the Azores archipelago and they still haven't as Hunt saw off
Jonathan Paredes
and
Andy Jones
into second and third spots respectively.
In the Women's class, meanwhile, American
Cesilie Carlton
claimed her first-ever Cliff Diving win, finishing ahead of Mexico's
Adriana Jimenez
, in second,
and fellow American
Ginger Huber
, who came third.
After failing to even make the podium at the uniquely challenging back-to-basics Azores venue a year previously, Hunt's rivals viewed this round as their best chance to beat the dominant Brit. They were to be sorely disappointed, however.
Hunt's form has been first-rate in 2015 and the defending champion made certain of ending his rivals hopes – and securing his fifth straight victory – with another series of perfectly executed dives from the 27m platform.
Strong early round performances by
Artem Silchenko
and a score of 9s across the board for an on-form Jonathan Parade's final dive put enough pressure on Hunt to necessitate near-perfect dives from him. This is what he delivered. His final score of 471.80 points might not have reached the heights of some of his earlier victories, but was comfortably clear of Parades (450.90) and Jones (412.90).
With closest championship rivals
Orlando Duque
and
Blake Aldridge
both failing to make the podium, Hunt now leads the standings by a massive 410 points over the Colombian and Brit, who are tied for joint second. Now, with only three rounds remaining, an almost unthinkable perfect season is looking increasingly possible for Hunt.
There's more pressure on me now for the sixth stop, as who knows, this could be a perfect season and that would be incredible!
"I just knew that it was so important for my morale to do a good first dive off the rocks today," said Hunt. "It just lifted my spirits and confidence to keep going.
"Last year was tough in the Azores, and it's difficult to have it in your mind that, 'Yeah, you're great off the platform, but you can't do it off the rocks,' so it feels great to prove to myself that I can do it. There's more pressure on me now for the sixth stop, as who knows, this could be a perfect season and that would be incredible!"
Wildcard Carlton takes women's win
American wildcard diver Cesilie Carlton put in a superb display in the Azores to claim her first-ever Cliff Diving win in the second of three Women's World Series stops in 2015.
After a hard-fought battle with defending champion Rachelle Simpson – who won the other women's event of 2015, at Texas' Possum Kingdom Lake in the USA – the podium places were only decided in the final round of dives, with Mexico's Adriana Jimenez finishing second and Ginger Huber coming third.
With Simpson missing the most difficult dive in the competition – a triple somersault with one and a half twists – and Jimenez failing to execute her final effort, Carlton nailed her concluding dive to sweep to the top step of the podium and tie Simpson for the lead of the championship.
"I'm super-excited! Everything was great about this event," said Carlton on the podium. "Diving off a rock for the first time in competition is amazing, everything around here is beautiful. I was a little nervous at the beginning, but once you take off in the air it feels like a usual dive. It's been a great event, so natural, and it's been a lot of fun."
Red Bull Cliff Diving World Series Azores 2015 results
1. Gary Hunt (471.80pts) 2. Jonathan Paredes (450.90) 3. Andy Jones (412.90) 4. Artem Silchenko (402.10) 5. Kyle Mitrione (401.80) 6. Blake Aldridge (400.90) 7. Anatoliy Shabotenko (381.10) 8. Sergio Guzman (360.85) 9. Orlando Duque (287.70) 10. David Colturi (279.00)
Red Bull Cliff Diving World Series 2015 series standings
1. Gary Hunt 1000 points 2. Blake Aldridge 590 3. Orlando Duque 590 4. Jonathan Paredes 449 5. David Colturi 430 6. Andy Jones 370 7. Artem Silchenko 330 8. Michal Navratil 180 9. Steven LoBue 177 10. Anatoliy Shabotenko 160
Red Bull Cliff Diving Azores 2015 women's results
1. Cesilie Carlton (224.30 points) 2. Adriana Jimenez (222.80) 3. Ginger Huber (207.25) 4. Anna Bader (205.50) 5. Rachelle Simpson (201.20) 6. Yana Nestsiarava (193.20) 7. Lysanne Richard (188.70) 8. Tara Hyer-Tira (182.95)
Red Bull Cliff Diving World Series 2015 series standings
1. Cesilie Carlton 290 points 2. Rachelle Simpson 290 3. Ginger Huber 260 4. Anna Bader 220 5. Lysanne Richard 220 6. Adriana Jimenez 200 7. Yana Nestsiarava 70 8. Helena Merten 70 9. Tara Hyer Tira 60 10. Jacqueline Valente 50