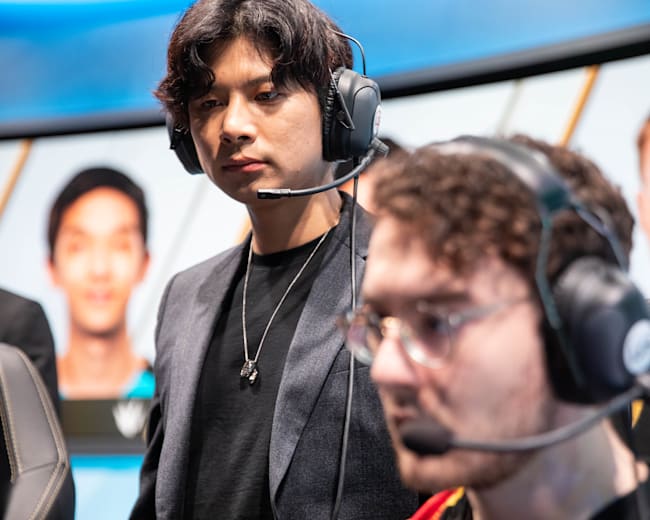 How Reapered masterminded Cloud9's amazing return to the top of the LCS
© Riot Games / Lolesports Flickr
Meet Bok 'Reapered' Han-gyu, the South Korean coach who guided Cloud9 back to cloud nine with their first LCS split victory in years.
When
Cloud9
burst onto the League of Legends scene in 2013, they were the hottest thing going. In their very first Split in the League of Legends Championship Series, they finished with an astonishing record of 25 wins and three losses and went on to defeat previous champions Team SoloMid 3-0 in the Summer Finals, immediately qualifying for the World Championship. C9 did just as well in Spring 2014, going 24-4 in the regular season and once again sweeping TSM away in the playoff finals. It looked as though they were unbeatable, but that's when their drought began. It took six long years, but finally, Cloud9 recaptured the LCS gold in Spring 2020.
It's not as though they were playing badly since 2014 – they've been to Worlds every year since they formed as a team, after all. C9 have been putting in solid performances in the LCS, always the bridesmaid but never the bride. They finished second in the 2014 Summer playoffs, with TSM getting their revenge in the playoff finals. The very next split they had another second place finish and they repeated that in Spring 2015, Summer 2016, Spring 2017, Summer 2018 and Summer 2019. Despite a lot of roster changes in order to try and get back to the top, it was almost as if a curse had fallen over the team. So, how did they reach the pinnacle once again in 2020?
"I did disappoint myself and the team quite a lot," says
Bok 'Reapered' Han-gyu
, who's been C9's head coach since 2016. To come so close on so many occasions only to fall at the final hurdle must take a lot out of you mentally, but he's always had the desire to keep going. "I'm an individual who's naturally competitive and will not walk away from any competition without eventually winning. This competitive nature drives me." Not only has he now won an LCS title, but he also won Coach of the Split.
Regrouping for 2020
After another second-placed finish in the LCS in Summer 2019, followed by a disappointing Worlds, where they exited the competition at the group stage, Cloud9 made changes in the Jungle and in the Bot Lane, bringing in
Robert 'Blaber' Huang
,
Jesper 'Zven' Svenningsen
and
Philippe 'Vulcan' Laflamme
. However, Reapered also changed his attitude to coaching.
"Every year I learn new things as a coach, especially this season," Reapered tells us. "One of the biggest changes was I expected more out of the players, coaches, and management."
The C9 coaching staff isn't a one-man show.
Jonathan 'Westrice' Nguyen
,
Jung 'Rapidstar' Min-sung
and
Kim 'Reignover' Yeu-jin
, all former players themselves, are involved with C9 and the academy team.
"I gave direction to the team and players and allowed them more room to grow and develop themselves. If they needed help, I'd help them as much as I could.
"Now, the best way for me to lead the team is to give them direction and allow the talented guys to prove themselves."
Cloud9 certainly proved themselves as a force to be reckoned with in 2020 Spring. With a 17-1 record in the regular season (their only loss coming to TSM in Week 7), C9 looked as exciting as they were when they first formed back in 2013, albeit with a brand new look.
When Reapered first joined Cloud9, he was working with the likes of
William 'Meteos' Hartman
and
Zachary 'Sneaky' Scuderi
. Now, he has the next generation of young stars to try and mould into repeat champions. Bringing new players into the fold is always challenging for a coach.
"Each and every player is different," says Reapered. "The hardest thing is understanding each player as an individual and figuring out how to integrate them into a team structure, where they can study and learn to work together."
Next stop: Summoner's Cup?
Luckily for him and for Cloud9 fans, Reapered believes the current roster will go far together, hopefully meaning there won't be any changes for a while.
"This team works well and I think they'll be together for a long time," he says. "Only time will tell how far we'll be able to go. The 2020 LCS Spring Championship is a small victory on the journey."
The next aim, of course, is the 2020 Summer Split. With a dominant performance in Spring, there's no doubting that Cloud9 will be favourites going in. Their closest competitors were Counter Logic Gaming (a full seven wins behind them in the regular season) and they only dropped one game (to Evil Geniuses) throughout the entirety of the playoffs. If it ain't broke, don't fix it, however Reapered knows they can't simply rest on their laurels while other teams catch up.
"Not much will change," Reapered says. "We'll continue to reiterate our training methodology and just focus on getting better every day as new challenges arise. What's special about the current team is they aren't results-focused. The only thing that the coaches, players and managers care about is maintaining and applying a work ethic directed at continual improvement."
Continual improvement can only lead to good results, of course and with Cloud9 breakingTeam Liquid's long hold at the top of the LCS, the goal will now be to build a lasting legacy of their own. With their experienced head coach and a team of young, talented players, it's well within reach.