Rotorua in March can mean only one thing to those who love a bit of gravity-fuelled action in their life. Yup, it's the start of yet another hectic season of international mountain biking! Sounds good, doesn't it?
Crankworx Rotorua
is about to roar into life and we've got all the info ahead of what's going on in New Zealand.
Crankworx is, of course, the global series of MTB festivals which features three stops, starting in Rotorua, New Zealand, followed by a trip to Europe and Innsbruck in Austria, and then culminating in Whistler, Canada at the end of the summer.
Relive some great slopestyle moments from the 2019 Crankworx World Tour in the video below: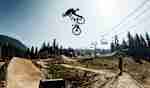 What's the Red Bull TV schedule for Crankworx Rotorua?
The slopestyle contest is always the main draw for spectators at Crankworx and those watching on Red Bull TV, but there's plenty of other two-wheeled action going on. We'll have live coverage of the best of it too. Here's what's coming up on Red Bull TV from Rotorua:
The race for King and Queen of Crankworx begins
The King and Queen of Crankworx overall competition has steadily grown in importance over the years since Crankworx expanded beyond Whistler on its Crankworx World Tour. It's a multidisciplinary challenge that awards points across events and disciplines over the three Crankworx festivals. The male and female rider who accrues the most points across the three festivals win the overall titles of King and Queen of Crankworx.
There's a huge financial incentive to tempt riders into participate in all the different competitions at a World Tour stop and at each of the stops. The King and Queen at the end of the Crankworx World Tour each receive a CAD$20,000 (€17,700) cheque for topping the standings. There are also prize funds available for the second and third overall places.
Mitch Ropelato
of the USA was the 2019 King, while
Vaea Verbeeck
topped the Queen of Crankworx standings. Both will be big favourites to reclaim those titles in the 2020 competition.
For Rotorua, the following events are points scoring: 100% Dual Slalom, Rotorua Air DH presented by Bosch (on March 4), Rockshox Rotorua Pump Track Challenge presented by Torpedo7, Maxxis Slopestyle in Memory of McGazza (points scoring for men only), Crankworx Rotorua Downhill presented by Gull.
Below we take a look at the competitions at Rotorua being shown live on Red Bull TV and the riders to watch in each.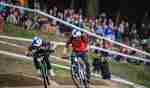 Dual slalom, as a discipline, refuses to die and that's a good thing. The format was incredibly popular during the second half of the '90s and sees two racers go bar-to-bar down a pair of specially-prepared slalom tracks. The riders love it and it's a firm fan favourite, as downhill pros go up against free riders and local heroes.
There is an all-new Dual Slalom course in Rotorua for 2020 as the location for the event moves closer to the main festival grounds at Skyline Rotorua. The new course is steeper and more technical which should lead to tighter racing.
Riders to watch:
Riders with a pedigree in gated racing (such as Slovakian
Tomáš Slavík
) are always hard to beat here, but the downhill racers will be in peak form as they come to the end of their lengthy off-season. New Zealand's
Billy Meaclem
and
Keegan Wright
, who both did well in the dual slalom races across the three Crankworx festivals in 2019, are clear home favourites. For the women,
Jill Kintner
would be hard to bet against in the women's event, but expect Canada's Vaea Verbeeck to push her hard.
Cliff Speed & Style Rotorua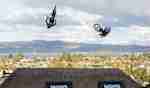 CLIF Speed & Style Rotorua by Mons Royale
This event is one of Crankworx's own creations and sees racers go up against freeriders with time being clawed from the clock as a reward for tricks. It's simply not enough to beat your opponent to the bottom, you have to out-trick them on the way there!
Can't get your head around it? Check out what's involved in the clip here: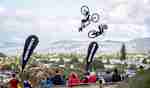 The Dual Speed and Style Finals at Crankworx Rotorua 2018
Riders to watch:
This is one of the trickier categories in which to pick a winner, thanks to the wide range of backgrounds on the entry list.
Martin Söderström
, who won in 2018 and was second in 2019, isn't at Rotorua this year.
Billy Meaclem
won in 2019 and could be the man to win here again. One name to look out for will be
Kaos Seagrave.
This event is primed for his talents given the downhill racer's liking for a trick or two. There is also a women's category for Speed & Style at Rotorua for the first time.
Maxxis Slopestyle in Memory of McGazza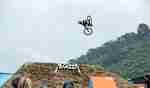 Maxxis Slopestyle in Memory of McGazza – Rotorua
The first big mountain bike slopestyle event of the year takes place on the course built by the dearly missed freeride legend,
Kelly 'McGazza' McGarry
.
The annual comp is a fitting tribute to the big Kiwi and its white-hot competition is something of which he would no doubt approve. This is the one that'll set the tone for the rest of the year, so big results will be required from the big names. For 2020, there has been a minor tweak to the course on the cannon log feature. As per usual, the best score of two runs from the riders is taken as their final score.
Check out Brett Rheeder's winning run from last year: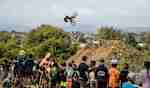 Brett Rheeder's winning run – Rotorua
Riders to watch:
The big news coming out of slopestyle this year is the announcement by
Brett Rheeder
that he's stepping away from competitions to focus on his riding and other projects. Red Bull Joyride 2019 winner
Emil Johansson
,
Thomas Genon
and Nicholi Rogatkin are on the entry list at Rotorua though, and are the favourites to win. Germany's
Erik Fedko
is an outsider to watch for the title, while
Dawid Godziek
continues his journey from BMX trickster to MTB slopestyler in New Zealand.
RockShox Rotorua Pump Track Challenge, March 7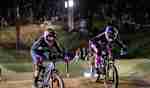 Rockshox Rotorua Pump Track Challenge by Torpedo7
If riders who like gated racing missed out on glory at Speed & Style and the Dual Slalom, then the Pump Track Challenge offers one last chance at redemption. Pump track is fast and furious, as the world's best pinball around a beautifully groomed track.
Riders to watch:
Picking a winner can be an absolute lottery. Pump track builder extraordinaire
Adrien Loron
is always a tough man to beat in the men's. For the women's event,
Kialani Hines
of the US dominated the pump track races throughout the Crankworx World Tour in 2019, and is a good bet to win in Rotorua.
Crankworx Rotorua Downhill presented by Gull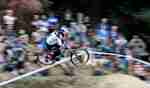 Crankworx Rotorua Downhill presented by Gull
The start of the UCI MTB World Cup follows hot on the heels of Rotorua so this race may be missing some of the top names that usually come to the Crankworx stop. That said, a bumper start list of talent is guaranteed with many of the top Australian and New Zealand downhill pros in attendance.
Riders to watch:
Troy Brosnan
is the top draw in this race, but there's also World Cup quality from
Sam Blenkinsop
,
Ed Masters
and
Bernard Kerr
. Both
Tracey
and
Mick Hannah
also tend to go well at Crankworx, look for them to do so again.