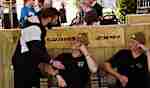 8 key takeaways from Crankworx Rotorua 2020
Didn't have time to keep up with all the Crankworx action? Get your water-cooler knowledge with a selection of key moments from New Zealand that you may have missed.
It was one of the best Slopestyle competitions ever seen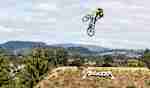 The Roll Out – Slopestyle Rotorua
There were so many highlights to this year's slopestyle contest, from
Emil Johansson
showing us two new tricks never seen before in competition, to
Nicolai Rogatkin
getting back on the podium after an unsuccessful 2019 and
Erik Fedko
delivering new moves to take third place.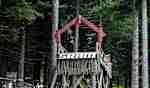 What goes on... at Crankworx Rotorua? part 2
Remy Morton joins the Red Bull family
Australian big-hitter
Remy Morton
was surprised by downhill rider
Brook MacDonald
with the presentation of his very own Red Bull helmet. Morton puts his hand to everything from freeride to downhill and dirt jumping, and has been making waves in the
Fest Series
with his ability to send huge jumps.
Absolutely speechless! Today one of my biggest dreams ever became a reality. I can't thank everyone enough who made this opportunity happen and for all of you who got me to this point
The era of Emil is upon us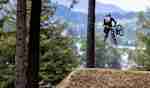 Emil Johansson's winning slopestyle run – Rotorua
Emil Johansson
put down an incredible run at Crankworx Rotorua, scoring 96.00 from the judges and treating the crowds to two brand-new tricks in the shape of a 360 Windshield Wiper and Switch Triple Whip. Taking the win at the slopestyle means that Johansson is now the only rider who could win the coveted Triple Crown of Slopestyle title, on offer to any rider who can win all three Crankworx Slopestyle events in a single year.
The Swedish rider is still working out how to compete with the auto-immune disease that crippled his previous season, but if his Rotorua results are anything to go by, it looks like Johansson is going to have an incredible season.
The battle for the Queen of Crankworx could be the best yet
With the return of
Jill Kintner
to Crankworx proceedings and Canada's
Vaea Verbeeck
determined to hold onto her 2019 crown, we could be in for something special as Crankworx moves on to
Innsbruck
and
Whistler
in the summer months.
Kintner took a hiatus from Crankworx last year, having taken the Queen of Crankworx for the third straight year in 2018 and on her return she's found that Verbeeck has upped her game and is more a complete rider to the one she competed against in 2018. Verbeeck is not the only name that Kintner needs to be wary of, though, as
Jordy Scott
won both Pump Track and Speed and Style in Rotorua.
The Men's Pump Track final was like watching clones race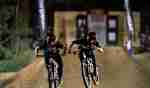 Tommy Zula's winning Pump Track run – Rotorua
It was like watching a mirror-image, as teammates
Tommy Zula
and
Collin Hudson
took to the Men's Pump Track finals. Wearing the same helmets and in similar kit, the two riders mirrored each others moves and crossed the finish in unison, with the score board declaring both as winners. In the final heat they were once again neck-and-neck, but Zula managed to cross the line a mere 0.01s ahead of Hudson to take the gold.
Dawid Godziek went all-out for the fans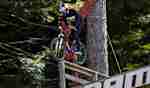 Dawid Godziek's slopestyle run – Rotorua
Dawid Godziek
sadly wasn't able to put in a top to bottom full run in during the slopestyle contest. A bad landing hampered his initial run and he crashed on the on-off box on his second run, with his bike balancing precariously on the edge of the feature. Godziek didn't give up, though, and with the crowd cheering him on he continued his run, sending an incredible Twister, Front Cork 1080 and No Hander, which he landed with a bang – literally – as his rear tyre blew out.
Brook Macdonald was back in the pits
It was good to see 'The Bulldog',
Brook Macdonald
, taking in events at Crankworx this week past week and greeting all with that infectious smile of his. Six months have passed since Macdonald suffered his serious spinal injury at the 2019 World Championships in Mont-Sainte-Anne. Thankfully, everything is pointing to Macdonald being able to make a full recovery. There's been a lot of hard work going into his rehabilitation and the coming weeks will see further surgery to aid that.
Macdonald's back to riding his downhill bike out on trails, so hopefully we'll see him back racing downhill and winning in Rotorua next year.
Siblings make it a double celebration
There can't be many times that the Hannah siblings have shared a podium for winning their respective races at a strong international race, so Sunday's
Crankworx Rotorua Downhill presented by Gull
will surely live long in the memory for both
Mick Hannah
,
Tracey Hannah
and their family.
The last time both Hannahs won on the same weekend at a major race was the Australian nationals in 2013. Tracy, as we know, is the current Mercedes-Benz UCI Mountain Bike Downhill World Cup overall champion and she's used to winning races. Mick, while not a veteran, is certainly no spring chicken, so it was good to see him outpace some of the younger talent in that field including many of his fellow World Cup racers.