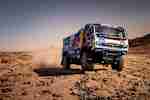 The day at Dakar: Toby Price gets back on the gas
© Marcelo Maragni/Red Bull Content Pool
Big rocks and dunes dominated Stage 3 of the Dakar Rally, KTM's Bike class big-hitters get back on form and the close Car battle continues to rage.
One thing you should know about the
Dakar Rally
is that it is absolutely not a spectator event – it's a participant event. In fact, seeing this thing live is nearly impossible for much of the world.
If you're lucky enough that a stage runs through your backyard, you might hear rumours of where you could go watch on a given day – typically, the special stage is driven by a test car less than 24 hours before the actual event to check for last minute hazards (usually a pretty good tip for the locals that something's happening) and after a few days of racing, word gets around pretty quickly. However, seeing the action live is something that's rare even if you're at the rally and usually only lasts a few seconds because, hey, those cars are quick.
Catch all the action from Stage 3 in the latest episode of Dakar Daily below: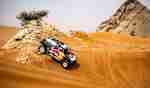 Now, if you're at the rally, there's a chance you're a bit of a fan, because otherwise you wouldn't be able to endure the dirt, the noise and the sleepless nights that come along with this particular adventure. If you here and you're not a fan, you soon will be. It's impossible to ignore the adventure, action and drama that's happening right before your eyes. Ever try and ignore an accident on the side of the road while you're driving? You can't. Impossible. And at the Dakar there's lots of crashes – most of them thankfully minor.
But back to that theme of watching versus doing. If you're here, you've got a job to do, whether that's turning wrenches, taking pictures, or keeping everyone safe (that last one is a big job.) You get news of the event in snippets of conversation, pictures and videos sent on WhatsApp, or a catch-up over caffeine. And there's lots of caffeine, because there's very little sleep and by Day 3 you're already pretty tired.
This year however Stage 3 brings a bit of a break – it's a loop stage, which means competitors return to same bivouac they left that morning. They'll still have a liaison, but it's short-ish. For those in the bivouac, a loop stage is a pleasure. Instead of waking up at 4am to move on to the next camp, you just stay put and wait for the day's stage to finish.
And what happened on the course?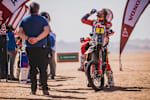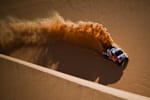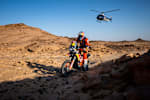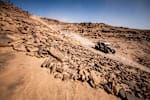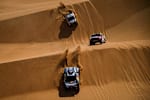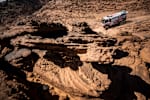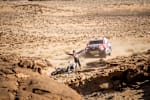 KAMAZ-Master had a rare stage loss in the Trucks, although they still lead overall with Dmitry Sotnikov, while Chile's
Chaleco López
continues to make the switch from racing a quad to a buggy look easy, as he cemented his hold on the SSV overall with another stage win.
Up next is a long, long liaison and Riyadh. The rally continues.