The day at Dakar: Toby Price and Stéphane Peterhansel run into problems
© Marcelo Maragni/Red Bull Content Pool
Stage 7 marked the first half of Dakar's infamous marathon leg, where mechanical luck is paramount and untimely problems put overall title contenders Toby Price and Stéphane Peterhansel on high alert.
In the
Dakar Rally
, rookies learn that the phrase 'rest day' is either accompanied with a wink or an eye roll, depending on what kind of mood you're in. Catch up day might be more like it. The thing about the rally is that you have to constantly prioritise and make decisions about what's going to be done or get fixed and what just simply won't. It's like the antithesis of the clean, controlled environment of F1, from the knobby tires all the way to the rocky track, or the catering.
Make no mistake, the temporary pause in moving one's self hundreds of kilometers per day is certainly appreciated, but despite the fact that there's sand and you should probably wear sunscreen, this is no day at the beach. After a quick rest, it's time to go again and you're right back in the rhythm.
Catch up on the action from Stage 7 in Dakar Daily below: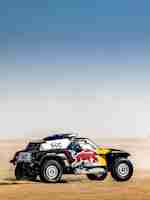 Now, let's talk about the marathon stages. As you know, most stages end in the bivouac, where teams service the vehicles. At least once per rally, though, there's a stage that ends in a marathon bivouac – no service teams allowed.
Riders or drivers and co-drivers can work on a machine themselves, but they can only use the tools and parts they've brought with them – or whatever someone from another bike or vehicle is willing to give them. It's not uncommon for riders from the same team to swap parts to help out a front-runner – a rider who's far back in the standings might give the guy who's position for a win a fresher tyre – but the services rarely get intense. They're simply lacking the tools and parts to do so.
Naturally, the marathon stage is known to retire more than a few from the event – or at least set them back a fair bit. Having a bad problem on any stage is unlucky, having it on the marathon is really unlucky. Two people with such luck were
Toby Price
and
Stéphane Peterhansel
.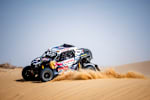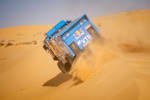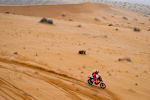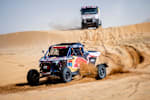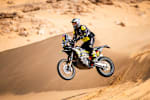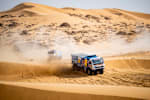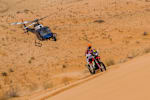 Bike contender Price tore the sidewall of his rear tyre and had to bind it up with zip ties, while overall Car leader Peterhansel broke a suspension arm. Peterhansel will get to do a full repair, but the new rule limiting the amount of tyres bikes can use means that Price – who sits just one measly second off the overall Bike lead – is going to have to compete with things held together using the rally equivalent of duct tape.
The 'service area' at the marathon bivvy is a busy place and a chance to see who's friends with who. Co-pilots talk to other co-pilots, drivers talk to other drivers and tools and parts (when allowed) are passed back and forth, along with stories about the stage, often accompanied by lots of hand motion and excitement, and hopefully a few laughs.
While the pressure to keep a winning bid alive maybe had Price and Peterhansel pushing a bit harder than they hoped,
Nasser Al-Attiyah
put in a good safe stage and held his second place in the general for the Car class. The KAMAZ-Master guys merely added on their already substantial lead in the Truck class, while the Lightweight Vehicle class is still looking reachable for Dakar's youngest-ever stage winner,
Seth Quintero
. He's sitting in second in the general classification, eight minutes behind Aron Domzala.
The second half of the marathon is up next and hopefully not too many have to limp into the next bivvy. May the sands fall ever in your favor.