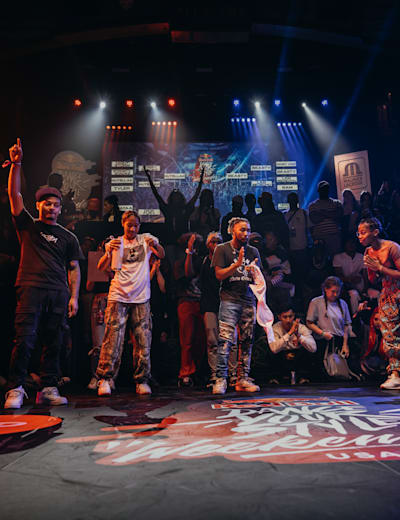 Final Four: Meet the winners of the Dance Your Style 2022 USA semifinals
© Jesus Presinal / Red Bull Content Pool
Tune into the TikTok livestream tonight to find out who will be crowned the best street dancer in the nation.
It's going down in the bayou and the stakes just got higher.
Last night, 16 of the nation's top freestyle dancers gathered at the historic House of Blues in New Orleans, Louisiana to battle for victory at the
Red Bull Dance Your Style USA semifinals
. Now it's down to four, and tonight we'll find out who will be crowned the best in the United States and make their way to Johannesburg, South Africa to compete in the
Dance Your Style World Final
in December.
In true street dance battle fashion, everyone came prepared and brought their A-game, making the competition fierce at the highest level. Although each dancer gave the other a run for their money, the crowd has spoken and there can only be four.
Here are the final four dancers moving on to the final round:
Phillip (Young Phil) Mays
is a professional turf dancer from Oakland California who has worked with music artists such as H.E.R, Kehlani, YG, Tyga, Snake, E40 and is also a dancer in an Orchestra. He specializes in turfing and is a member of the 'It's Them Dance Team'.
Faced with one of the most creative challenges against OPM, Young Phil wowed the crowed with his creative turfing skills.
02
Beasty - OKAYAMA CITY (Japan), NYC
Tomoe (Beasty) Carr
is a young, determined, passionate, and outgoing artist. She started her dance training in Japan at Next Generation Dance Studio. Tomoe spent 10-years training in styles such as Hip Hop, House, Waacking, Locking, Popping, and Breaking. She is currently actively teaching and traveling to battle, and is focused on spreading the culture of Hip-Hop.
This is not Beasty's first time at Dance Your Style. She was the winner of the Boston finals last year and is hopeful to take the crown this time around. Her strategy for competing? "Having fun and just staying in my zone."
03
Nick Fury - NEW ORLEANS
Nicholas (Nick Fury) Williams
has been dancing for 13 years. He believes he can create happiness with his dancing and is also a DJ. He competed in DYS 2019 in New Orleans, as well as DYS 2021 in Memphis and D.C.
A master of street dance showmanship and skill,
Nick Fury
upped the ante in his second battle against QJ, winning by unanimous decision. Nick's strategy for winning tonight's final battle? "Living in the moment, staying in the moment, and remaining true to myself."
Roukijah "NutellaK" Rooks
is a NYC based multi-faceted dance creative. Growing up in New York, NutellaK was introduced to hip hop culture at an early age. Her admiration for the music, style, and freedom of expression inspired her to pursue dance as a career choice. In her teen years, NutellaK trained at EXPG NY and Peridance Center, learning from pioneers within the hip hop community. She later enrolled in the University of the Arts, where she received her bachelor's in dance. Today, NutellaK is a member of Ladies of Hip Hop. She has worked and trained under artists such as Sekou Heru, Tweet Boogie, Michele Byrd, and many more. NutellaK has also performed competitively at street style battle events such as, Soul2Sole, Just Debout, Ladies of Hip Hop Festival, and Red Bull Dance Your Style.
Staying true to her roots, Nutella-K also won by a landslide in her second round battle against Stiggity Stax.
The energy is high and the final four are focused and ready to go toe-to-toe in what will be one of the most memorable nights in the world of street dance.
Tune-in live on
@redbulldance TikTok
this afternoon to catch the final battle round and see who will be heading to South Africa.
You can also check our stories on
@redbulldance
and follow the hashtag #redbulldanceyourstyle to stay up on the action!