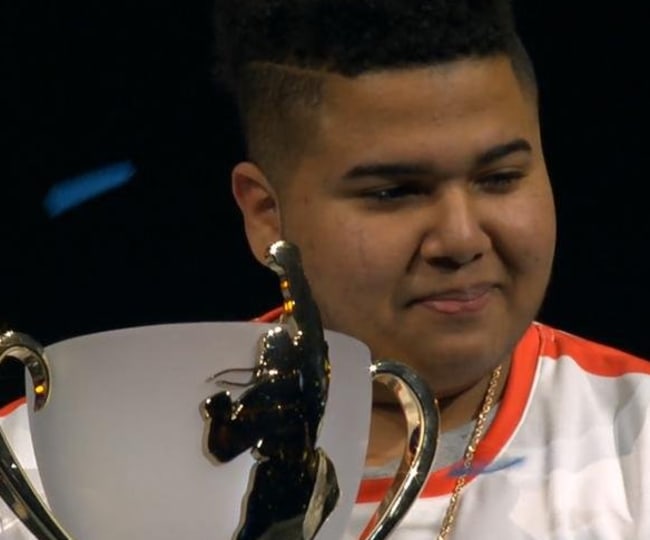 © Capcom Pro Tour
Delving Into Dominica: How RISE | MenaRD Strengthened His Local Scene
MenaRD's win at Capcom Cup earned a check for $250,000. He used those funds to give back to his local community. That's a reality with the inception of his new esports team, the Santo Domingo Tigers.
Capcom Cup's first-place payout last year totaled $250,000 — a life-changing sum of money. In a
preview segment
just before Top 8 commenced, players got a chance to reveal their intentions with the winnings. Responses ranged from the ridiculous to the wise: Echo Fox | Justin Wong promised his stream that he would buy a horse, while Red Bull | Luffy and Echo Fox | Momochi hoped to add a dog to their families. Others gave the concept more serious deliberation. CO | Dogura expressed a desire to give back to his children, while Gachikun would save the funds for his upcoming wedding. However, two of the players interviewed hoped to see the winnings go back to the scene that helped them achieve success.
Hx | CYG BST | Daigo Umehara was one of these players. "This year, I thought a lot about what I would do with the money if I were to win," he answered. "And it can be any place in the tournament, but there is a movie being made using fighting games that seems to be underfunded. I was thinking about putting my winnings toward finishing the film."
RISE | MenaRD had a similar sentiment. "[I would] grow my scene," he said. "My scene doesn't have a good place to meet up. We have a dojo, but it's really small. I would invest in that and make it bigger to attract people to learn fighting games in the Dominican Republic."
Mena's hard work and dedication throughout the season paid off: He ended up taking the victory over Echo Fox | Tokido 3-1 in Grand Finals, despite his opponent resetting the bracket. His win resulted in an emotional celebration with his fellows onstage, and marked a momentous achievement for the Dominican Republic. Mena now held the equivalent of 12,290,000 Dominican pesos: the only thing left was to begin the groundwork for what he hopes will be one of the strongest scenes in the FGC.
The champion is making changes
The Dominican FGC has remained supportive of Mena's movements throughout his career, and it is for that very reason that he wants to give his support back in kind. Mena hopes to grow esports in his region, and act as an ambassador for competitive gaming to steer would-be pros in the right direction. "I feel that I am who I am because of my community," he stated. "Since they helped me have a better life, I will do my best to build a better community so the future generation can have it easier in the path of being a pro gamer. It's my second family. [They have] always been super supportive when I represent, and super competitive when playing locally. I love my community."
Mena started by creating his very own team, the Santo Domingo Tigers, which made its debut on
Twitter
earlier this February. "In my country, 'tiger' can be used to refer to a cool person," he explained. "That's why I used that name and made the mascot a tiger." With this team, he hopes to give its players opportunities to travel to major tournaments across the globe, both to showcase Dominica's strength as well as further their own careers. "I've always wanted to see more players travel regularly, but to do that you need a sponsorship," he said. "I feel that I can help them achieve that: Showing the world the talent they have, and at the same time helping them create content and organize it."
Currently, the Santo Domingo Tigers has two players on its roster: Akuma main Jochy and Dhalsim player Luiman20. According to Mena, fans can expect to see these two players and more at many events this season. As for his expectations for the team and competitive gaming in the Dominican Republic, Mena has one word: "Success."
Mena's vision tackles the hefty travel costs that those in the DR FGC must consider before making it out to major events, and bridges the gap between greenhorns and seasoned vets. "I want a nice place that players can gather to sharpen their skills and new players can go to and learn about the games they want," he told us. "I also want tournaments with nice quality, just like in the United States, so we don't need to get a visa to show our talent to the world." Mena is no stranger to these traveling difficulties, either: he has
previously expressed
that the Dominican government had to grant him permission each time he wanted to travel out of the country, since he was underage. Since American dollars are largely inflated within the DR's economy, the cost of plane tickets also present a massive hurdle for players to leap across when making arrangements.
Mena's initiative intends to build competitive gaming across multiple categories. While fighting games might be his team's primary focus, Mena hopes to expand to encompass other competitive genres, as well. "Our strongest scene is the FGC, but I'm interested in helping other areas of esports in the country," Mena explained. "In the future, it might happen."
Building the bridge to success
Alongside the Tigers, Mena is also hosting a local circuit to help bring unsponsored players to CPT events. "I've also made a circuit called The Next Dream: Road to Evo, where we compete every month and collect points for the chance to get an all-expense-paid trip to the Evolution Championship Series 2018," he said. "I will also support all the other tournaments we have, such as Game Over Tournament or Fighting Fest, both of which are in the CPT."
Mena's strong sense of community is a reflection of the Dominican Republic's selfless encouragement during his CPT run. "It had a super positive impact in my performance and it always does," he reflected. "Having my people supporting me makes me a stronger player, and when I support them it also makes them stronger. That's how we work. I don't feel a need to [help my scene] but I really want to since these players are just as talented as me, and I feel they deserve the same opportunities I had to get here."
Mena stood up from taking the final set over Tokido to fall into the embrace of his fellows. The DR FGC had travelled all the way to Anaheim to cheer him on, and they celebrated his victory in an emotional display of camaraderie to thunderous applause. Community is an important aspect of any fighting game scene: Mena's is no different. His drive to build the Dominican FGC stems from this visceral exhibit of familial love. His words aren't empty promises, either: his first Road to Evo qualifying event took place on the 25th, with Jochy coming out as the winner. Mena is making strides to give back to those who helped him achieve greatness, and his first footsteps are already making waves around the world.