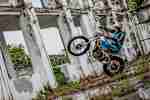 The day Dougie Lampkin wheelied 60km around the Isle of Man TT course
How the English motorcycle trials legend battled high winds and traffic on his back wheel to pull off Dougie's Wheelie – an astonishing motorsport feat for the ages.
The snapshot
September 25, 2016. 12-time World Trials champion
Dougie Lampkin
lifts up the front wheel of his modified trials motorbike in front of the iconic grandstand in Douglas on the Isle of Man. If all goes to plan, the next time he will put it down again is 60.6km away after completing the legendary Isle of Man TT course entirely on his rear wheel.
Be sure to download the free Red Bull TV app and catch unmissable action on all your devices! Get the app
here
.
The preparation
With his legacy on the line, Lampkin trained for seven months in preparation for one of the biggest challenges of his career. The bike had to be carefully modified to allow him to stand up on pegs mounted at the back of the swingarm, as well as have enough fuel to make it around the island. Lampkin also spent many painstaking hours perfecting his craft at the Croft Circuit, getting used to the punishment his body would take.
The family trade
Lampkin's father Martin and uncle Arthur were distinguished World and British trials winners respectively, so Dougie had the genetic makeup to succeed on two wheels. He graduated from European champion in 1993 to world champion in 1997, with several more titles following, as well as being appointed an MBE for services to his sport in 2001.
The attempt
Bad weather saw the attempt delayed, but 24 hours later, Lampkin was away. The Yorkshireman had to battle strong winds, bad traffic and difficult road undulations, but 1h 35m later he had made motorsport history. Visibly in pain and emotional, Lampkin said: "I was just hanging on really. It wasn't over until a couple of metres from the end, but that last couple of metres were just amazing."