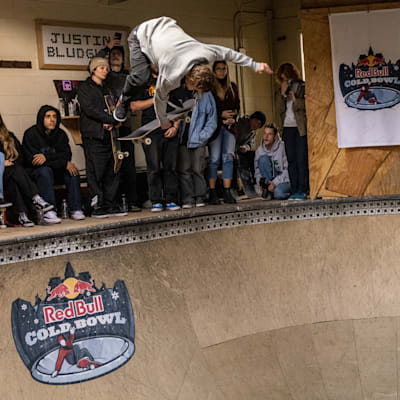 Red Bull Cold Bowl
Showcase your creative skills at this transition focused skate competition coming to Philadelphia Thursday December 8, 2022.
Red Bull Cold Bowl will give Philly area skateboarders the opportunity to showcase their creative skills at a transition focused competition at the Wharton St. Warehouse this winter.
For the Red Bull Cold Bowl (Qualifier) - Skaters will compete in a series of six (6) ten (10) minute jam sessions, with no more than six (6) skaters per session.
Each round of competition is scored based on the overall impression of the rider in the jam. Scoring will be based on the following criteria as follows: (a) commitment, creativity and use of entire bowl/features (b) distance traveled while performing various tricks; (c) speed, style, flow and power; (d) lines carry weight, but innovation and difficulty are also rewarded.
Registration is capped at 40 skaters for the Qualifier, so sign up early! The top three (3) skaters will get an invite to the Cold Bowl Invitational held on Saturday December 10, 2022 at the Wharton St. Warehouse.
See full contest rules in the terms and conditions on the event registration page.
Red Bull Cold Bowl Qualifier - Event Details:
DECEMBER 8 - WHARTON ST WAREHOUSE - PHILADELPHIA, PA
- All participants must be 16 years of age or older to compete at the event.*
Red Bull Cold Bowl Invitational - Event Details (Invite Only):
DECEMBER 10 - WHARTON ST WAREHOUSE - PHILADELPHIA, PA