Top speed is a benchmark that's sought across countless sports, but it's not something you often hear about when it comes to windsurfing. Well, that's going to change, especially because screaming along at over 60 mph is the kind of thing no one's ever done on a windsurfing setup before.
On Sunday, Nov. 1, French windsurf legend Antoine Albeau bettered his own world record, achieving 53.27 knots while speedsailing in Luderitz, Namibia, in a custom-built "ditch" designed to offer the perfect water conditions.
It's the fastest anyone has gone on a windsurfing board, ever — and it wasn't easy to do.
Watch the world record run from start to finish below: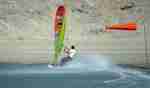 The first challenge is finding the location. The "ditch" at Luderitz offers optimum conditions for speedsailing. What they're looking for is strong wind to power the sail and extremely flat water to control the board. Those two things come together every year in the late autumn as westerly breezes blow in from the Atlantic.
For Albeau, Luderitz in October is as regular as Christmas in December. The Frenchman's annual pilgrimage has resulted in a few speed records prior to this — his record of 50.07 knots was set in 2013 — but he always knew he could go faster.
It's all about flat water in a straight line
While Albeau and his team spend lots of time tuning and tweaking their gear and settings, ultimately much of it comes down to the conditions and power of the wind.
Sunday started out fine, and finished perfectly. Albeau had already done 28 runs the day before, and his top GPS speeds hit 54 knots (only short bursts of speed) and he even broke his own 50.07 knot record over 500 meters. And did we mention the crash? There was a crash.
Yes, that's Albeau's body still moving so fast he literally bounces off the water. It's safe to say that at those speeds, water does not provide a soft landing.
But the crash did little to deter Albeau. Late Sunday afternoon, the wind kicked up another notch and he laid down the fastest windsurf track of all time, averaging 53.27 knots over 500 meters, which is 61.3 mph.
The runs are short — after all, when you're traveling that fast, 500 meters takes just over 30 seconds. Up next for Albeau? Breaking the 100 kph mark (just over 62 mph), and then chasing down the kiteboarder's record, currently standing at a very challenging 56.62 knots.