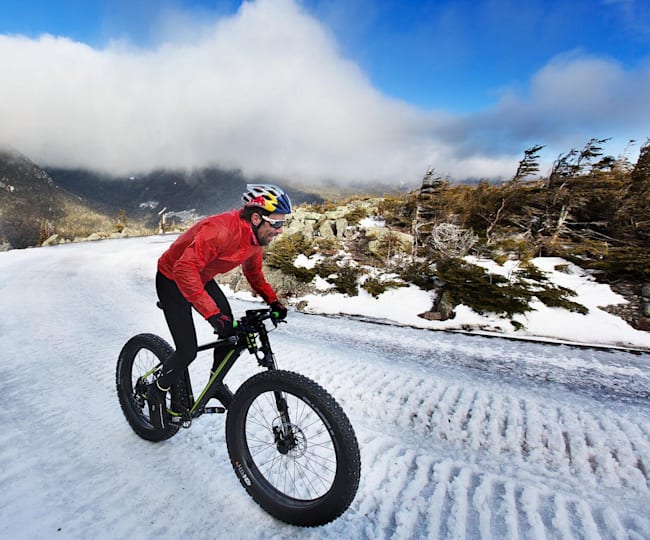 © Brian Nevins/Red Bull Content Pool
First Ascent of Mount Washington by Bike in Winter
Watch a cyclist brave "world's worst weather" to be first to summit the Northeast's tallest peak.
America's first and oldest manmade attraction, the Mount Washington Auto Road has never welcomed a two-wheeled vehicle in the middle of winter, until now. Professional cyclist
Tim Johnson
ascended 4,685 feet on an icy 14-percent grade slope in one-hour, forty-five minutes and 48 seconds (01:45:48) by utilizing the latest fat bike technology to push the limits of what is capable on a bicycle.
When comparing a fat bike to your average road bicycle setup, the tire width is approximately four inches larger. Pair these oversized tires with carbide studs in the knobbies and you have a vehicle that can ride on unstable terrain, such as the icy, snowy and wind-blown Auto Road.
Mount Washington is famous for these dangerous wintry conditions and until recently held the world record for the highest recorded wind speed on land of 231 miles per hour.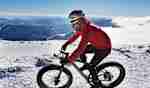 First Ascent of Mount Washington by Bike in Winter
A native New Englander, the six-time cyclocross national champion is known for raising awareness for bicycle advocacy through his work with
PeopleForBikes
.
Johnson's career started on the Auto Road, winning the Mount Washington Hill Climb in August of 2000 and 2001. Even in the summer, the 7.6-mile route challenges the most accomplished amateur and professional cyclists.
Check out the POV video below
Factoring in 49 mph wind gusts driving wind chill temperatures as low as -19°F and this climb becomes an even more challenging feat. "I feel like I was fighting being too hot in the beginning because the first pitch out of the parking lot is one of the steepest pitches of the entire climb. You go from standing still to immediately realizing that this is one of the hardest climbs in North America," said Johnson.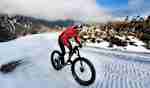 POV: First Winter Bike Ascent of Mount Washington
"By the time I got up to the Hair Pin turn (6.5 miles, 5,700 feet), it was really windy, I had no traction and it was really tough to find anyway to keep moving forward. I couldn't even stay upright."
Reaching the summit, Johnson leaned over his bike and smiled. "Turning around and seeing what the White Mountains have to offer makes everything better. It's amazing isn't it?" The beginning of Tim's cycling career was founded by riding anything, anywhere at anytime. More than a decade after his Mount Washington Hill Climb victory, Tim is still able to find firsts within his sport.
We caught up with Johnson to learn more — read below to hear what it took to reach the summit on his bicycle on February 2, 2016.
RedBull.com: Tell us more about your allure with Mount Washington.
Tim Johnson:
For a kid that grew up in New England, Mount Washington is this almost mythical giant — but it's really not that crazy, you learn when you start to travel. It's 6,288 feet, so by numbers it's really not that tall, but the way the weather works in that area makes it a really dangerous place.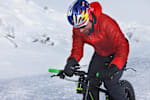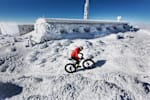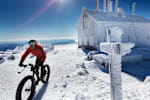 How rare is it to access the top of Mount Washington?
You can't ride a bike up there, unless it's on one of the two annual, official race days — so we had special permission to ride up.
I guess I've never been afraid of being cold
What other vehicles can summit in winter?
We had a snowcat that summited and a van for the very beginning, for pavement support. And then logistically, we also had a few snowmobiles that were carrying some of the camera guys to the top.
What precautions did Mount Washington give you?
One of the older, more-established Mount Washington site employees actually said to me, "I just want you to know that we require our snowmobiles to have carbide spikes — on the tracks and even skis — because when the wind is more than 55 mph, it can push lighter vehicles right off the road." And then he paused and said, "But, I understand you're kind of a bad ass mountain biker, so it shouldn't be a problem for you." That made me think: "Oh, s#it, really — that can happen?"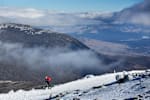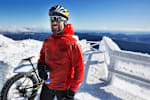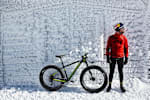 What are your personal memories of the mountain?
So I had visited it as a kid, but when I began my bike racing career, on a mountain bike, the one road race I'd do every year was the
Mount Washington Auto Road Hillclimb
. It was open one day of the year for this one event — I started doing the event when I was 17 and was able to use it as a stepping stone to turn pro.
For a lot of people, a fat bike is a way to extend their riding season in the fall and winter
So where did the motivation to try and ride up it in the winter come from?
Being a cyclocross guy, fall and winter have always been my time to shine a little bit… I guess I've never been afraid of being cold, so the idea of this winter cycling challenge to get to the top of Mount Washington in the winter came up.
Tell us about the "fat bike" you chose.
For a lot of people, a fat bike is a way to extend their riding season in the fall and winter. I rode the
Cannondale Fat Caad
and made a few personal modifications — changing the handlebar, stem, seat post, seat, etc. I also used a pair of lighter carbon wheels.
What was your most anticipated challenge prior to departure?
Overall, the weather. Weather runs everything on Mount Washington. It's held the world's highest recorded windspeed of 231 mph and the day before I climbed up, the wind was 95-100 mph with 125 mph gusts...
You need to wear [micro spikes] on your boots so you don't fly off the mountain
What was the biggest technical challenge once the ride began?
Getting traction was a challenge. The snowfall this winter hasn't been great, so a lot of what's up there is dried-out ice — evaporated ice that gets rock hard.
How did you keep the bike moving forward on the ice?
The studs on the tires were key. I even had to stud my shoes. Stopping for a moment to readjust cameras or change clothes, you need studs on your feet. That actually became a problem for the crew documenting the climb...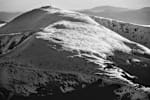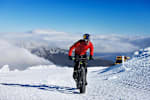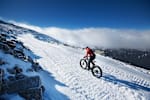 How did the video crew come prepared for the icy conditions?
One of the things said on a conference call prior to the project was: "Hey, we'll have a bunch of micro spikes that attach to your feet — you need to wear these on your boots so you don't fly off the mountain…"
Mount Washington is steep and slow — for 30 years, the best run and bike times were almost the same
For cycling, how does Mount Washington in the east compare to a climb like the western U.S.'s Pikes Peak?
Pikes Peak is a two-hour bike ride when you're going for it, so it's longer by twice the distance. But Mount Washington is steep and slow — for 30 years, the best run and bike times were almost the same. My best time riding up Mount Washington in fair weather is around 53 minutes.
What was your overall time on ice and snow?
I was anticipating a three-hour climb... But in the end, total elapsed time was one-hour and forty minutes with moving time of one-hour and thirty-three minutes.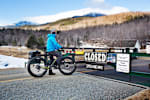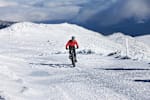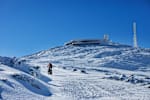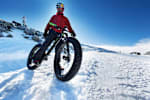 What filled the non-moving moments?
Adjusting a camera once, took one urination break and I crashed a couple times! I was having a real hard time getting traction, on the front or the rear. When you don't have a lot of weight on the studs, we found they don't grip very well on this type of ice.
The night before, I had a moment where I just lost it, emotionally.
Tell us about the bike finesse needed — how sketchy was it, really?
It was a balancing act to make it up — at times, while trying to keep the back wheel engaged, the front wheel would sort of lighten up and if there were any sort of camber or slope to my path I would just sort of slide out. A few moments resulted in total goofball crashes that were just odd, slipping immediately to the ground.
Keeping your balance while pedaling your hardest must have been a challenge...
I used a power meter and it was interesting to review the data because you can't push too hard. If I was doing 350-400 watts at the bottom, at the top I was barely doing 200 watts because I was sliding so much — you could barely turn the pedals.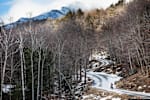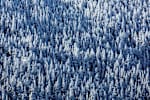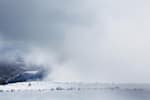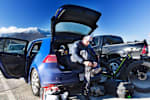 Where did your head go during the grind up?
This was one of the few bike events that my dad, who passed away in 2008, used to attend. He went to one mountain bike race and a few cyclocross races, but he went to Mount Washington six of the times that I did it because he lived just an hour away. Growing up, my parents were divorced and I didn't see my dad a ton. I kind of grew up in New Hampshire and in my adolescent years we totally battled and did not really spend any time together.
It really hit me a few days before that this was really [my dad's] mountain in my mind.
Did you expect such emotions to enter your headspace during the climb?
No, I didn't expect it at all. But it made it more fun and more special. It really hit me a few days before that this was really his mountain in my mind. The night before, I had a moment where I just lost it, emotionally. I couldn't really understand what was going on, but it hit me really hard during the ride itself. It was so much different that any race I'd done before where I was trying to beat someone, it was much more emotional trying to get up this frozen rock pile than it ever was going for a national championship or something…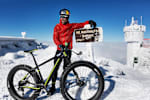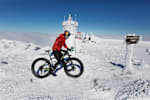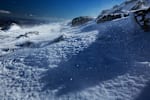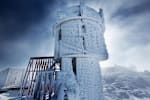 What was your personal goal with this project?