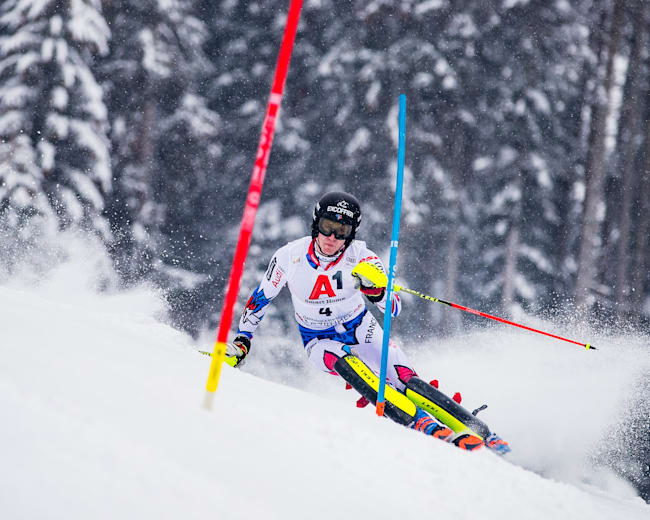 Clément Noël holds nerve to claim first win of the year in Zagreb slalom
© Samo Vidic/Red Bull Content Pool
French youngster Clément Noël claims his first FIS World Cup win of the 2019–20 season in Croatia ahead of Ramon Zenhaeusern and Alex Vinatzer.
Clément Noël
prevailed in the final to take his first FIS World Cup win of the 2019–20 season in the slalom finals in Zagreb, Croatia on Sunday.
The 22-year-old Frenchman was the strongest of a compact pack and delivered a strong second run to beat Swiss
Ramon Zenhaeusern
, who'd clocked the best time in the opening run, by 0.07s. A mistake in the first run almost sent Nöel off course, but a fine save helped him stay on track and he clocked the fourth fastest time before delivering a winning performance in the second run.
Italian
Alex Vinatzer
took third place, 0.29s off the pace, after producing the second-best time in the second run for his first World Cup podium.
This was Noël's fourth World Cup win, all of which have come in slalom events, after victories in Wengen, Kitzbühel and Soldeu last year and his success propelled him to top of the slalom World Cup rankings after he also took second place in Finland earlier this season. He has 180 points in the slalom rankings and leads Swede Andre Myhrer by five points and Norway's
Henrik Kristoffersen
by 18.
Overall, Aleksander Aamodt Kilde remains on top of the overall World Cup standings with 474 points, 20 ahead of
Dominik Paris
and 44 ahead of
Alexis Pinturault
, the Frenchman's ninth place in Zagreb having earned him 29 points.
FIS World Cup Zagreb slalom results
Clément Noël (FRA) 1m 57.14s

Ramon Zenhaeusern (CHE) +0.07s

Alex Vinatzer (ITA) +0.29s

Andre Myhrer (SWE) +0.39s

Armand Marchant (BEL) +0.49s

Lucas Braathen (NOR) +0.63s

Linus Strasser (GER) +0.71s

Manfred Moelgg (ITA) +0.77s

Alexis Pinturault (FRA) +0.97s

Simon Maurberger (ITA) +0.99s
FIS World Cup 2019–20 current standings
Aleksander Aaamodt Kilde (NOR) 474 points

Alexis Pinturault (FRA) 430

Henrik Kristoffersen (NOR) 391

Vincent Kriechmayr (AUT) 360

Ryan Cochran-Siegle (USA) 223