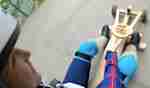 GoPro Insider Series: We tried Red Bull Formulaz
Formula 1 + Laz people = Formulaz
As explained in the video, Formulaz is just like Formula 1 (with a few differences), but the name itself comes from the contraction of the word 'Formula' with 'Laz', which is the name used for the local people living on the edge of the Black Sea in Northern Turkey. Being a local tradition they use the whole year to prepare their cars, and they all take the race very seriously. So needless to say that I had some funny looks when I showed up to compete in the event, being the only women (and foreigner!) taking part in the race.
This all looks like fun and games from a further perspective, but when it comes to taking a first look at the course and how the race is going to go, it's freakin' (no pun intended) scary. On your left; near-vertical tea fields. On your right, a massive rock wall. In between: a sinuous road, with little room for mistake.
Passed the pre-race fright (and wondering if I was about to do the absolute most stupid thing in my life), I bit the bullet and sat on my new 'car', listening to instructions and trying to stop my hands from shaking and encourage my mouth to keep producing saliva. But when the whip cracked (yep, it's a starting whip, not a gun), I started going and realised I was actually quite good at controlling my speed (probably too much) and that it was indeed quite exciting and fun.
My only regret being not to go faster and let go the brakes (plastic shoes) a bit more, the lesson to learn here is fear is OK, but don't let it take over and just go for it!
Curious about our GoPro Insider Series? Watch the latest video of the series below!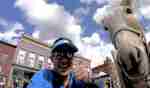 We made it – but only just
Tarquin Cooper isn't scared of running. Or running for a long distance. Or in altitude. But mostly, he's not scared of running a marathon with the oddest partner out there, a donkey.