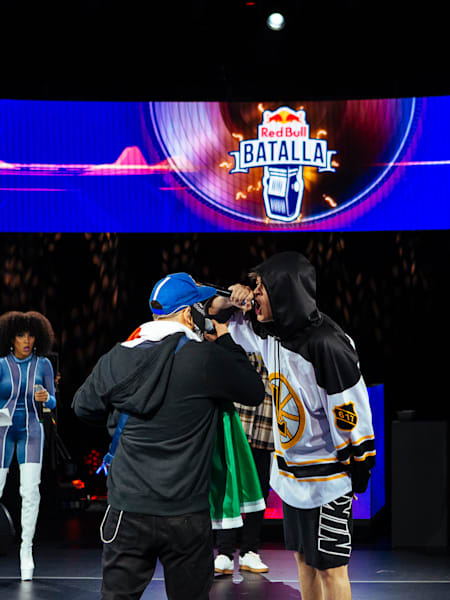 © Marc Cortes / Red Bull Content Pool
A New Era: Get ready for Red Bull Batalla USA 2022
The highly anticipated new season of Red Bull Batalla brings the heat worldwide.
As we officially jump into
Red Bull Batalla 2022
and its endless possibilities, we're riding the thrill of last year's unforgettable season (and USA's third year participating!) to take Red Bull Batalla to new heights. Spoiler: this year will be full of surprises.
Check out the Red Bull Batalla 2021 Season anthem here featuring the program's most beloved freestyle talent:
In 2021, we welcomed in a new era of Red Bull Batalla with a triumphant finale for a perhaps unexpected victor who you can expect to see more of this year: 20-year-old Miami-based Cuban powerhouse,
Reverse
. He, alongside other freestyle favorites from around the world, will join a new batch of competitors to kick off the highly anticipated 2022 season.
For the first time in its 16-year history, Red Bull Batalla opened applications around the world simultaneously, and due to popular demand, the application phase had to be extended one more week. MCs from nine countries—Argentina, Chile, Colombia, Ecuador, Mexico, Peru, Spain, Uruguay and the United States—sent in their best freestyle videos via the Red Bull Batalla app. Nearly 7,000 people applied for the 2022 Batalla Red Bull season! Of the number of applications received, 32 people will be selected to go on to the Qualifier phase. As a surprise twist, 4 MCs will be selected by a new dynamic round before the Qualifier phase – the first-ever Regional Cups. MCs will compete in events hosted in Los Angeles, Miami, New York and Dallas. Each city's Regional Cup will offer one winner who will then advance directly to the National Final.
In the qualifier phase, we continue the thrilling live events with knockout rounds in
Dallas on July 16
and
Los Angeles on July 30
, our first-ever USA qualifier events with a live audience. 16 qualifying MCs will battle through a traditional bracket in each event, with 4 advancing to the National Final from each city. Each event will be streamed on the Red Bull Batalla channels. Stay tuned for details on how to watch!
The 8 MCs from the qualifier events will join the 4 MCs from the Regional Cups and the beloved familiar faces and Top 4 competitors out of the 2021 USA National Final who got automatic green lights to advance into the 2022 USA National Final—Reverse, our 2021 USA National Champion; Eckonn, 2nd place winner and laser-focused Venezuelan rapper; Tejano freestyle great, 3rd place winner, McBetho; and Havana-born 4th place winner, Cuban.
The National Final will be held in (drumroll, please) Miami! This will be our third time hosting the Red Bull Batalla National Final in the Magic City after a brief stint in Los Angeles last year and we can't wait. Each MC will be vying for 1st place to be able to represent the USA at the World Final in Mexico City this December.
As last year's renowned Red Bull Batalla USA National Final judge, Snow Tha Product, said, "we're really just here to see and hear some impressive freestyle."
In case you missed it, check out the 2021 International Final documentary and get ready for another action-packed season: