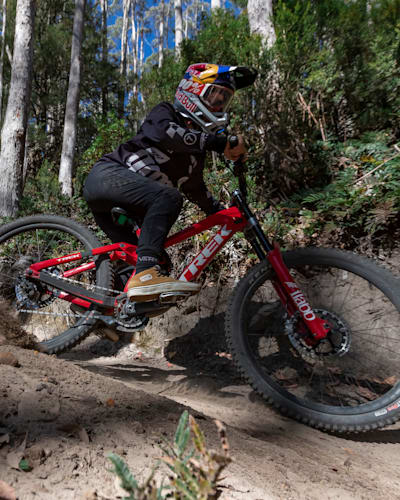 © Andy Green/Red Bull Content Pool
Home comforts for Harriet Burbidge-Smith as Crankworx Cairns looms large
With Crankworx heading to Australia, Harriet Burbidge-Smith talks us through everything her country has to offer, from gnarly lines and an amazing atmosphere to versatile environments.
For the first time ever, the
Crankworx World Tour
– the pinnacle of mountain bike expressionism and gnar for pro mountain bike athletes around the world – is heading to Australia and
Cairns
in the state of Queensland, from October 6–9.
We're pretty excited. As is
Harriet Burbidge-Smith
, who's a regular competitor at the various Crankworx Festivals around the world and, crucially, an Australian native. How does it feel to have Crankworx touch down on home soil? We asked the 25-year-old, eight-time Australian BMX Champion and two-time amateur BMX World Champ just that.
Hey Harriet, what's up?

Harriet Burbidge-Smith: Yeah, I'm all good. Chilling.
We take it you're excited about Crankworx coming to Australia?
I'm really excited about the event. The courses look amazing – the guys have done a pretty insane job from all the photos that I've seen so far. You know when the courses are fun you're going to have a good week. It's amazing it being in Australia, too, and getting to see riders I don't ride with anymore, like Mike Ross.
I'm keen to see him throw down again. He's been massive in my progression into freeride and slopestyle. Aussie crowds are pretty special, too. I just want to go out there and smash it. I feel like I'm in a good position to do well. If I put it together I'll be stoked with the results.
As someone who's mastered everything from BMX racing to mountain bike freestyle, is there a particular event you're excited for?
Yeah! I'll be doing all the events in Cairns! We've got the pumptrack and speed & style, dual slalom, the whip-off, as well as downhill. It will be a nice busy week, but I enjoy all the events. If I don't enjoy it, I don't wanna do it.
Tell us what we can expect from Cairns?
I'm not super familiar with Cairns, I've only been a few times for BMX races as a kid. I'm from Canberra, so it's quite far – a day or so drive. I expect it to be pretty hot and humid this time of year. It's like a jungle, so there'll probably be a lot of bugs and animals around. There's a lot of dry heat where I'm from and it's usually colder.
From what I can see, the dirt looks really good, though. It's a super clay-like dirt, so I'm super excited about that. I haven't really mountain biked there before, so it will be interesting. That's the thing with Crankworx, it doesn't really matter where you're from. They build the courses for the event, so it's always a level playing field.
Where else is good to ride trails in Australia?
There are a lot of really awesome places to ride in Australia, Tasmania being one of them. It has really good mountains that fulfil any style. Derby is sick, it's good for enduro and trail bikes, and Maydena is good for the downhill bikes [where Burbidge-Smith shot her Red Bull TV MTB Raw video, which you can watch below] and it also has some great dirt jumps. Sydney has a great jump bike park, so you can do sessions there.
You make amazing video content, so where would you like to film that you haven't?
There'd be some great spots in Queensland. There's the Kooralbyn Bike Park. It'd be good to ride those jumps, or build up a massive jump line. That'd be pretty sick. You've got that kind of tropical jungle, forest. You don't really get that anywhere else, not even in New Zealand – it's very Australian to get tropical jungle more inland with the trails.

7 min
Harriet Burbidge-Smith – Australian style
Enjoy the stripped-back action as Harriet Burbidge-Smith puts it down at Maydena Bike Park, Tasmania.
What about your ideal destinations in terms of competing?
There's a few. A lot of the Fest series locations would be rad. Like Poland. Doing that series next year is a massive goal for me. That and District Ride.
The last time we spoke was just before this year's Red Bull Formation. How did that go and how did it feel in terms of progression?
It was really good. My progression was really taking lines from Rampage and applying the skills there. This year in general, all the riders were a step up. I think everyone that goes to Formation pushes each other to try something new and I think the level has definitely just gone up so much, and will continue to go up so much. I definitely felt more confident than I did riding in the desert a year ago.
And what about women's role in the sport in particular? Has that progressed?
Well, it all comes down to events inviting us. They only started us letting us compete over the last few years in events that have been male-only. But, when we're given that opportunity, we're going to take it. If we keep getting invited we're going to keep coming and progressing. It's inevitable, but I think we still need to really push.
Speaking of awesome female riders. You travel with your mates most of the time. What's that like?
Turning up with my mates makes all the difference. I always have a great time with Robin Goomes, Casey Brown and Martha Gill! It's 10 times better when you have a group around you that you have fun with and that makes you want to try to do stuff. It's a deal breaker for me if I can't have that group and that vibe.
The people I ride with and hang out with, there's no competitiveness. I ride to the best of my ability and I'm stoked with the result, and I'm stoked if they do better. It hypes you up. I don't want to do better than someone else, but it's me against myself wanting to do better internally as a rider.
What's next for you?
For the rest of the year, I have Crankworx in New Zealand, where we'll be filming. I might get a bit of off-season this time around and be able to chill a bit. Then, I'd like to do some Fest and freeride events early next year, before Crankworx starts again!
To watch Harriet Burbidge-Smith take part in Crankworx Cairns from October 6–9, simply download the
free Red Bull TV app
to catch all the live action.