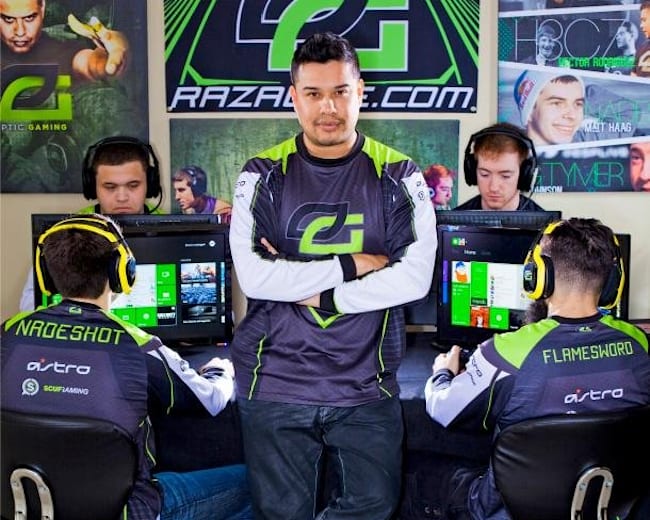 Hector 'H3CZ' Rodriguez: OpTic's Loving Father
© Optic.TV
When it comes to building a Call of Duty brand, no one does it better than H3CZ and OpTic Gaming.
Hector 'H3CZ' Rodriguez is quick to point out that he didn't start
OpTic Gaming
. He joined later. But when you take a look at what the organization has become today, it's hard not to see his teachings in all aspects of what the brand does, like a father teaching his children the basic principles they'll need to be successful in life.
In the last year, OpTic took
third place at the Call of Duty Championships
, took home the
first-ever X Games Gold Medal
for eSports, placed second in
the first Advanced Warfare tournament
,
completed a Red Bull High Performance Boot Camp
, grew their social and video followings to insane new heights, and, most of all, continued to foster a community of supporters around the organization, something that, often times, is worth more than any medal.
Like Father, Like Sons
In June 2010, H3CZ recruited
Matt 'NaDeSHoT' Haag
to help OpTic make a transition into the competitive world of Call of Duty. OpTic had already been around for a while, amassing a large following on YouTube (especially in the early days of YouTube), but H3CZ knew that this was something they were going to need if they wanted to be successful in the long run. "It was a pretty easy transition from being an already well-established name in the Call of Duty scene," said Rodriguez, "but [the organization's legacy] gave us a leg up when we did step into competitive Call of Duty."
For him, having a strong organization filled with creators who could interact with their fans on a more personal level was extremely important and he built the organization with this end-goal in mind. "We didn't know this at the time, but reaching out to OpTic NaDeSHoT was one of the best things to ever happen to OpTic," he says, reminiscing about seeing NaDeSHoT meet OpTic fans for the first time. These weren't fans of his, rather, fans of the organization, but when they left, that wasn't true anymore. "He turned those OpTic fans into NaDeSHoT fans." That's when H3CZ knew he had something.
From that point on, NaDeSHoT would bring on new players for the pro team and H3CZ would work with them to teach them about crafting a personality around themselves, interacting with fans, and creating content; almost molding them into versions of NaDeSHoT himself. He wanted the players to position themselves to grow as the sport grew, and for those that were willing to learn, that's exactly what happened.
Establishing Yourself
H3CZ isn't like most creators these days. He isn't young, "being an older gentleman" he calls it, so he didn't start his life creating videos. He worked a 9-5 ever since he was 18. That's not how most people do it these days. "These guys are just coming out of high school," he says, "They haven't experienced the real world where they have to be somewhere at a certain time, where you only get paid a certain amount of money every month, and that's your livelihood." That might sound like a gift to many, but to H3CZ, that's dangerous.
I'm making sure these guys understand that, at the end of the day, it's going to be up to them, and only them, to be responsible for the amount of opportunities that they're going to put themselves in a position to take advantage of.
With a fair amount of his players forgoing higher education to support their gaming careers, he sees himself as being responsible for their futures. "I make it a strong point for them to understand that competing for money is one thing, but establishing a fan base and personality, where you can make money off of your own work, is important." He wants them to be self-reliant, rather than putting all their hopes in a competitive career where things might not work out. He wants them to learn about establishing a work ethic and how important that is.
He thinks this desire to ensure that everyone around you is able to be self-suffient came from his role as an older brother. He wants his team to know that they're in control of their own futures.
When you join OpTic, the hard part isn't over. If you're following H3CZ's path, it's just beginning. "Once you join OpTic, it's the time to work the hardest, to create the most content, to interact the most with your fans," he says, "everything before OpTic does not matter."
Everything they knew before isn't important. If all goes according to plan, they'll be reshaped and reformed to retrain them into the proper e-athlete, in a sense.
We weren't winning it for OpTic, we were winning it for Call of Duty.
Visions of the Future
When OpTic won the first-ever X Games Gold Medal for eSports earlier this year, it was as if everything came together for H3CZ. "Immiedately, four years of work went through my head, every single step that we took to get to that particular point to be able to say, 'hey, we're Call of Duty, we too are a part of eSports. We're here to stay.'" For him, the validation of Call of Duty as a whole was worth more than just OpTic winning. "We weren't winning it for OpTic, we were winning it for Call of Duty."
The growth of Call of Duty is always on his mind. He's seen it grow expontentially over the past six years, but that isn't enough. He wants Call of Duty to stack up to giants like League of Legends, recognized on a global scale, and wholeheartedly belives that day is coming soon.
His basic philosophy boils down to: now that it's been done in games like League of Legends and StarCraft, why can't it happen here? "These are all just glimpses of our future if we choose to take the right steps. Everything that has already been done can be replicated and redone," he says, "that's my focus at all times."
Even with the OpTic Gaming organization and competitive Call of Duty as big as they are now, he still thinks there's room to grow. "We're a small eSport now, but in a couple of years, we're going to be bumping shoulders with the greats." With the massive and dedicated following that Call of Duty has now, it doesn't seem that outlandish to think about either.
"In this case, having a clear understanding of what the possibilties are, simply by the effort and leadership that Riot and Blizzard have done as developers for eSports and what eSports have become for those particular games, allows us to have a clear look at what's attainable," he says, carrying a strong vision in his words. "That's what we work towards every day."