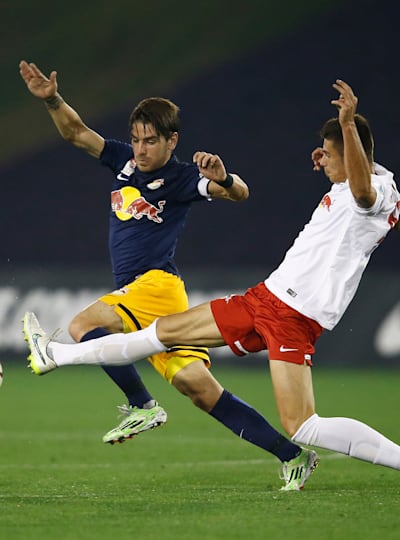 © GEPA pictures / Red Bull Content Pool
How to defend in FIFA 23: Tips and tricks
Whether it's in real life or in a game like FIFA 23, defense is a key part of any soccer match.
It's the waning seconds of stoppage time in a DFB-Pokal championship match, deadlocked at zero. You're using Bayern, and
RB Leipzig
is blazing down the field on a blistering final-effort counterattack. If they score you don't just lose the game, you lose the championship. You're desperate and nervous, so you decide to let AI do all the work on defense. You watch in agony as
Mohamed Simakan
dribbles straight past your defense, and floats a cross into
Christopher Nkunku
for the game-winning goal.
"It isn't just the back four playing well," said former
New York Red Bulls
and Senegal national team goalkeeper
Bouna Coundoul
. "It is everyone doing their part. The midfield closing things down. The forwards pushing the ball hard."
Playing a 'score first, ask questions later style may provide you some success, but if you truly want to distinguish yourself as the best FIFA player against your friends, the AI, or the world, you need to be able to defend. Below we give you tips and tricks for how to defend
FIFA 23
.
In FIFA, talented offenses tend to reign supreme, so defending becomes more difficult but that much more important. Just like attacking, defending is a multi-faceted responsibility for FIFA players. If you want to make sure that you don't drop points whenever you have an off day on the attack, add these defense tips into your playstyle immediately!
In our opening example, AI handled most of the defensive responsibilities. While using tactics like the second-man press (holding RB/R1) can be effective at times, remember that AI is artificial intelligence, meaning it has patterns that can be exploited by both AI opponents and real players who know what they're doing. From managing passing lanes to playing on the ball, you'll generally have much more success if you manually defend. In other words, use AI sparingly.
Don't get stuck looking at your defenders' overall rating; if they're not quick or fast enough to keep up with an attack, they might as well not be on the pitch. Players like Leipzig center-back
Lukas Klostermann
(91 sprint speed, 82 stamina) are must-haves on any team. They have both quality defending and pace ratings to ensure that your opponent will have a tough time on the offensive. If your defense can keep up with your opponent's offense, there's no way for them to get behind you for easy goals.
Jockeying (holding LT/L2) allows the defender you're controlling to remain face-up with the player with the ball. You can use this maneuver to force your opponent into unfavorable spots, leading to an interception or a poor pass. It's a tactic players use in real life, refusing to give the dribbler time or space with the ball. Jockeying may only slow down your opponent for a second or two, but in FIFA, those precious moments can make all the difference between allowing a goal and preventing one.
05
Use Hard Tackle… Wisely
Hard tackles are a good way for you to force your opponent off the ball. Using a hard standing tackle (holding down B/O) or a hard sliding tackle (holding down X/Square) can stop a striker sprinting towards your goal, or deprive a midfielder who is trying to play keep-away with the ball. But you have to know when and how to hard tackle! Mistiming it can result in you picking up a costly foul, or simply stumbling out of position. Make sure that whenever you use this tactic that you are in a position to get the ball first.
06
Choose the Right Defender
Sometimes, the defender you should control isn't the one closest to the dribbler. As opposed to relying on AI, the best way to handle the more dangerous offensive threats is by doing it yourself. If you see a player about to streak past your backline down the right, it may be best to switch over (press LB/L1) to your right back and manually mark that runner. Don't stay in front of that player and keep them onside, rather play the passing lane. That will allow you to defend any potential passes to that player. This also applies to your goalkeeper. In most cases, your number one will stay within the goal box until a striker gets close enough to draw him out. In some cases, it pays to tell your goalkeeper to charge the ball (Y/Triangle) rather than wait for the striker to come to him. This will make your keeper run to the ball in an attempt to save or clear it. Like the hard tackle, use this move sparingly and wisely. It can put your
goalkeeper out of position
, and if your opponent gets a good shot on goal, it's more than likely going to go in. But, if you do it right, you can rush your opponent into turning the ball over, or grab the ball in the box and end the attack right there.
Manual defending, using agile defenders, jockeying, hard tackling, and choosing the right defenders are key for how to defend in FIFA 23. Just remember, you have to practice using them correctly!
Squad Battles
are a great training ground to get a hang of them, and Squad Battle Rewards can really help with your rank. With time and some of our tips, you could become the next
Msdossary
!