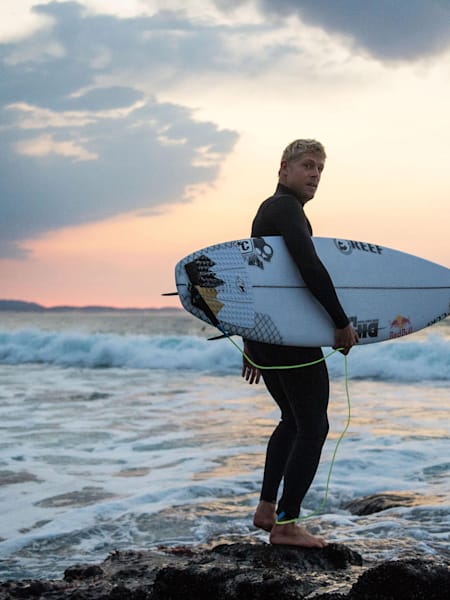 © Ryan Miller
5 surfing tips to improve your surfing
Five ways to improve your surfing, as told by 3x World Champion Mick Fanning.
There's one thing about surfing that spans all generations, all styles, all skill levels and all nationalities… it's the simple fact that we all just want to surf better. Whether you're a semi-pro at your local or you're just learning this great art that we call surfing, there's no denying it. We all want to be better than we are.
Lucky for us mear mortals, there are a few select surfers on this planet who can help guide us down this path of surf enlightenment – and those are the pros. They're the ones who really know what they're talking about.
Not too long ago 3x World Champion and Australian sporting legend
Mick Fanning
decided to take a few minutes out of his schedule and help us on this endless quest. Here, we give you Mick Fanning's five top tips to surf your best. In his own words…
"Look, I guess it all depends on your skill level… but a good place to start is with your equipment. If you're learning, then I always feel like bigger is better. The bigger the board the easier it is to learn and to start feeling the flow of the waves, understanding the basics of surfing. And then as you progress, it's just learning about your equipment and learning what boards work for you. A lot of that comes down to what type of surfing you want to do… but regardless, you've got to know your equipment."
"You've got to be fit! Just doing stuff that helps you catch more waves. You've got to have a level of fitness that you can stay out in the water each day for hours on end. Surfing is the best fitness for surfing, but when there are no waves I would go running or go to the gym. In saying that I don't think big muscles makes you a better surfer – it's all-round fitness that makes you a better surfer."
3. Keep good company in the lineup
"Surf with better surfers always! If you're in the water and you're surfing with someone who is better than you, you will strive to catch up to their level – that's what I always tried to do as a kid. I was lucky that my local surf break had guys like
Occy
and
Luke Egan
. We had so many great surfers to look up to and to push us. And then at the same time I got to grow up with
Parko
and
Dean Morrison
. We were always battling each other, pushing each other."
"Technique wise… pretty much everyone has a camera these days, and I'd recommend having a look at your technique after your surf. Then after watching yourself surf, have a look at the technique of the top guys (or girls) and you might be able to figure out little things you can improve on. I think that goes across all sports. Everyone looks at everyone and just takes away little things, tiny improvements and tips. For me, I always looked at all of the different top surfers and took little pieces out of what they did, then tried to implement that technique into my regimen."
"My last tip is to just have fun. You'll surf a whole lot better when you're having fun!"
What are Mick Fanning's five tricks to be a better surfer?
Surf with more advanced surfers

Study your technique on video