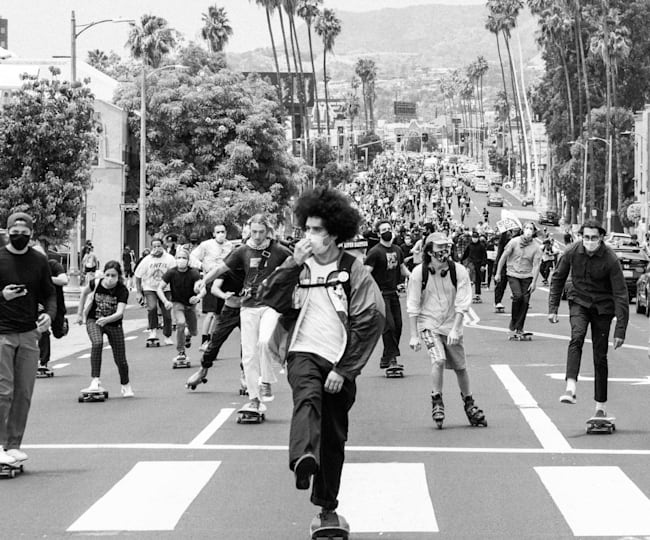 © Andrew James Peter
In Focus with skate photographer Andrew James Peters
Andrew James Peters helps tell the story of skateboarding finding its place, and voice, in a major social movement.
In a showing of solidarity, skateboarding galvanized its humanity outside the Vista Theatre, quietly nestled between Silver Lake and Echo Park, in Los Angeles. This single screen vintage theatre is no stranger to skateboarders who over the past 20 years have gathered here for some of skateboarding's brightest premiers. However, on the morning of Saturday, June 20th, 2020, thousands of wheel bearers gathered outside the Vista Theatre for a different type of unveiling – Skate for Justice.
Masked skateboarders and roller-skaters went to the corners of Sunset and Hollywood Blvd, as photographers prepared to document the 3-mile takeover of Sunset Blvd. "I was able to protest and show my support by being there but also to learn while the skate community came together to make an impact," skate photographer
Andrew James Peters
said. People from all over Los Angeles rallied together with their signs held high, and the crowd cheered as a community officially entered a movement sweeping the nation and the world.
Skateboarders are getting to work and people are taking notice thanks to individuals like Andrew, who documented several of the major protests in the greater Los Angeles area.
With the release of his downloadable zine,
Black Lives Matter
, we caught up with Andrew to learn more about his latest project and how people can support and help.
Can you share a little about your background as a photographer? When did it become a medium for you to pursue as a career?
Andrew: "I was super into skating, but I wasn't as good as the Sydney [Australia] dudes around me. They would be trying a trick and I wanted to somehow be involved. I ended up taking my dad's camera out to the city one weekend and shot a roll of film."
"From that first roll, I entered a skate photo contest
a forum
everyone was on and somehow, I won. I think from that point on I thought I was a professional photographer [laughs]. I was 15 and started surrounding myself with Sydney photographers who took me under their wing in the scene. I took it real serious. Probably too serious."
You recently released your zine with photographs from several protests, including the Skate for Justice from Silver Lake to Echo Park. Could you speak on how your zine came to be?
"When everything started to shut down, I wanted to create something that I could share with people, especially at a time when people couldn't go to bookstores or get magazines really. I started asking: What's another way I can still print stuff? Even without money from advertising I started a few at home zines. Then everything with Black Lives Matter happened, particularly with George Floyd and I was frozen. I didn't know what to do. I didn't know what to put out and make it positive and still be a reflection of what was happening in the world."
When did you shoot your first protest images? What was that experience like?
"The last section of the zine, which features Wilshire Boulevard, I was driving to the photo lab and I saw a parade of people. I luckily had my camera on me so I literally jumped out of the car and started shooting photos. I was really moved by the images I was seeing. It was really beautiful. I couldn't believe I was even there for a moment like this in American history. The world was really starting to face these inequalities that have obviously been around for a long time. I mean, it's the biggest civil rights movement in my lifetime. Then came the Skate for Justice event in Silver Lake. I was really excited about that."
What made the Silver Lake Skate for Justice protest stand out to you?
"I had been to a lot of protests up to this point, trying to learn where I fit in and how I can help make a positive impact, and here was my community finding our place in all of this. I was able to protest and show my support by being there but also to learn while the skate community came together to make an impact. To show up and push with my friends and skateboarders, I kind of had in my head I was going to make something out of this one. I started checking some boxes in my head to help tell this story of the amazing feeling of pushing down Sunset and taking over the street. Looking over my shoulder and seeing all these people, I was just lucky to be there and take these images."
What do you hope your photos represent and resonate with viewers?
"I thought if I combined some of these images, I could maybe help in the effort to find peace in confronting these terrible dark times. With so many injustices in these times, I thought I could make a platform and try and use it by giving people a downloadable zine they can make at home and even share with their friends."
How can people get a hold of the zine?
"There's a
how-to on my website
. How to print it out and make the publication. It's cool because you get the person involved. It's really nice to hear from people who actually went through the effort and did it. When it goes from a piece of copy paper to an actual little book: it turns into a publication."
What events or stages of mindset have led you to your current trajectory as a photographer capturing narratives beyond skating?
"Shooting something makes you stand there and try to understand it and what's going on in the world. A really powerful photograph kicks us all in the teeth. It wasn't even a choice to shoot or not shoot what was going on because it was right in front of me. And it was about something that I love, with people that I love [skateboarders]. You can mix really serious things with beautiful imagery. I think those are the ones: the best of the best."
I don't think anything I have done is that profound, but I hope we as skateboarders and myself have played a small role in this movement and done so in a positive way.
Could you speak on why you wanted to donate 100 percent of the proceeds to social justice organizations?
"I love what is going on with the organized protests and I don't think they are something that should be quieting down. I think the media and social media takes something for a week or for a month and then it gets lost in the newsfeed. So far this hasn't gotten lost. But that's only going to really continue if people keep it in the spotlight and in the media. It's only going to happen when these BLM organizations have the funding to keep their efforts strong. It takes money and it takes people reaching into their back pocket and supporting these organizations fighting for social justice. It just exposes this stuff and if my contribution is having these images exposed and out in the world, so be it."
Which photograph are you using for the fundraiser?
"The photo for the fundraiser is the cover of the zine. It was the most magical thing that happened that day. That photo shows how we took over Sunset and it has a young Black man pushing and leading the front of the pack. It's the one that I would want on my wall and hopefully other people see it as a cool image of a moment of time that speaks to a couple different stories."
As Andrew put it so eloquently: "Everyone has their own story within the community and it's about just listening."
You can get involved by downloading Andrew's zine or head over to his fundraiser page to purchase a limited edition print. All proceeds will be going to Andrew's choice of non-profit organization supporting social justice.