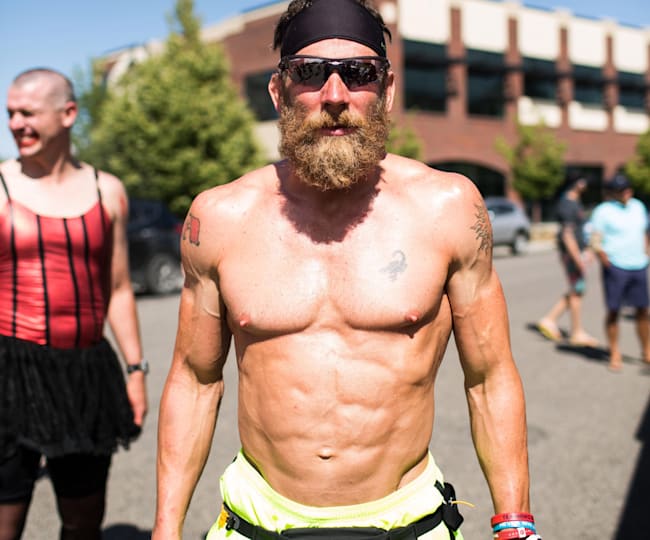 © JessaKae Maddocks
This Cowboy Finished 50 Ironmans in 50 Days
James Lawrence, "The Iron Cowboy," did the impossible and conquered 50 grueling Ironmans in 50 days.
For most people, landing a spot in the Guinness Book of World Records would be an ultimate achievement. But James Lawrence wanted more. Having already set the record for completing the most Ironman-distance triathlons in one year (finishing 30 races in 11 countries during 2012), Lawrence was already one of the world's most accomplished endurance athletes. To top it, he'd have to do something that, for most, would be impossible.
So for 2015, the 36-year-old athlete set out to do the unthinkable: complete 50 triathlons, in 50 days, in 50 different states. That's 2.4 miles of swimming, 112 miles of cycling and a full 26.2-mile marathon run every day for 50 days straight. Somehow, Lawrence, "The Iron Cowboy," did it.
We're not sure how he had time to sleep (his average: 4.5 hours a night) — much less recover and travel state to state. For some insight, here's a behind-the-scenes conversation with the world's toughest Ironman.
RedBull.com: First off, why even try this?
Lawrence:
The first time I set a record, it was an accident: I did the most half-Ironman-distance races in a year in 2011. In 2012, I decided to go for the full thing. That eventually led to the 50-50-50 project. Each project I do supports a charity — the 50-50-50 project raised money for the [British celebrity chef] Jamie Oliver Food Foundation.
What was the hardest state?
Arizona and Tennessee. Why Tennessee? I fell asleep, fell off my bike and crashed at mile 30 and had to finish the ride with a lot of nasty road rash.
It was one of my biggest struggles, especially on the bike. With swimming and running, you have to actively keep moving. When biking, you can coast. That's when I'd fall asleep. During my most exhausted periods, it could happen in three or four seconds, while my heart rate was well above 100 bpm.
That sounds like it hurts. Which part of your body took the most abuse?
In between my legs (seriously!) and my toes. My feet were just destroyed — blisters in between my toes, toenails coming off.
We heard you ate 3,500 calories every morning?
Eggs and hash browns, every single day. It would be about half of my 7,000-8,000 calorie intake for each day; 3,500 calories before every bike ride!
I'm not a numbers guy — that's why I hired one to be my coach. I couldn't have done this without him and my two wingmen, who did a great job of keeping the attitude fun and lighthearted, which you need to do on such a challenging project.
Speed wasn't your goal in these.
No — and if it had been, my average was about 14 hours. The goal was to finish 50 — and I'm pretty sure I did that faster than anyone, ever!
You had a lot of people join you on the way.
I invited people to join me for the last 5 kilometers of each marathon. Some days we had 10 people, other days we had 2,000. I was totally inspired. People shared their stories with me every single day, and it kind of became a game of emotional pingpong. They'd bat their stories to me, and I'd take that and use it as fuel the next day.
The Iron Cowboy triathlon, coming up in August 2016 in Utah.