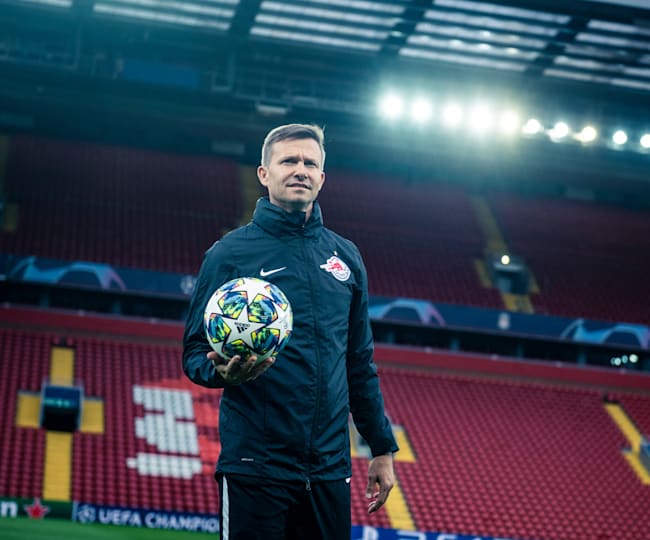 © Markus Berger / Red Bull Content Pool
Tap into the mentality and philosophy of new RB Leipzig coach Jesse Marsch
The American has taken European football by storm as the highly successful coach of Red Bull Salzburg and he gives an insight into the sort of approach he will bring with his switch to the Bundesliga.
Under Jesse Marsch, Red Bull Salzburg have comfortably punched above their weight in European football with an exciting, attacking style.
In addition, some of the continent's leading players have passed through their ranks during his relatively brief tenure.
The newly appointed RB Leipzig coach – a club where he was previously assistant coach – divulges some of his mentality to the game and wider life in the Beyond the Ordinary podcast.
Here's some of the key takeaways…
1. Don't be afraid to think big
Marsch was scoffed at in some quarters when he loudly pronounced his desire to qualify for the Champions League and get out of the group stages and yet it's a confidence that has paid off.
Of his time at Salzburg, he recalls, "I said from day one we need to be a Champions League team. If you have big goals, you have to talk about them, work towards them every day, you have to believe you can achieve those things. We should be talking about them out loud and be disappointed when we don't get to where we want to be."
2. You're only as strong as your weakest link
The American's approach is to spend more time on those not in the current starting XI to ensure they're primed for when that opportunity comes, leading to a wider rotation squad, a feature of his teams to date.
"I call it the weakest link and we're as strong as our weakest link," he said. "Regardless of who's on the pitch – it plays the same." As such, he rotates his squad, so fringe players aren't suddenly forced to fit into the side off the back of an injury.
Throughout his coaching career to date, he's shown he's not afraid to blood youngsters, even on the biggest stage. His mindset is that, "the only way to develop is to play".
He added: "You're always going to have injuries. If you just throw them in the moment you need them, typically they won't be ready. I believe that the way to win is through people and through the development of people and the concept of a group mentality. That's at the core of who I am. This is my experiment.
"I want to see if my idea of leadership, mentality, football and life can succeed in Europe at the highest level of sport. The early signs are positive."
4. Where the Marsch mentality comes from
In his mind, that coaching mentality is based around his life experiences. Growing up, he was a keen sportsman – one he'd call good but not great – trying his hand at every sport imaginable. His drive came from hating to lose: "if we played cards, basketball, ice hockey, ping pong, that drove me and it ate at me when I lost".
That taught him to actually be less focused on winning as a coach. The other basis for his philosophy lends itself to studying at Princeton University where as a sportsman and student it was about "how much better can I be".
5. The round-the-world trip that changed him as a people person
The story is well-versed of Marsch and his wife packing up with their kids to travel around the world. Aside from the obvious benefits of the family time, a side benefit was an increased understanding of people and also pressure.
"I realised the pressures that one feels in a job like this don't exist and your world is very small and things you stress about are incredibly unimportant," he said. "And the second part was people. Opening your eyes to the way people live, the way people think. I believe I can communicate better by understanding people."
6. You need to bring the supporters on the journey with you
There was scepticism among some supporters when he first landed in Salzburg, a facet he realises may also potentially be true having relocated back to Leipzig. But he embraces that and will be sure to listen.
"Without them [the supporters], this doesn't exist," he said. "Wherever I go, very carefully I try to get to the core of what the relationship is with the supporters. I wanted [at Salzburg] to make sure it was a reflection of this community as well."
7. Be dumb enough to think you can win everything!
An American trait, says Marsch, is to always think you can win whatever the stakes. And he's not ashamed to admit it's a trademark of his countrymen that also courses through his veins.
"I'm dumb enough to think I can win championships as a trainer having never played here and be in the Champions League every year and win the Champions League," he said. "I'm that dumb!"
8. In football and life try to get a little bit better every day
His own approach to football is mirrored in his wider life, the aim to improve in everything he does, whether that's footballing formations or even the way he interacts with his family.
"It's small steps like learning a little bit more German on the day," he points out, "or getting training a little bit clearer or thinking about a relationship and maybe I need a conversation with a player. At the end of the day, I want to feel like we achieved, we got stronger, better, I got smarter. If I achieve that, I can go home, have a beer, a glass of wine and relax with my family and we can smile, laugh and have a good day."
9. It's in the lowest moments when you get better
There have been no shortage of highs at Salzburg but, perversely, it's the lows at the club and elsewhere that have had the biggest impact on him as a coach and a human being.
Looking back to the 6-2 Champions League loss to Bayern Munich, he said: "I have to dig deep in those moments because, it hurts. The outcome was so terrible that it eats at you. In the toughest moments, I need to be the strongest and most convicted to show to the group that we're not fazed. Everybody's good when it's easy. It's about when it's tough and your backs are against the wall. What's it going to take to beat Bayern Munich? I'm trying to create the standard for what it will take for us to beat the best team in Europe."
10. Energy is at his very core
A mere glimpse of Marsch on the touchlines in training or come match day and it's clear that his high energy is infectious and rubs off on his coaching staff and players alike. He sees his role as looking around the locker room and ensuring the group and any individual is getting "enough positive reinforcement and energy so that they're getting the maximum amount out of their day".
"That does require me to make sure that my energy level and my positive level is always at a maximum," he admits, "but I have to do it in a way that translates. My job as the leader is to maximise this energy out of the group every day."