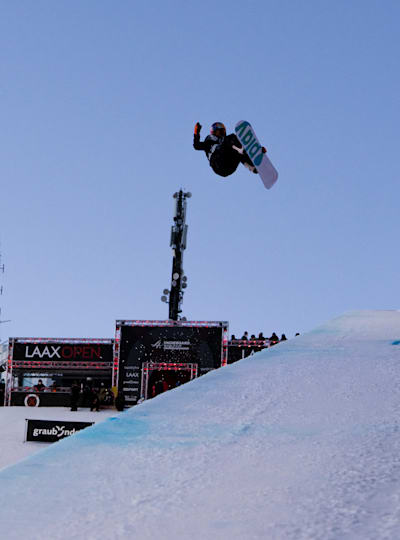 © Lorenz Richard/Red Bull Content Pool
Here's everything you need to know about the 2023 Laax Open
Europe's renowned snowsports contest is scheduled to run January 18–22 and with freeski slopestyle on the schedule, it's set to be the most action-packed Laax Open to date.
The countdown to
the Laax Open
, Europe's most anticipated snowsports competition, is officially on. From January 18 to 22, the Swiss Alps will host 300 of the world's top snowboarders – and now freeskiers will join the party for the very first time. With the event fast approaching, it's time to take a look at who's competing and, more importantly, who's projected to win
Year after year, slopestyle continues to prove that it's one of the most exciting snowsports disciplines in the world.
Men's Snowboard Slopestyle
Though the overall standard is sky-high, and any competitor could win on any given day, there are a number of standout riders who often frequent the podium. Firstly, past winners will be attempting to defend their legacy. Riders like America's Sean Fitzsimmons (2022) and Chris Corning (2019), as well as Sweden's Niklas Mattsson (2021), all still have what it takes to earn top spot.
Stack these riders up against Olympic champions like China's Yu Siming and young guns like Canada's Truth Smith, and you have one of the heaviest-hitting competitions in modern-day snowboarding.
Women's Snowboard Slopestyle
While the women's field is equally as stacked, a group of usual suspects are expected to crack the finals. Americans like Jamie Anderson (who won in 2021) and fan-favorite
Hailey Langland
, as well as Japanese powerhouse Reira Iwabuchi, are among those riders.
However, like in 2022, all eyes will be on the match-up between Austrian megastar
Anna Gasser
and Australia's reigning Laax Open and Olympic champion Tess Coady. Despite holding one of the most impressive resumes in snowboarding, Gasser is yet to take gold in Laax. Will she finally rise to the occasion or will Coady's slopestyle domination carry forward into the new year?
The 2023 Laax Open is set to introduce a freeski slopestyle category for the first time in the history of the event, and the world's best are ready to battle it out for the inaugural crown.
From local legends like
Fabian Bösch
and Andri Ragettli, to American phenoms Alex Hall and
Nick Goepper
, and even Norway's Birk Ruud, the men's ski division is going to be stacked.
Women's Freeski Slopestyle
Similarly, the women's field is expected to deliver an impressive showcase with the likes of Switzerland's Olympic champion
Mathilde Gremaud
, France's gold-magnet
Tess Ledeux
and Estonia's 10-time X Games medallist
Kelly Sildaru
all in attendance.
Laax is home to the most progressive snowparks in Europe and it's no surprise that it houses the world's longest competition halfpipe. At 21m wide, with 7m-high walls, this icy arena was built to boost riders to record-setting heights and push the limits of the sport.
The infamous halfpipe is set to be graced by some of the most exciting and innovative riders in the sport. The list starts with the Japanese pacesetters: reigning Laax Open and Olympic champ Ayumu Hirano, world-record holder Kaishu Hirano – who boosted over 7.4m out of the pipe in Beijing last season – and Yuto Totsuka, who's looking to regain dominance after a 2021 X Games gold medal performance. Needless to say, their ability to top the podium seems to be interchangeable on any given day.
Rivalling the Japanese dream team is the Australian duo of
Scotty James
and up-and-comer
Valentino Guseli
. James is aiming to make his way back to the top after a silver medal at the Beijing Games in 2022, while 17-year-old Guseli – who sealed the FIS World Cup big air title last weekend – hopes to carry on his stellar form and shake up the rankings at his third showing in Laax.
Regardless of who takes the win, men's halfpipe is set to deliver a heavy-hitting showdown under the lights.
Women's Snowboard Halfpipe
The women's Halfpipe field is just as competitive. Spanish veteran
Queralt Castellet
and American halfpipe prodigy Chloe Kim are set to lead the way alongside the up-and-coming Japanese triple threat of
Mitsuki Ono
, Sena Tomita and Haruna Matsumoto.
Be sure to download the free Red Bull TV app and catch the Laax Open finals on all your devices!
Get the app here