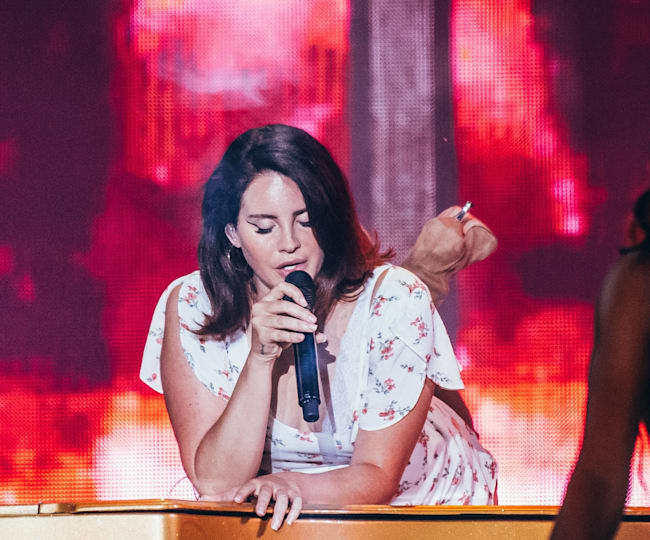 © Joseph Okpako/Getty Images
This is how Lana Del Rey kickstarted a sad-pop revolution
As Lana Del Rey releases her sixth album, Norman Fucking Rockwell, we explore how the US star's back catalogue of melancholy torch songs have changed the pop music landscape and let the sadness in.
There's a
Lana Del Rey
lyric, in her song
Freak
, about how the past can seem "stranger than a stranger." Pop music fans know exactly what she's singing about. Ten years ago, the
Black Eyed Peas
'
I Gotta Feeling
reigned supreme at the top of the US charts for 14 long weeks. The musical equivalent of champagne bottles popping, the foamy,
David Guetta
produced anthem about the anticipation of a night out boomed relentlessly from every radio, everywhere, and seemed to appear in every movie trailer and commercial. It epitomised the mood of so much mainstream music in 2009.
Back then, the pop charts overflowed with optimistic tales of "epic" nights out and youthful abandon, from
Lady Gaga
's
Just Dance
to
Ke$ha
's
TiK ToK
. There were heartbroken ballads too, of course, but for the most part the world according to pop at the end of '00s was a place where drinks flowed freely, love was easy to find and things weren't so bad, not really.
Fast forward a decade, and the bubbliness of I Gotta Feeling feels almost alien. Happiness and joy might remain the dominant mode of expression for stadium-filling pop titans, but sadness has crept in, casting shadows over music charts like never before.
Tuning into a mainstream radio station over the last few years, you might have heard
Lil Uzi Vert
declare
"I might blow my brain out"
or
Lorde
delve deep into melancholy on hits like
Royals
. Suicide has become a common topic too, like on
Logic
's
1-800-273-8255
and
NF
's
Let You Down
. Over the past 12 months,
Billie Eilish
has become a beacon for disaffected youth. And even
Drake
– the world's biggest artist, according to streaming data – is forever in his feelings. Pop music in 2019 pulses with woe as it addresses reality – that sadness is a common fixture in young people's lives.
No one epitomises this new era quite like
Lana Del Rey
. "She was this breath of fresh air," says UK pop writer
Michael Cragg
about the star's arrival in 2011. "The Tumblr and Instagram generation, this very visual generation, who'd grown up seeing 9/11 on their TVs, a generation in touch with their emotions, saw her as this perfect emblem of seductive sadness. Real depressive sadness in contemporary mainstream music until then had only really been seen in grunge, which was very masculine. She showed there could be a softness to it."
The Tumblr and Instagram generation saw Lana Del Rey as this perfect emblem of seductive sadness
"She's this huge pop star, but it's a different feeling that you get from her music than you used to get from artists of that calibre," agrees London singer-songwriter
Emily Underhill
, who makes cinematic and downcast pop as
Tusks
. "She's created space within mainstream music for a mellow and more interesting sound that encapsulates sadness and pushes these mainstream boundaries."
It was almost as if Lana Del Rey was transported from another planet when, in 2011, she released
Video Games
and
Blue Jeans
, those two forlorn anthems that announced her to the pop world. Those songs, and the rest of her 2012 debut album Born To Die, were blueprints for a new sonic world. Since then, the songwriter, whose real name is
Elizabeth Grant
, has doubled down on that faded glamour and tragic Hollywood romance across four more albums that wallow agreeably and unapologetically in sadness.
Lana Del Rey's latest (sixth) album, Norman Fucking Rockwell, arrives this week and is destined to bolster her position as one of the biggest artists on the planet. At 34, she's sold 3.2 million albums, has four Grammys on top of her fridge, and can call on the likes of
Stevie Nicks
,
A$AP Rocky
and
The Weeknd
to collaborate with her, all thanks to a sound that, only a decade ago, seemed commercially untenable. Modern pop music is meant to uplift and cheer, so the industry execs thought before Lana Del Rey's sad-pop revolution shook them.
Del Rey's success, which has caught the attention of Gucci and Hollywood (she performs the theme to the new Charlie's Angels film alongside
Ariana Grande
and
Miley Cyrus
), convinced record labels to take a chance on similarly-minded acts making emotionally vulnerable pop, setting the scene for (then) new artists like Lorde and sending existing artists off in a new direction.
There's been a major sonic shift culturally; I think I had a lot to do with that
"
Taylor Swift
has done a song that sounds like Lana on each of her last few albums," says Cragg. "I feel like even with
Rihanna
, ANTI was such a completely emotional blood-letting compared to what she'd done before. That album traced how pop has grown up and got more in touch with its emotions, just as listeners have got in touch with theirs."
Labels cashing in on one artist's success by fast-tracking carbon copies or acts with a similar USP is an inevitability of the music business. But the ongoing success of Lana-like sad-pop, eight years and six albums after her debut, was no sure thing. And yet, in 2019, sad-pop has proved to be much more than a fad. In fact, evidence that pop is getting sadder arrived last year when researchers at the University of California carried out a study of over 500,000 songs from the last 30 years. Examining the acoustic properties of tracks, the study found a drop in songs described as exuding "happiness" or "brightness" – and a huge surge in songs best described as "sad".
"There's been a major sonic shift culturally; I think I had a lot to do with that," Del Rey told
Pitchfork
in 2017 when asked about the change in pop. "I remember seven years ago I was trying to get a record deal, and people were like, 'Are you kidding? These tunes? There's zero market for this.' There was just such a long time where people had to fit into that pop box."
While she might not have created a new type of pop music, Video Games and its follow-up songs did, at the very least, open up the emotional parametres of mainstream pop music. In 2019, there's infinitely more room for discussions about depression in chart music than 10 years ago, mirroring wider social trends.
Over the last decade, campaigns to remove the stigma around mental health have successfully brought issues like anxiety into the open. Recent research has shown a sharp rise in serious depression among US teens, with 25 percent more young adults being treated for mental health problems than in the mid-00s, according to medical journals. And while social media is often blamed as the driving factor behind mental health problems among young people, exacerbating feelings of insecurity and anxiety, these platforms also provide a space for those same people to discuss mental health problems. They're creating communities in which to explore depressive feelings, sometimes turning them into cathartic memes.
One prominent example of this is
So Sad Today
– a Twitter account delivering pessimistic missives that has almost 900,000 followers. Commenters have drawn parallels between the account's "sad girl aesthetic" and the languid sorrow of Del Rey's music, with some critics noting a form of feminist defiance in both. In 2014, the writer
Lindsay Zoladz
described the brazen sadness of Del Rey's second album Ultraviolence as a middle finger to the patriarchal expectation for women to look happy ALL THE TIME.
"Ultraviolence has an air of 'HI HATERS', drizzled out in gasoline, and an immaculately-manicured finger flicking a cigarette in slow-motion onto the ground," Zoladz wrote, celebrating the album's unabashed exhibition of female sadness at a time when "too many people expect women to be warmly smiling Stepford Wives emanating sunbeams from their every pore."
Even EDM has taken a slightly sadder tone
Del Rey's music kicks that idea in a very sensitive place – hard. But she does so by tapping into an age-old music: torch songs. A form of pop that is traditionally by and about downtrodden women who suffer at the hands of emotionally abusive men, but continue to love them devotionally anyways. Lana famously has a picture of an album cover by Stand By Your Man singer
Tammy Wynette
on her studio wall.
Sadness has, of course, been one of pop music's driving forces since the '50s, as the careers of stars like Wynette prove. Del Rey, however, has used this classic pop melodrama to express a very 21st-century sadness, turning it into a movement of sorts in the process. There's never been more space for melancholy in popular music – and beyond. A decade ago, the indie world was full of chirpy male bands, but now acts like
Mitski
are in the ascendency. In hip-hop,
Lil Peep
and
Lil Uzi Vert
are leading lights of an emo-rap scene, while
Post Malone
feels comfortable enough to straddle both toughness and sentimentality. "Even EDM has taken a slightly sadder tone," says Cragg. "The pace has sort of dropped and you see artists like
The Chainsmokers
making sad bangers."
It's no coincidence, says Underhill, that it took until the internet age for an artist like Lana to emerge and usher melancholy into the upper reaches of the charts. "Now there's so many different avenues for people to become successful," she says. "Fifteen years ago, it was decided by people at major labels hand-picking people." Now, there is a "much wider range of music" – and emotions – finding an audience.