How Anakin's TEKKEN lessons turned Lethal Shooter into an FGC fan
© Lethal Shooter team
Red Bull's Class in Session 6-part series helped basketball coach Lethal find his groove.
For the past two months, basketball coach Chris Matthews (better known to his all-star clients as
Lethal Shooter
) has been learning to conquer a new kind of one-on-one. Alongside a number of other students, Lethal has been watching the lessons of
Red Bull's Class in Session
to learn techniques from TEKKEN master Hoa '
Anakin
' Luu. Now his journey is complete, as Anakin's
final teachings are up
and he's hosted the last of his drop-in Twitch sessions. So, we checked up on Lethal's progress, is he ready to jump into the King of Iron Fist Tournament for real now?
Now that Anakin's final wisdom has been imparted, Lethal is currently playing matches against a friend with a similar level of understanding, taking the opportunity to test out his new techniques. "They did say on the Dojo to play against somebody who's not as good as you because if you play against someone on the same level you can't really test your stuff out," Lethal says. "And I have been getting better playing against him, and it's like I told you a couple weeks ago, slowing down my mind and not having so much anxiety when I'm playing video games because it's just, there's so much going on. And then he broke down, in the last video, understanding and learning people's moves, what their patterns are and what they like to do."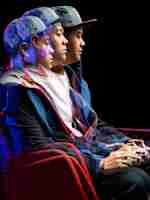 When we
checked in with Lethal
halfway through his schooling, one of the things that struck him was the speed at which everything happened in a match. He could have perfected everything in training but second-guessing an opponent's move in a real game leads to a quick end. However after going back through lessons to help him understand the parts of the game he was having trouble with, Lethal found Anakin's advice helpful.
"I feel like now I'm doing better strategizing, not just going in and swinging and kicking like I told you the other week, trying to read different things to do different attacks, if that makes sense," Lethal says. "The combos aren't as bad, but definitely when stuff is coming fast and you have to think of certain combos I'm still a little rusty with that. But I am better with going to
different attacks
, especially sliding left and right, moving better now instead of just front and back, I know how to groove around now."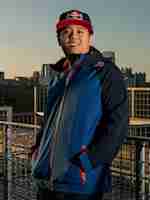 Part of his development comes from understanding not just how the game works, but how the flow of a real match does, too. From his instant attraction towards his new main, Heihachi ("I'm a fan of his moves, I'm a fan of his big bald head with the hair coming out at weird angles, and shit I was just feeling his swag, man.") to learning how to keep his calm under pressure. The journey has been fully noticeable to Lethal, and he attributes it to Anakin's tutelage.
"The way that he explains how to play video games, it's just black and white," Lethal says. "The way that he explains stuff, he knows what you're going through especially with the levels of intelligence that he throws at you in certain episodes. He knows what to give you at that moment and what not to give you, I feel like he did a good job of basically breaking down how to play the video game and to compartmentalize different, small things to add up to greater things."
At the start of his journey, Lethal had a clear goal: becoming confident enough to take the challenge of any of his legion of Instagram fans who constantly ask to go a few rounds with him online. So, after two months of learning the ins and outs of how to fight from – in his own words – the 'Michael Jordan of TEKKEN' does Lethal feel like he's ready for that challenge?
"I wouldn't say I'd be confident in playing against one of my followers, because I have a lot of followers and if I pick the wrong person they're probably going to kick my ass!" Lethal admits. "But, do I feel confident playing against somebody else who maybe was watching this tutorial, like I was and hasn't played video games in a long time? I think I might take that challenge against someone like that, I have confidence in taking that level."
So he's not quite there yet, but did the teaching get him closer to his aims? Unequivocally, according to Lethal: "It's an amazing tutorial, I think they did a great job of breaking down how to play the TEKKEN games. It does work, but like [Anakin] says you have to be patient with these types of games, if you feel like you're just going to be in a rush, you aren't going to be good. But if you're consistent and steady and being patient with the game, I mean I'm not saying it's easy, I'm not trying to say I'm a super pro now, but the game has become easier and slowed down for me, because I understand it now. Especially when my health is down low, I don't really get as nervous as much anymore because I have more confidence in knowing how to move around or block, just move differently now."
This new appreciation for how the game works hasn't just made him a better player, it's given him a newfound desire to get involved in the esports scene, even just as a spectator. "It does make you more hungry to see what's to come," he says. "I wasn't a big fighting game fan, but now I can say, shit, I wouldn't mind going to watch one of these tournaments and be a part of one of these tournaments. Because I understand that this is a really hard game that they're playing, there's nothing easy about this."
So, after checking out Anakin's TEKKEN lessons, Lethal has gone from a lapsed gamer who hasn't played a fighting game since middle school to the latest
FGC
convert. Will he be taking his passions out into the world after this?
"When things open up I definitely wouldn't mind supporting the movement, because shit, I'm a fan now, and if that stuff is open once everything opens up I definitely don't mind going and supporting and watching and possibly learning more, I'm all in for that," Lethal says. "I can definitely understand now, these guys are so poised, sitting there fighting each other but their brains are moving a million miles an hour because every second, every move has to be the right move. Yeah, that's difficult."
Red Bull's Class in Session featuring TEKKEN champ Anakin is available
here
featuring all six parts, taking you from the basics to reading opponents. If Lethal can do it, what's stopping you?