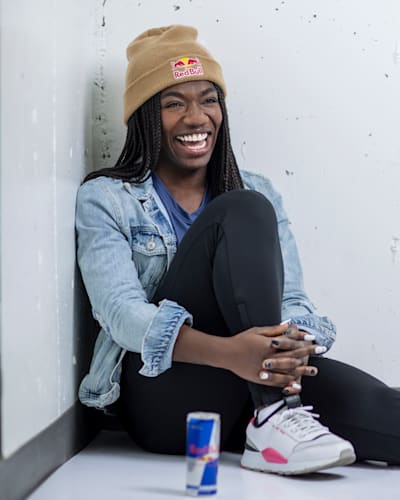 © Robert Snow / Red Bull Content Pool
Maame Biney finds joy in the little things
The energy Maame exudes is one of the many things that make her not only an unique human being but an incredible athlete.
On an average day,
Maame Biney's
alarm goes off at 7:30 am. However, she's rarely out of bed before 7:45 am and it's those extra fifteen minutes of sleep that are one of the ways she finds joy in her busy life. A student at University of Utah, Biney is pretty sure she's a junior. But given the fact that she's also training to win an Olympic Gold medal in short track speed skating, her academic schedule can be a bit all over the place. The vibrant 23-year-old is possibly one of the most
focused and driven athletes to step on the ice
. But her warm and social personality has also led her into a psychology major. While the average human might find training for the Olympics on top of attending college overwhelming, Biney is able to find joy in all the little things in her life.
The energy she exudes
is one of the many things that make her not only an unique human being but an incredible athlete.
The Ghana-born athlete has been skating since she was five. One of her figure skating coaches recognized the talent she had for speed and before Biney knew it, she was competing in speed skating events. After all these years of juggling the two, Biney has become a pro at finding balance in her school and training schedules. On an average day, she has a forty-five minute warm up before being on the ice for another two hours. She has a few hours off before another training session on the ice. Biney also has weight training sessions between two and four times a week, depending on where they are in the season. It's a stacked training schedule by any standards, and with her laser-sharp focus, Biney is able to partake in a rigorous college education alongside it.
During her busy winter season, she takes one to two classes and takes most of them online to ease the logistics of a busy travel schedule. Summer can be more intense for conditioning training, but Biney travels much less. This allows her to take more classes at a time. Less travel means she can also take in-person classes and the social butterfly in her enjoys the collaborative aspect of these. Like any college student, Biney is mostly on top of her homework, but sometimes she's up until 1am finishing an assignment due the next day. Now that she's mostly taking classes within her major, school has become a great source of joy in her life. Her psychology major helps to fulfill an intrinsic wish to help others. "I'm doing it because I want to help people in the future and guide them and give them the right information," she said.
With an emphasis on intimate and family relationships in her degree and her outgoing personality, Biney's own joy in studying psychology is sure to bring joy to others one day.
Biney hasn't always had her school to training ratio in balance though. In 2019, she began to experience burnout as a result of such a rigorous lifestyle. She ended up taking two semesters off of school to train and focus exclusively on skating. She returned the following summer with a renewed drive to learn as well as with a better rapport with her coaches on taking days off for her physical or mental health when she needed them. "I have a coach now that appreciates the communicative part. He'll tell me, 'if you ever feel like you need a mental health day or you're not feeling so great, just let me know and either we can make an adjustment or you can just take the full day off," she said.
When it comes to skating, it's really that Olympic Gold (and trying to combat her love of binge watching Game of Thrones) that keeps Biney motivated to train. Biney can't imagine being bored, so for her, that translates to being on the ice and pushing herself to be better. "If I'm not feeling great in school, I'm gonna go skating and then vice versa," she said. Not only is it essential to her routine as an athlete but being on the ice helps her to decompress and find joy in a busy day. "When the thighs are burning, that's all I can think about, and I don't have to stress about whatever's going on outside the rink."
For Biney, joy is also found in her day to day in the moments between school and skating. Driving to and from training gives her a half hour in the car to crank her music up and sing along, one of her favorite things to do. Spending time with friends and reading are two other ways she's been able to integrate joy into her busy schedule. For Biney, having enough energy to show up fully in all the parts of her life is crucial. Luckily, she often has a
Red Bull Winter Edition Fig Apple
, her favorite flavor, to keep her going. That, and a quick Facetime with her Red Bull athlete manager are some of her favorite pick-me-ups throughout the day. It's the little things like this that help Biney to stay motivated and find joy in all things work and play.