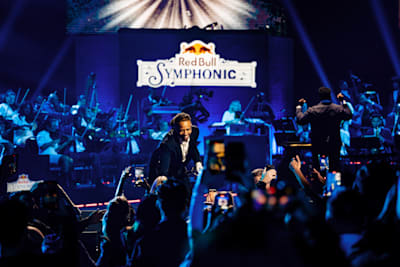 © Greg Orihabor
Metro Boomin's Red Bull Symphonic performance reimagined music
During a riveting 90-minute set at the sold-out Dolby Theatre in Los Angeles, 29 Metro Boomin collaborations with Future, Travis Scott, and others were brilliantly reworked by a 43-piece orchestra.
As the 43-piece orchestra concluded a searing rendition of Future and The Weeknd's "Low Life," Metro Boomin addressed the sold-out
Red Bull Symphonic
audience from his customized dais 15 feet above the stage yesterday (October 26, 2023) at the Dolby Theatre in Los Angeles.
"You're in for a heck of a show tonight," the producer said to a cascade of cheers from the raucous crowd. "I promise you."
With the crowd in a fever pitch, conductor
Anthony Parnther
then ushered the orchestra into "Metro Spider," the driving single from Metro Boomin's 2022 album, "Heroes & Villains."
It was early in Metro Boomin's Red Bull Symphonic performance, yet it was clear it was the beginning of a special evening. During the concert, which lasted 90 minutes, Metro Boomin, Parnther, musical director Laura Escudé, and the orchestra journeyed through 29 tracks from Metro Boomin's robust production catalog, bringing a dramatic elegance to the St. Louis-raised musician's material, which often contains dramatic gothic elements ripe for an orchestral presentation.
Donned in a black tuxedo and dark shades at the Dolby Theatre Thursday, Metro Boomin served as part maestro, part hype man, and part de facto DJ, revving the crowd as the musicians moved from one hit to the next. His unyielding energy accentuated the performance's remarkable vibe, which oozed with an innovative mix of classical music's traditional elegance and Metro Boomin's thunderous streetscapes.
The unconventional musical marriage was illustrated masterfully on "I Can't Save You," another cut from Metro Boomin's "Heroes & Villains" project. With the orchestra's sweeping strings and soaring keyboards accenting the composition's inherent energy, the song reached a new, different dimension.
Part of what made Metro Boomin's material prime for an orchestral treatment is his tendency to feature string and brass sounds in his soundscapes. For "Am I Dreaming," a song he composed for the blockbuster 2023 film "Spider-Man: Across the Spider-Verse," the musicians – particularly the violinists – brought additional depth and texture to Metro's already layered composition.
The rendition of "Am I Dreaming" also brought the concert's first guest. Singer Roisee (pronounced Royce) performed the song in public for the first time, per Metro Boomin. She belted out "I'm still fighting" from the song's chorus with a vulnerable tone and urgency that seamlessly matched the energy of the orchestra's playing, catapulting the passion of her vocals to dramatic highs.
Another "Spider-Man" selection, "Calling," brought the evening's next guests. Swae Lee and NAV joined Metro Boomin on stage, both crooning to great effect. The rendition of "Calling" arrived 70 minutes into the show and when Swae Lee sang "Just to save you, I'd give all of me," it served as a peaceful, wistful respite to the seemingly ceaseless procession of high energy, propulsive presentation to that point.
Moments later, the performance took another dramatic turn when a 15-person choir took the stage, launched into the opening of Kanye West's "Father Stretch My Hands Pt. 1" before being joined by Ye's longtime collaborator John Legend. As the orchestra switched over to the stirring "On Time," Legend belted out his comforting lyrics before giving way to an angelic opera singer, Alexys Tiscareno. Her soaring vocals to the "Superhero Intro" led into "Superhero" and a powerful climax to another "Heroes & Villains" selection.
As popular as Metro Boomin's newer music is, Red Bull Symphonic spanned much of his work, something both the artist and the fans enjoyed.
"We're about to take it back for all the day ones," Metro announced as the opening chords of Travis Scott's 2014 cut "Mamacita" erupted from the auditorium's sound system. It was a surreal moment, seeing a crowd of more than 3,000 people sing-rapping Scott's words with an orchestra backing them and Metro Boomin watching over this musical mélange with a huge smile.
Throughout the event, the atmosphere was enhanced by the screens behind Metro Boomin and the venue's lights. The storm clouds and lightening shown behind Metro Boomin added extra menace to Travis Scott's "Skyfall," while pulsating red lights brought a mesmerizing effect to "Trance."
Time after time, it was remarkable witnessing what Parnther and his musicians brought to Metro Boomin's music. During their spirited rendition of "No Complaints," for instance, the string section played with a controlled fury, the violinists and viola players swaying from side to side, undulating in a way that belied the type of stiff, rigid, and uncompromising playing typically associated with orchestra members. Similarly, the furious playing throughout Travis Scott, Future and 2 Chainz's "3500" repositioned the Rodeo cut from a meditative tune to a declaration of decadence.
Metro took grand delight introducing "Waves." "This right here is one of my favorite records I've ever been part of," he said of the song from Kanye West's "The Life Of Pablo" album.
As the orchestra brought a sublimely serene element to the already brutally elegant "Mask Off," Metro Boomin turned his attention to his fans.
"We're celebrating you," he said, "for listening to this music and making it what it is."
For 90 minutes Red Bull Symphonic reimagined Metro Boomin's music with dramatic and innovative results.