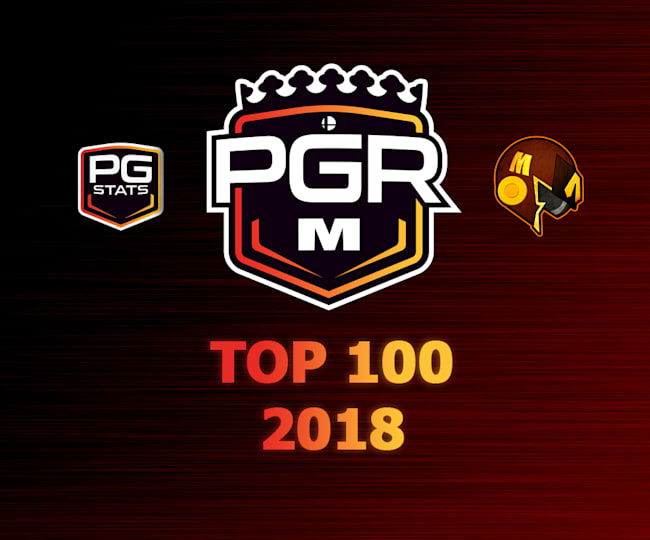 © PGR
We send off Melee's 2018 with the final ten, and start anew with Genesis.
PGstats is proud to present the latest Melee ranking, #MPGR2018, in concert with Red Bull! The #MPGR2018 ranking season spans the end of 2017 (after the Holiday Bash Smash Invitational) to December 16, 2018 (Don't Park on the Grass 2018)
PGstats has asked 43 top players, community leaders, tournament organizers, and analysts to rate the quality of play for each qualifying player during the 2018 ranking season. They were prompted with the following statement:
"Based on quality and quantity of results in 2018, rate each player on a scale of 1 to 10. A tournament is held every weekend during the ranking period, and all players on the list are able to attend every event. Over the course of the season, who performs the best? You may give the benefit of the doubt to players who attended more events during the ranking period if you so choose."
Each panelist gives each player a score from 1 to 10, and the ratings are compiled into one overall average after suppressing the effect of outliers. Finally, scores were rescaled to a 1-100 rating, which is displayed under each player's graphic.
One quick note:
for the players ranked 51 through 100, we've changed the format of their blurbs; instead of the traditional short paragraph, these players will have highlight lists under their player cards. This lets us emphasize these players' strengths as they move into the new year.
Rating:
92.5 |
SSBMRank2017:
7
Being Pikachu's sole representation within the upper echelons of Melee must be exhausting for Jeffrey "Axe" Williamson, but Tempo Storm's veteran competitor soldiered on with yet another top 10 appearance in a hotly contested year.
Though the competition for his spot was tougher than ever, Axe retained his position as a mainstay in the top 10, standing strong where others fell. But Axe didn't just survive. He thrived, and his year definitely had its fair share of highlights.
Exhilarating game-5 last-hit wins over Leffen and Mew2King at Flatiron 3 and GOML 2018, respectively, served to invigorate the countless fans of the blazingly fast Pikachu. Axe made top 8 at Genesis 5, GOML 2018, and The Big House 8, and he delighted the Arizona scene by defending his home turf from with a 1st place finish at Runback 2018. There, he defeated Shroomed, S2J, and SFAT to prove once more that he won't give up his spot without a fight.
Over the years, a slew of players have been encroaching on the heights of Melee, and while some have temporarily eclipsed Axe, he always seems to hold strong. So far, Axe hasn't let his top 10 spot slip since he nabbed it in 2014. Will time erode the grasp Axe holds over the game, or will he maintain his dominant streak into the coming year?
Written by:
Jonah Fritz |
Edited by:
Chris Matis
Rating:
93.4 |
SSBMRank2017:
24
Masaya "aMSa" Chikamoto had been on a precariously upward trend ever since his introduction to the top 100 on SSBMRank 2013. There used to be many who believed that Yoshi was not a tournament-viable character, and that anyone who played him would struggle to maintain relevance.
There aren't any doubters any more.
aMSa has continuously defied the odds for years, but he finally truly broke through in 2018, achieving his greatest results yet. Any time he made the trip from Japan to compete with the rest of the world, he was likely to find success. At EGLX 2018, aMSa made an unbelievable losers' bracket run, defeating all-star players such as Swedish Delight, Ice, Axe, Crush, and finally Mew2King, to place 4th. After being voted into Smash Summit 6, he shocked the world by defeating #1 ranked Hungrybox in pools and sending him to the losers' bracket. And perhaps the greatest surprise of all came in December, when it was revealed that aMSa had been working this whole time—not just anywhere, but with Nintendo as a playtester for Super Smash Bros. Ultimate!
Even while balancing practice with his workload, aMSa continues to push Yoshi in a metagame many thought he couldn't thrive in. He's truly the epitome of the spirit that has kept the Melee scene alive over all these years.
Written by:
Jack McDonald |
Edited by:
Chris Matis
Rating:
94.4 |
SSBMRank2017:
8
As consistent as his reaction tech chases, Justin "Wizzrobe" Hallett once again finds himself in the top 10. As perhaps the youngest member amongst the upper echelon of Melee, the 21-year-old continues to push Captain Falcon as far as he can go.
The 2018 year for Wizzrobe saw amazing peaks: most notably, his 1st place at Optic Arena, where he reset grand finals over Hungrybox. Wizzrobe in fact has been one of the most consistent challengers against the Puff main, ending 2018 strangely with the same 2-5 set count as the prior year. Additionally, Wizzrobe finished the year with winning records over Zain, aMSa, and Axe, showing consistency where many above him have failed.
Despite this, a few inconsistencies stain his near domination of the field. This was most evident in his uncharacteristic 25th at The Big House 8, where he lost to Fiction and Westballz. The ditto also proves to be a new puzzle to solve, as he is 4-4 with n0ne and 1-2 with S2J for the year. Despite these new issues, Wizzrobe placed 9th or higher at every single other tournament he attended this year. Perhaps the strongest Free Agent in the Melee scene at the moment, Wizzrobe finishes at a clean 8th for the 2018 season.
Written by:
Darren Lynch |
Edited by:
Chris Matis
Rating:
94.6 |
SSBMRank2017:
22
When describing Zain "Zain" Naghmi's year, the first word that comes to mind is "explosive." Zain has risen within the ranks of Melee's best faster than almost any other player, climbing from rank 66 in 2016 all the way to joining the small club of players to ever win a major with his 1st place at Shine 2018. Zain's Marth has entranced audiences not only with his insane efficiency and tech skill, but also with an unmatched punish game, so it's not surprising to note that he made top 16 at every tournament he attended this year.
Of course, top 16 finishes alone do not get you to 7th on the rankings. After being voted in to Smash Summit 6, Zain achieved the highest placing ever for a vote-in, defeating Plup and Mang0 to finish 3rd. At the aforementioned Shine 2018, he took another set from Mang0 and double-eliminated Hungrybox in two thrilling sets. These accomplishments prove that he has what it takes to go toe-to-toe with absolutely anyone, no matter who they are or which character they play, and take home the win.
With Zain's skill and success only refining with time, where is there left to go besides the very top?
Written by:
Chris Matis |
Edited by:
Darren Lynch
Rating:
96.1 |
SSBMRank2017:
4
It may come as a shock to some, but Jason "Mew2King" Zimmerman has fallen out of the top 5 of the Melee top 100 for the first time. At the start of the year, Mew2King struggled a bit more than the other gods to maintain his expected level of consistency, dropping sets to Lucky and aMSa at the first two tournaments of the year. However, he rebounded in heroic fashion by winning Smash Summit 6, defeating Wizzrobe, Leffen, and taking two sets each against Zain and Armada.
Despite his impressive peak at Summit, the remainder of Mew2King's year also had its flaws. Of all the members of the top 6, he suffered the most losses from outside that group, losing to Bananas at Smash Summit 7, Rishi at Evo 2018, and being upset multiple times by both Wizzrobe and Axe. And yet, there were diamonds in the rough. Mew2King scored a 3-0 win against Hungrybox at Super Smash Con 2018 and finished 2nd; he defeated Mang0 in their only encounter this year at Smash 'N' Splash 4, placing 4th; and he held even records against Armada and Leffen for the year.
Though his time in 2019 may be occupied by finishing his book and focusing on the new arrival of Smash Ultimate, it is certain that he'll remain one of Melee's greatest contenders.
Written by:
Dylan Tate |
Edited by:
Chris Matis
Rating:
96.2 |
SSBMRank2017:
3
The Kid, the Goat, the Buster. Being a fan of Joseph "Mang0" Marquez certainly has its ups and downs. While 2018 held glimpses of Mang0's return to former glory with his decision to solo main Falco and his excellent performances against both Hungrybox and Armada at Smash Summit 6, he has struggled to meet his own expectations in several key matchups. The most glaring stain on Mang0's 2018 record is his lack of a tournament win, but he came very close: he finished in the top 3 five times, including at Full Bloom 4, GTX 2018, Shine 2018, The Big House 8, and Smash Summit 7.
Leffen, Plup, and especially Zain have all given Mang0 issues this year, either pushing him in exhausting sets or knocking him out of bracket all together. The most discouraging of his bracket demons is Hungrybox, who holds a 7-1 set count over the crowd favorite. However, Mang0's Falco is still the best in the world, with flawless records against SFAT, Wizzrobe, n0ne, and aMSa. Mang0 has also focused more on streaming than competing this year, vastly improving the quality of his streams with new segments and content.
For a little bit, it looked as though Mang0 would fall out of the top 5 of a year-end ranking for the first time. However, his late-year run of top-3 finishes gave him just enough juice to edge out Mew2King by 0.1 points for the coveted spot. Say what you will about the bird, but he'll always leave you on the edge of your seat.
Written by:
Chris Matis |
Edited by:
Dylan Tate
Rating:
97.4 |
SSBMRank2017:
5
Among Melee's newest titans, none have seen as much success this year as Justin "Plup" McGrath. He started off the year with a bang, taking out Mango, Armada, and Hungrybox twice to win Genesis 5 and join the select few who've taken home gold at a supermajor.
Perhaps even more impressive, however, might have been his tear through losers at The Big House 8. After being sent to losers early by Bananas, he defeated 9 top players in a row, including Axe, Leffen, Zain, and Mango, to secure himself 2nd behind Hungrybox. This incredible feat proves that even when the odds are against him, Plup will still find a way to claw his way to the top.
Against the field, Plup is one of the most consistent players on the planet; that loss to Bananas was his only loss against a non-top-10 player for the entire year at anything larger than a local. Even at the very top, there's only one major stumbling block in his way: his fellow Floridian, Hungrybox, who's had his number at every tournament they've met at after Genesis. For these reasons, Plup has maintained his streak of improving his rank every year, this time setting a new high-water mark at 4th.
Written by:
Darren Lynch |
Edited by:
Chris Matis
Rating:
98.7 |
SSBMRank2017:
6
Two years ago, William "Leffen" Hjelte famously tweeted "I will win Evo." A short few months ago, on a warm August day in Las Vegas, the Swede's declaration finally came true.
But Leffen didn't just win Evo; he dominated. After dropping his first game during Sunday's top 8, Leffen was perfect: he took the next two to send Hungrybox to losers' bracket, vanquished Plup 3-0 to make Grand Finals, and finished the tournament with another 3-0 against Armada.
Leffen has seemed all but unbeatable at times this year. He has a tied or winning record against nearly everyone he's played, finished in the top 6 at every event he attended, and made top 3 at Genesis 5, Full Bloom 4, Smash 'N' Splash 4, Low Tier City 6, and Smash Summit 7. However, as what seems to have been the theme this year, Leffen was another player on the list of Hungrybox's victims. His 2-8 record against the Jigglypuff is the only stain on his resume, and one he'll need to wipe clean to finally achieve his long-sought-after goal of becoming the best Melee player in the world.
Somewhere between his burgeoning stream and his current drive to compete in Super Smash Bros. Ultimate, perhaps Leffen can make another prediction come true this year.
Written by:
Rui Yang Xu |
Edited by:
Darren Lynch
Rating:
98.9 |
SSBMRank2017:
2
Adam "Armada" Lindgren is undeniably the greatest Super Smash Bros. Melee player of all time. His trophy cabinet bristles with the spoils of countless major victories; he boasts winning records over every other Melee "god," and his eight-year win streak against players ranked outside the top six represents a level of dominance reminiscent of vaunted sporting legends such as Roger Federer or LeBron James.
Though he announced his retirement in September of this year, Armada remained a contender for the year-end No. 1 ranking deep into 2018. Scoring wins over every other elite player, he placed within the top four of every major he attended. Even Hungrybox, otherwise dominant over every other player on the list, was forced to bend the knee against Armada more often than not; the Swede won five of their six meetings this year. It's also only fitting that Armada's season—and career—ended with an instant-classic ten-game grand final victory over Mew2King at Super Smash Con 2018.
Armada is more than just an icon—he's an iconoclast, a man who built his career by shattering preconceptions about who and what Melee could be. At GENESIS 2, he threw Americans' hubris in their faces, proving that Europe was a region to be reckoned with; for years, he single-handedly demonstrated that Peach was capable of winning supermajors. Though the Swedish Sniper will soon take his talents to Smash Ultimate, he leaves behind thousands of inspired Melee players ready and eager to take up the mantle.
Written by:
Alex Lee |
Edited by:
Chris Matis
Rating:
100 |
SSBMRank2017:
1
To the surprise of absolutely no one, Juan "Hungrybox" Debiedma continues his remarkable defense of the title of #1 in the world. Some may have doubted it, and others even wished it not to be true, but this titan of Melee left no room for debate. He won, and he won prolifically: 18 events this year, from regionals to supermajors, ended with the commentators congratulating him. He was consistent, too, with his worst finish all year being 4th.
It's almost easier to talk about Hungrybox's losses. Nine players took a set from him this year, but he still had a winning record on eight of them. Six players won a tournament he attended, but he still took more gold head-to-head over five of them. The lone holdout in both cases was the only player that truly had Hungrybox's number this year: Armada. After the Swede's retirement in September, Hungrybox silenced any doubters with five straight tournament wins to end the year, including The Big House 8 and Smash Summit 7.
Hungrybox has more challengers playing more characters than ever before. Far from the Fox-centric tournaments that highlighted his 2017, 2018 saw him stumble against aMSa's Yoshi, Zain's Marth, and Duck's Samus. But perhaps that can only be expected from a player who went to as much, and won as much, as he did. And befitting a player who won as much as he did, Hungrybox is at the top of the top 100 for the second straight year.
Written by:
Darren Lynch |
Edited by:
Chris Matis
Head Editor and Statistician: Andrew "PracticalTAS" Nestico

Graphics: Nick "DarkDragoon" Konstantino

Fact-Checking: Brendan "GimmeDatWheat" Malone

PGstats Director: Luis "suar" Suarez
For the full, up-to-date rankings list, check out our main page
here
.