The offseason is a time to rest up, recharge the batteries and start thinking about your goals/plans for next year. It's also the perfect time to try some new training activities, which could bring some tangible gains come race time.
This one might be unpopular, but finding time to hit the roads on a road bike (or cyclocross bike) is a great way of improving your fitness for the upcoming race season.
Road riding
for longer periods of time at a brisk but maintainable pace (think heavy breathing but you're still able to string full sentences together) helps to build your base fitness. And, as we all know, successful race seasons are usually built on a solid base of fitness.
Not everyone is lucky enough to live within riding distance of mountain bike trails, so a quick road ride can be a godsend on a day when you either haven't got time to drive to the trails or can't deal with the inevitable clean up after a muddy ride.
Either way, road riding isn't to be sniffed at and could make a real difference when the proper racing begins.
Mountain biking can be tough on your body and many riders pick up niggling injuries throughout the year, which never seem to quite go away. Once you've fully recovered from the previous season, the offseason is a great time to concentrate on some serious strength training, which will help with injury prevention come race season.
If you're training the right muscles, it'll obviously help you put more force through the pedals, which is no bad thing if you're a keen racer.
Enduro World Series racer
Greg Callaghan
is a great example of a mountain biker who makes the most out of their strength training, as you can see in the video below.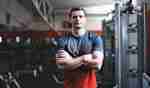 Greg Callaghan talks fitness
Lots of mountain biking makes you very good at one specific thing and one specific plane of movement, meaning we often end up neglecting the rest of our body and how it's meant to move. Shoulders, hamstrings and hip-flexors can become tight and this may lead to injury or poor performance off the bike.
During the offseason, Yoga is a fun way to work on loosening the parts of your body that become tight and strengthening the bits that become weak.
Most cities and towns have plenty of classes to choose from. As they usually last an hour, it means they're a great pre or post work option during the winter months.
If you're feeling motivated and fancy peppering your offseason up with some intense pain and massive gains in fitness, then it might be time to give cyclocross racing a go.
Usually taking place at leisure centre fields and parks throughout the winter time, cyclocross consists of an hour of racing your bike as fast as possible around tight punchy courses. There's even short sections where you have to shoulder or run with the bike.
It can get brutally muddy, meaning it's also a good chance to work on your technical skills, while your heartrate sits around max for the 45 minute to one hour race.
As long as you have relatively easy access to a pool, swimming is a fantastic way to keep in shape during the winter months. For one thing it's not weather or time dependent, with pools usually opening early and closing late. This means you can usually find time for a swim around a busy work schedule.
It's also a non-weight-bearing activity, making it a good option for riders recovering or living with old injuries.
Finally, hours spent hunched over on a mountain bike during race season can make you muscles and tendons tight, so the reaching and stretching yours during a swim session can contribute towards loosening off all those tight and tricky areas.