The high mountains of the French Alps are the next destination for the
Mercedes-Benz UCI Mountain Bike World Cup
with both the downhill (DH) and cross-country (XCO) World Cup teams in town for a round of their respective competitions. This will be the fourth round for the cross-country racers and the second round for the downhillers.
01
What happened at the 2021 Les Gets cross-country World Cup?
Racing at Les Gets got underway with the short track (XCC) race and in front of a near maximum crowd for the first time this 2021 season. The Les Gets XCC course was a mix of climbs, switchback descents and technical sections with huge rocks a feature.
In the women's XCC,
Pauline Ferrand-Prévot
attacked on the last lap to take the win. Behind the Frenchwoman, Sina Frei of Switzerland passed Sweden's Jenny Rissveds to take second, with Rissveds holding on to third.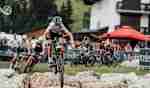 Women's XCC finish – Les Gets 2021
The men's race saw Mathias Flückiger of Switzerland take the win, making it back-to-back victories in the XCC this season. France's Jordan Sarrou pipped Ondřej Cink of the Czech Republic to the line to take second.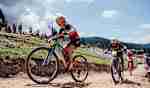 XC short track recap – Les Gets
Loana Lecomte made it four wins out of four World Cups in the main women's cross-country (XCO) category. On her home track, Lecomte raced solo for the majority of the event, with none of her competitors able to match her pace. It proved to be a good weekend for Rissveds, who backed up her XCC result here with second place. Evie Richards of Great Britain came third, her best World Cup result so far.
In the men's XCO, Flückiger proved to be the strongest in the field. He took the win ahead of familiar foe Cink with Jordan Sarrou giving the French crowd something to cheer about by finishing third.
XCO highlights – Les Gets
02
What happened at the 2021 Les Gets downhill World Cup?
In wet conditions,
Tahnée Seagrave
of Great Britain took the win in the women's downhill. French home favourite Myriam Nicole was just outside Seagrave's time and finished second. Switzerland's Camille Balanche rounded off the podium by finishing third.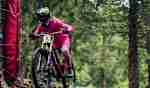 Tahnée Seagrave's winning run – Les Gets
Course conditions got worse when the men's downhill took place with rain continuing to fall. Riders who started early had an advantage as the track deteriorated quickly to slow down times. Frenchman Thibaut Dapréla delighted the trackside French crowds with a time that was ultimately more than two seconds faster than early starter, Germany's Max Hartenstern, to take the win. Another Frenchman, Baptiste Pierron finished with the third-best time.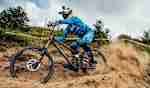 Downhill highlights – Les Gets
03
Relive all the action from the Les Gets World Cup as VOD
UCI MTB World Cup Les Gets short track (XCC)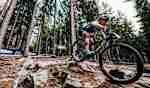 XC short track final – Les Gets
UCI MTB World Cup Les Gets XCO women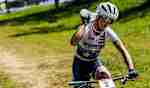 Women's XCO final – Les Gets
UCI MTB World Cup Les Gets XCO men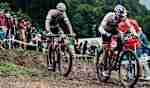 Men's XCO final – Les Gets
UCI MTB World Cup Les Gets downhill women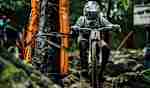 Women's DH final – Les Gets
UCI MTB World Cup Les Gets downhill men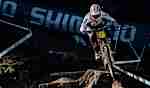 Men's DH final – Les Gets
04
What are the downhill and cross-country courses like?
Les Gets returned to the World Cup circuit in 2019 after a break of 16 years. The World Cup downhill track can be found on the Mont Chéry side of the Les Gets resort.
For 2021, the racers will be riding a brand-new track of sorts. The very top and end of the 2019 course are retained, but everything in between is new and does not follow parts of the course previously.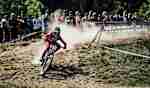 Les Gets DH track explanation
Those new bits include a steep and techy wooded section and a road gap jump that will see the riders having to pull on the brakes a bit more. French downhill courses tend to tape quite wide so on new fresh dirt expect plenty of different line choices.
Join Brook Macdonald below as he shows you the new 2021 Les Gets downhill track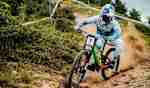 Les Gets DH track preview with Brook Macdonald
Les Gets had an all-new XCO course sculpted out of the hills for the return of World Cup racing in 2019. That course was 3.8km long with 140 metres of climbing. The track used elements of the Dual Slalom and Speed & Style courses constructed for the Crankworx Festival [that used to take in Les Gets] in the course design. For 2021, the course has evolved ever so slightly, including the introduction of a rock garden and addition of some new technical sections.
Watch the video below to see French rider Anne Terpstra give us a tour of the Les Gets XCO track.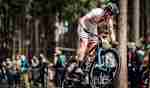 Les Gets XCO track explanation with Anne Terpstra
You'll find Les Gets in the Chablais region in the province of Haute-Savoie, an area close to France's border with Switzerland. As a result the Mont Blanc mountain range dominates the panoramas as you travel in the area.
Like most venues and locations on the Mercedes Benz UCI Mountain Bike World Cup, Les Gets is a year-round resort for those who love their sport. In the summer, biking rules and when it comes to winter, the skiers come to town to use the Chavannes and Mont Chéry slopes that sit on either side of Les Gets village. Les Gets itself is a quaint and pretty village that gets very busy with tourists in season and is bound to be full when the World Cup comes to town.