"To be, or not to be, that is the question…" 'Ole Willy Shakespeare wrote that line some many moons ago, and at its core, the sentiment has to do with choices. While ostensibly, "No Small Feat," is an intimate two-part series following two very talented
big wave
surfers—
Emily Erickson
and
Izzi Gomez
—on their respective journeys toward the cbdMD Jaws Big Wave Championships on Maui (the heaviest big wave surfing event on earth) … "No Small Feat" is also about choices. Because certainly, in the end, it's our choices that define us.
Take the
North Shore
of Oahu's Emily Erickson, for example. Daughter of legendary North Shore big wave surfer and lifeguard, Roger Erickson, in "No Small Feat," Emily often questions if she was destined for Jaws…or if there's another path that exists that she can control on her own terms.
"I can never decide if it [big wave surfing] was a pathway that was laid out for me—or something that I chose," she ponders in Ep. 1 "I think it was just inevitable, really."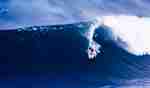 And yet. It appears that Emily's real choice is a more profound one. Existential, even. With just a couple tentative events a year to potentially make a career at surfing big waves…does she lose her soul, or at least the reason she surfs big waves in the first place, in order to train and drop everything when the event is called ON?
"It would be nice to win something," says Emily. "It would open up a lot of opportunities for me, open up a lot of doors. But in the end, it's more the opportunities that I think of, not the money. Money is not promised; injury is more promised."
"Big wave surfing is time, money, and risk, with very little potential of a financial payoff in the end," she continues. "So, it has to be something you love. People that aren't really into it—they don't last."
"I think Emi's conflicted," says 4X Australian Waterman winner/big wave surfer, Jaime Mitchell in 'No Small Feat.' "She wants to do the contest to a degree, but then she really just loves surfing big waves to surf big waves. So, she's conflicted in the competing side of big waves—or just doing it for the love. And I'd really love to see her figure out what's best for her because I really believe that she could be the best."
A young woman living two islands over, perhaps with an entirely different perspective and option to choose, however, is 5X Stand Up Surfing World Champion, Izzi Gomez. At just 19 years old, Izzi craves a new challenge in life. An invited alternate in the event with limited experience surfing Jaws, Izzi is on a crash course to learn what many of her cohorts have spent a lifetime preparing for.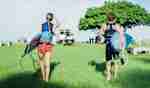 Lucky for Izzi, though, she's got 3X event champion, Paige Alms, to guide her through the process. That, and Izzi is a hell of a water woman and surfer, herself…so the learning curve isn't entirely too steep.
"Competitively I've accomplished everything I've set out to and everything I possibly can," says Izzi. "So, it's really hard when you're at the top of the sport [SUP] and there's no one pushing you to, like, keep that fire. But I think 2020 has been my year to step away from SUP a little. I mean, I just won my fifth title, so it's not a bad way to go out. My goal is to just get comfortable in bigger surf. I look at all these girls and what they're doing and it's inspiring. I just want to push myself and get better. Like, I could still get more titles, but at the end of the day, if I'm not happy doing it, I don't want to do it. And I mean, Jaws is right around the corner…"
It certainly is. For both of these women. Regardless of whether their motives are dissimilar—Emily questioning the contest route, even if she's talented enough to win, or Izzi doing a full-180 at the height of her SUP career to surf Jaws—either choice is a dangerous one.
Emily, for instance, blew out her knee in the contest a year prior, an injury that took many months to recuperate from.
"This big wave surfing thing isn't something many women have gravitated to in the past, but now there's a bit more attention," says Emily. "Maybe it's the [safety] vests, maybe it's the contests, or the money, but the reality of it is that you can get really hurt, and if you get hurt and there's no backup and you're a normal working person like a lot of us, then what are you going to do?"
Well, if you're Emily Erickson…you go back out.
But what exactly, might the impact zone at a place like Jaws look like? Mark Healey and Jamie Mitchell, two men of perspective and many, many XXL waves between them surely paint the picture in "No Small Feat."
"Getting caught inside by a really big wave at a place like Pe'ahi…you have to start doing a math problem," says Mark. "How much energy am I willing to expend to possibly make it under this wave? In short, it's like being in the dark and getting hit by a truck. It's very violent."
"It's like doing a 100-meter sprint, jumping off a 6-story building, and then holding your breath for 40 seconds while getting attacked by a bear," says Jamie Mitchell.
"It's so easy to think about the bad things that could happen out there because Jaws is such a wave of consequence," says Izzi after a session before the event. "My mind tends to go to getting worked, or freaking out, but I have so many times where I get worked, I come up and I'm fine! So, I just have to be aware of it and catch myself when I go to that place and turn it around and tell myself you're fine you've been to this place before."
Whether it was the Universe telling her she needed one more season to prep—or, just sheer chance—Izzi's alternate card wasn't called on comp day. Everyone showed up and Izzi had to sit this one out.
Emily, on the other hand, got to revisit the scene of the crime, sending it bravely in big, windy Jaws on her signature single fin gun (the one everybody told her not to ride). Classic Emi, of course. She finished with a strong 4th place in the finals, her relief palpable on the boat in the channel. Just don't tell her she conquered any fears…
"I think a lot of guys are obsessed with 'conquering' the ocean, or conquering Pe'ahi, but I've been trying to make my own judgement on whether this Jaws competition is the way to proceed forward," says Emily. "I've been told I have a responsibility and people seem to group women together in this big wave thing, but I'm like, 'No, I don't have a responsibility to you!' I'm literally just going to do it the way I want to do it."
Because, in the end, for both Emily and Izzi, those personal choices—those to-be's or not to-be's—are all we really have in life. And just as "No Small Feat" illustrates, those choices, no matter how giant and publicized—are personal.