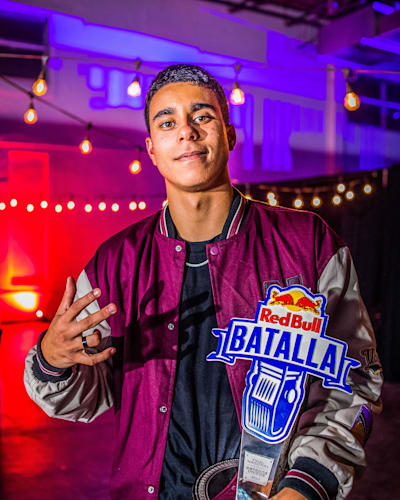 © Ian Witlen / Red Bull Content Pool
Red Bull Batalla's Oner: From underdog to freestyle heavyweight
Newly crowned Red Bull Batalla USA Champion talks his meteoric rise and preparing for the International Final in Mexico City.
With the year rapidly coming to a close, one major music event still looms on the calendar. The
2022 Red Bull Batalla International Final
is taking over Mexico City on December 10, convening some of the world's top freestylers at the legendary Palacio de los Deportes. Returning favorites include hometown hero
Aczino
and Spanish juggernaut
Skone
, while this year will also be the international debut of recently anointed USA Champion,
Oner
.
The 19-year old rapper hailing from Barquisimeto, Venezuela, has become a staple of Miami's thriving freestyle scene, frequently crossing paths with friends-turned-competitive rivals such as
Nico B
and
Red Bull Batalla USA's 2021 Winner
,
Reverse
. Arriving in the United States six years ago, Oner began diligently cutting his teeth in his adopted scene of Tamarac, Florida, causing a ruckus at local tournaments before venturing out to Miami. In two short years, Oner soared from pandemic-era digital competitions to duking it out at one of Florida's top freestyle leagues, eventually reaching Red Bull Batalla and the top of the national circuit. Yet despite his youth and relative rookie status, the rapper's ambitions are far from quenched.
"I turn my nerves into adrenaline," he says. "If I'm at these competitions it's because I deserve to be there, and I'm not holding back."
We caught up with Oner following his victory at Red Bull Batalla USA 2022, diving into his early rhyming days in Venezuela, the twists of fate that led him to the top, and why friends are the toughest opponents.
Hi Oner, tell us a little about yourself!

ONER: My name is Juan Rodríguez, also known as Oner. I'm 19-years old, born and raised in Barquisimeto, Venezuela. I started rapping with my next door neighbor when I was 13. Back in those days we'd watch a lot of Piezas and Arkano videos, and we liked rapping over the same beats, aiming jokes at each other, and eventually rhyming. Sometimes I'd go to the plaza and watch other guys rapping, but I never actually competed until about two years ago, when I was already living in the USA.
Where did you find your freestyle circle in the United States?
I arrived in Florida about six years ago and currently live in a city called Tamarac, although I'm most active in the Miami scene. I started making friends who were also into rap, so it was just like in Venezuela where jokes became rhymes until we started organizing our own competitions. One day an Instagram tournament called Broward Roster came up, and my friends encouraged me to sign up. I made it all the way to the final! Nico B saw my video and invited me to some practice sessions in Miami, and that's when I started going more often.
How were you received by the Miami scene?
Nerves got the best of me at first, but there were solid, talented people all around me. One day I faced Reverse at a tournament called Barras-Pallooza, and that's when people started remembering my name. When people talked about the best freestylers in Florida, my name was in the conversation. Last year we also created the UFO Freestyle League, which was major because now you can see the 10 best MCs in Florida battle in one place, and it gives new local rappers a goal to strive towards.
This was your first year competing at the Red Bull Batalla USA National Final. What has that trajectory been like?
In 2021 I had my first trial matches for Red Bull Batalla USA, and I actually had to go up against Nico B. I didn't make it to Nationals, but getting there affirmed my efforts. This year, ahead of the national tournament, regionals were held in Los Angeles and Dallas. Many members from the UFO Freestyle League made it through, but I didn't. I was bummed because I thought I was already good enough to make it to Red Bull Batalla, but then I got a last minute message informing me one of the other competitors had dropped out and that I was in. When I arrived in L.A. I ran into Nico B again – I know I keep bringing him up but we've walked so much of this road together. Our goal was for us both to make it to Nationals, and to everyone's surprise I ended up winning the regional. It was epic, like something out of a movie!
What was your experience at the National Final?
After winning Regionals I arrived at Nationals with a lot of expectation on my shoulders. The Final was being held in Miami, where I'm known, and even the host (Racso) is from our scene. So I came mentally prepared to give it my all. On the other hand, Yartzi and Cacha were on the judges panel in L.A. They'd seen what I could do, so that took the pressure off.
One of your toughest battles was against Reverse, who was defending his title as Champion.
Reverse and I have faced off three times, and every one of those battles has been good. We crossed paths in the quarter finals, which proved to be a decisive moment, and I won. I kept that same focus when I was up against MC Betho, who was last year's runner up, but again I gave it my all and came out on top.
Your last battle was against Nico B, a friend and ally from long before the Red Bull Batalla circuit.
Yeah, people outside Miami don't really understand how significant that battle was. I've mentioned Nico B a thousand times throughout this interview, but he's been a part of this entire process. That was a very emotional battle and we both gave our all, but only one of us could win. I haven't had time to reflect [on my victory]. When I won in L.A. I began preparing for Nationals, and after winning that I was off to Batalla de Campeones. I haven't had a chance to really sit and say, 'wow, I did it.'
Are you ready for the Red Bull Batalla International Final in Mexico City?
I think Batalla de Campeones really helped me prepare because I was competing alongside Skone, Yoiker, and Aczino, who'll also be in Mexico City. Since I've already battled them and know their style, I'm not nervous. This year I won my first regional and national tournaments; why wouldn't I win my first international one?
MCs like Reverse and Eckonn have expressed an interest in returning to their home countries and working with local freestylers. Do you feel the same call?
The United States scene has really welcomed me, so I definitely want to keep working here. But like Eckonn, I also want to collaborate with the Venezuelan scene and contribute however I can. Right now I'm focused on what's happening here because I see a lot of potential, since the USA is the only scene where a national tournament is also international because everyone is from a different country. Here you have all cultures in one, and I want to be a part of that.