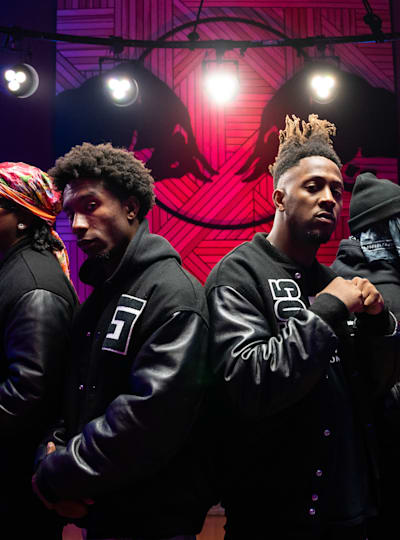 © Steven Hong
Red Bull 1520 launches on YouTube with new hip-hop series, Red Bull Spiral
Showcasing exclusive content from Red Bull's various music events across the U.S. as well as original series featuring content you won't find anywhere else.
Red Bull officially debuts
Red Bull 1520
, a new YouTube channel dedicated to hip-hop programming from the world of Red Bull, featuring beats, bars and live performances from rap's next movement.
Informed by the artists and movements born from the last 50 years of hip-hop but focused on the future of the genre, Red Bull 1520 pays homage to the culture through programming, starting with the debut of a new monthly hip-hop music series:
Red Bull Spiral
.
Based on the popular Japanese format,
Red Bull Rasen
, Red Bull Spiral invites 3-4 MCs to Red Bull's Los Angeles recording studio to collaborate on a one-of-a-kind cypher. Filmed in one continuous take, Red Bull Spiral challenges even the most seasoned artists to stay cool under pressure and deliver perfect bars as the camera spins through the studio, capturing every movement. Watch Los Angeles crew
Coast Contra
kick off the series with their
debut episode here
, and look out for upcoming drops featuring
KenTheMan
,
Kalan.FrFr
,
Baby Tate
,
LaRussell
,
Buddy
,
Nana
, and more.
"We definitely had to take our time and approach this like a show," says Ras Austin of Coast Contra. "Freestyles keep us sharp and maintain a certain level of hunger. Otherwise, we could get complacent and dull. It's a challenge, but we wanted to make it as fun of an experience for the viewers as we could."
New episodes of Red Bull Spiral will launch monthly on Red Bull 1520.
Subscribe to Red Bull 1520
and get access to exclusive music content, behind-the-scenes clips and artist features you won't want to miss.