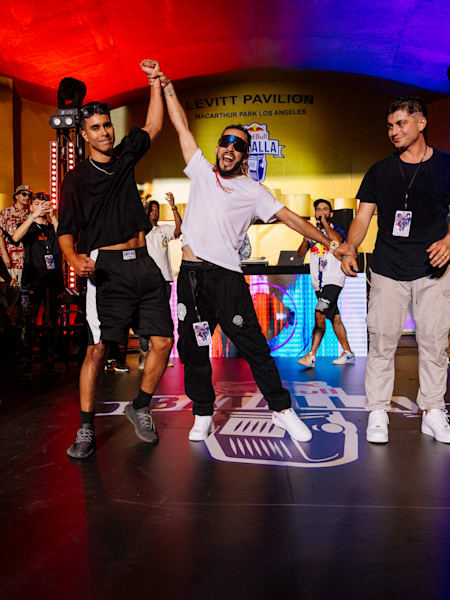 © Jeremy Deputat
Introducing the Finalists of the Red Bull Batalla USA 2022 National Final
Here's who ultimately made the cut.
The
Red Bull Batalla
season is heating up! On October 8th, 16 finalist MCs will come face-to-face to spit bar-for-bar for a chance to be crowned National Champion and represent the USA at the International Final in the world's most exhilarating Spanish-language rap battle. Ultimately only one person will prove worthy of the honor, but first—let's take a moment to celebrate the wins of the bunch who made it this far. As you watch from home, be sure to familiarize yourself with the finalists, choose your fighter and hope they punchline their way to the top.
First, let's take a look back and hit the reverse button. Before the season even began, four MCs earned their spot in this year's final on a warm and airy LA day at 2021's National Final. Remember when an unlikely 19-year-old candidate dethroned the two-time USA champion MC (now judge) Yartzi? Well, since then,
Reverse
has been savoring that win, traveling the world, and preparing to meet with this year's best MCs come 2022's National Final. A major perk of winning is that it assures you a seat at next year's competition, and Reverse isn't the only one who benefits. The three runner-ups from last year:
McBetho
,
Eckonn
and
Cuban
, will also be at this year's competition. And it's none of their first rodeos. It's the Venezuela-hailing MC Eckonn's third appearance at a Red Bull Batalla National Final, and both Cuban and McBetho's second run.
After
Skone
, an endowed MC from Malaga, took the then-green MC out last year in the International Final, Reverse took to Instagram to say: "I feel like I did really well considering the importance of the event and my experience, but I think I can give much more." Now, he'll have the chance to prove it.
Meanwhile, 12 fresh faces will also be joining him on the rap boxing ring at Soho Studios in Miami.
Reverse's advice to the new folks is to have fun. "Don't pressure yourself and try to enjoy it," he says. "Being yourself is the best way to stand out in freestyle."
Four Regional Cup winners from local competitions made the cut: Freites (from the Florida Cup), Santos (from the New York City Cup), J Luna (from the California cup), and
Jordi
(from the Texas Cup and third place winner in the 2020 National Final). These finalists are the first of their kind; now, these newly-minted Red Bull Batalla MCs will move on to the mercilessness of the National Final stage.
"This year I feel different than the other two because I've participated in the most important Spanish-language competition already and I feel more concentrated, with less uncertainty in my mind," El Poeta tells us. "I'm eager to be on that stage with an audience again!"
Oner, who won the Los Angeles Qualifier, feels similarly. When asked what it would mean to win and represent the USA on an international level, he said: "It [would] be a dream come true. It was one of my goals this year to qualify for the National but having the opportunity to travel out of the country to represent this country will be amazing."
Oner will be joined by Macías,
Nico B
, and Outlaw who also advance from the Los Angeles Qualifier.
With a little under two months to go, the expectation for what this year will bring is high as we welcome a new era of Red Bull Batalla. Get your scorecards ready and make note of your favorite punchlines because this USA grand finale is bound to be one for the books.
Get to know the 15 confirmed finalist MCs. The final MC will be selected in a special last chance battle coming soon.
TOP 3 DALLAS QUALIFIER MCS:
TOP 4 LOS ANGELES QUALIFIER MCS: